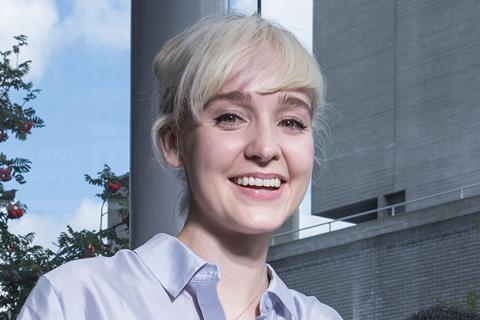 Olivia Vinall studied drama at the University of East Anglia before doing a one-year post-graduate course at the Drama Studio London.
Click here for the complete list of 2017 Screen Stars of Tomorrow.
After several years working in theatre following graduation, it was a small part in the BBC TV adaptation of psychological thriller Apple Tree Yard, playing the daughter of Emily Watson's character, that finally propelled Vinall (pronounced 'Vinell') into the spotlight earlier this year.
She has since wrapped roles in Amma Asante's next feature, the Second World War drama Where Hands Touch, and Carl Tibbetts' anticipated new six-part retelling of Wilkie Collins' The Woman In White for Origin Pictures and the BBC.
In Where Hands Touch, her first feature, Vinall plays Hermine, "who Amandla [Stenberg's] character befriends in the concentration camp," she explains. "Hermine is a German Jew but is hiding that."
The Woman In White filmed this summer in Northern Ireland, and sees Vinall take the role of one of two sisters being pressured to marry a man whom she does not love. "It's important for us to look at things like these with a contemporary mindset and ask, 'Why is this relevant now?'" Vinall says of her work on The Woman In White. "It's about two women and their struggle in this world. It still happens, it's still going on. Equality hasn't been achieved."
In between her screen work, Vinall headlined Jonathan Kent's Chekhov trilogy on stage at first the Chichester Festival Theatre, then the National Theatre. She says that she would like to maintain a balance between her stage work and screen work. "I am really excited by new writing, by pushing things forward," she says. "It's easy to give people labels but I'm interested in breaking those down. I would be most excited to be part of projects like that."
Contact: Nicki van Gelder, Conway van Gelder Grant