Duncan Kenworthy is one of the UK's most successful producers, with titles including Love Actually to his name. He talks to Star of Tomorrow and producer Loran Dunn about the value of staying small and keeping an eye on the details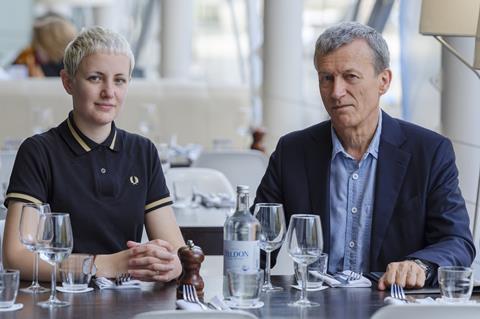 Loran Dunn: I have read that Four Weddings And A Funeral was hard to get off the ground. How did you keep the faith?
Duncan Kenworthy: To set the context, I was managing director of the Henson Company in the UK [in 1992]. Richard Curtis, who I knew socially, gave me the script.
I thought it was the best thing he had ever written. I said, "I'll work with you for a bit. I can't produce it but I'd like to help you find a director."
We worked on the script and it got to the point where I didn't want to let it go, because I thought it was too good. Disney were trying to buy Hensons and didn't want us to do any production, so I asked Brian Henson if I could take a leave of absence to produce Four Weddings And A Funeral for Working Title.
We tried very hard to get the film financed in 1992 and failed. It could have all gone away but, through the winter of 1992, [director] Mike [Newell], Richard and I kept working on the script and meeting actors. So, partly, the answer to your question is that I already had a job [at Hensons]. But we were also totally committed.
Click here for the complete list of 2017 Screen Stars of Tomorrow.
LD: You've gone from making huge commercial movies to making the small indie film The Pass. What led you to do that?
DK: One of the great things about being a one-man band is that my company is just me and my assistant…
LD: That's the same as my company at the moment.
DK: Good, that's very sensible. If you stay like that, you can choose not to make things too soon and go on working until the script's absolutely ready. The moment you expand and hire a head of development and a business affairs person, you have to earn fees to pay their salaries. That means you can't afford sometimes to not go into production.
One of the classic problems with the British film industry is things often get made when they just needed another pass on the script. It's very hard to live hand-to-mouth and do everything yourself, but that's where creative success lies. Just keep working, working, working until it's perfect at script stage. I've never been of the opinion that you make a film on camera. To me, you make it on page then translate it into film.
LD: It's really encouraging to hear that. I've been warned off being a one-man band by nearly everyone.
DK: It can be hard until you have what I had: a big, surprising success that made some money. And then my company went on to make more money through the romantic comedies I made with Richard.
With money in the bank I could spend time on development and choose whether to make something or not. Normally, my first piece of advice is never to use your own money to make a film. The reason is not, "What will you use to buy food with?".
Rather, it's because the nature of the industry is film distribution. If you spend your own money making a film and it's not very good — which is always likely — no one will want to distribute it and you'll lose everything. But if you get a distributor to finance your movie, they have to release it to get their money back.
With The Pass, I hadn't intended to make a low-budget film. I went to see the play [on which the film is based] at the Royal Court theatre and before the curtain went up there was such a buzz. I left having really liked it and been very impressed by the audience's passion. Also I started to think, as you do, "Hmm, I'm not sure about that ending. What would I do if it were a film?"
As I walked home I thought, "I have a much better ending." Three days later I was invited to see a new film that had been made under the [very low-budget] Microwave scheme, and I didn't know how cheap it was until I saw the credits. I thought, "I have money in the bank, what if I just made The Pass? Then I could have my ending."
I broke my own rule, unashamedly. And it's the best money I've ever spent. It's a great privilege to be in a position where I can just back my own judgment.
LD: I watched it recently, and it's great to see a successful producer recognise the importance of diverse stories.
DK: Diversity has always been important to me. Having said that, with Notting Hill we were roundly criticised for having 'whitened' Portobello Road. That was so painful.
In 2005, I started a scholarship for BAME students at the National Film and Television School, called the Toledo Scholarship, through my company. I've been involved in "How do we save the British film industry?" initiatives over the years, so I've thought about why diverse films are not being made.
It seems obvious — there aren't diverse people telling the stories. One of the things that holds most people back is finding an entry point. They probably think, "That's not for me, it's a closed world." So a two-year NFTS scholarship helps. I grew up in a small village in Yorkshire…
LD: And I grew up in a small village in Somerset.
DK: …though I had parents who sent me away to school, so I had advantages. I am absolutely not driven by commercial success. It looks like all I've done is the next big thing but actually I've just made things that appeal to me, and I think my own taste is actually quite niche in many ways.
You must make things you really care passionately about, as well as you can. When we made Four Weddings, Richard wrote every word of the invitation to the premiere. It was as funny as the film. With The Children Act, I've chosen the first release stills and rewritten the synopsis. Do everything not just to make the film perfect, but to surround it with context so the audience values the experience. Go the extra mile. The one that gets it is usually the one who wants it the most.
LD: What advice would you give to emerging producers setting up their own company?
DK: David Puttnam said to me when Four Weddings came out, "It's really, really important to get credit for what you did on this film because that's what gives you the opportunity to make another film. Don't think of it as bigging yourself up for ego reasons. Take the credit."
When you own a company and make a film through that company, you have the choice of what the credit says. I decided to have the credit in my name, rather than the company's name. Notting Hill was 'a Duncan Kenworthy production', and every film since has been a Duncan Kenworthy production.
Having a limited company is important precisely because it's limited. Your liabilities are limited. You have to have it. But don't be afraid to use your name — you're the one with the [BFI] Vision Award, you're the one who is a Star of Tomorrow. Loran Dunn. That is your unique brand that people will invest in. That is going to be very valuable to you in the future.