UK and Ireland Star of Tomorrow 2020, Blue Story producer Joy Gharoro-Akpojotor talks over Zoom with Mark Herbert, joint CEO of Warp Films and producer on films including Submarine, Four Lions, and the upcoming Everybody's Talking About Jamie.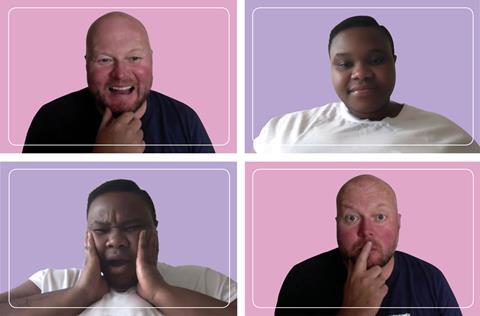 Joy Gharoro-Akpojotor: As an independent producer, what inspires you to keep making films?
Mark Herbert: I love working with new talent. At Warp, we've worked with a lot of filmmakers on their first films. I want to keep enabling good people to do good work. The bit I find really rewarding is putting the teams together. And there's something about starting with nothing and ending up — sometimes years later — with something that's tangible. The second thing is that I've always teamed up with other people. There are days when you don't want to get out of bed and teaming up with other people is essential because you support each other through the tough times.
JG-A: Recently I've been saying, "I am not a producer, I'm an enabler." I enable the director to create their vision. But in being an enabler, I find that I've got to think about business and not just about my taste. So how do you remain sustainable, especially being an indie?
MH: I think it's essential to have a diverse slate. As an indie these days, that needs to be TV and film. It's also really important, even if you're a small company, to reach an audience internationally and domestically. Being profitable is not a bad word. Also, be fairly nimble. If you meet someone and pitch three comedies but he wants horror, have something in your back pocket ready to go. It's about being nimble, with a few things in the pipeline.
As well as that, keep your costs and overheads low. When we first set up, I converted the shed in my garden. That's where This Is England was built — in a shed in Sheffield.
JG-A: Is there a philosophy that you carry across all your projects?
MH: Absolutely. I involve the director in every big decision that we are making. I don't mean bombard them with every detail but very early in prep or development I will sit down with them and list all the essential ingredients of the film, ranking them one to 15 in terms of importance — it could be music, rehearsals, lighting, make-up, etc. Then, whenever we have to make a tough decision on budget, we'd go back to that mandate.
That way, when you and the director are both stressed and being pulled in different directions, you can go back to the decisions you made at the start. Everything is a partnership. It's not a yes or no situation. You make the choices together. Write it all on a whiteboard at the start, both take a photo on your phone and keep it through the whole production.
JG-A: I'm stealing that! Now, you've made some iconic British films. With my slate, I'm looking to take "Britishness" and expand it into black, queer and female stories. How do you approach what Britishness is when making films?
MH: Britishness means something different to me than it does to all the directors I've worked with, from Shane Meadows and Chris Morris to Richard Ayoade and Yann Demange. They've all got a different view of what Britishness means to them. That's what we need to push and celebrate. It's the most diverse country; a wonderful mix of everything. So, for me, it's just making sure that wherever the perspective is coming from, it has to feel honest. Our films have huge heart, a lot of wit and honesty. If that honesty is gritty and horrific or crazy and stupid, in terms of what is British, I think it's a massive eclectic mix.
JG-A: How do you maintain authenticity in the work, with writers and directors?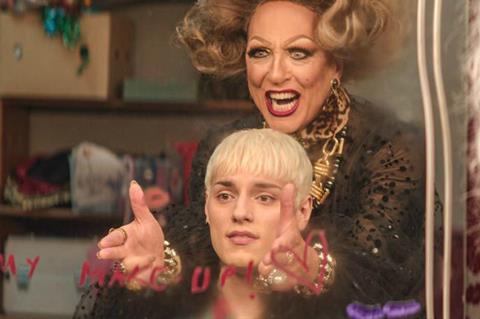 MH: OK, take Everybody's Talking About Jamie. We saw that three years ago at the Crucible Theatre in Sheffield and approached the original creative team, who are three gay men. We wanted to retain their vision. Then the musical went to the West End and it became a huge hit, commercially and critically at a time when there was a lot of money going into musicals, so it grew in terms of the scale of what we thought it was going to be. But we weren't going to change the accents and would keep it in Sheffield, on a council estate. We may have got a bit more money but we've never veered away from that authenticity. It's a very truthful film — even though someone bursts into song and dance every 10 minutes.
JG-A: I've read that you like to bring punk rock into filmmaking. Do you think it's still possible?
MH: Yes. Digital technology has meant films can be made a bit cheaper as well. There are certain producers I know who wouldn't know how to make a film for £500,000. But with the current situation around Covid‑19, a lot of us may have to go a bit punk. The big budgets are going bigger and the low budgets are going lower. But I know for a fact that if everything went to absolute carnage, I could find a filmmaker, get in a car, get a couple of actors and we could make a film.
JG-A: People can overcomplicate things. I made a film years ago called White Colour Black. We had no money but found £35,000 and shot the film. There's always a way. So it's fascinating that we could make a film with that budget but even when you have over £1m, you still don't have enough money.
MH: You never have enough money. We made something for just under £20m and still needed more time and money. For certain films, where you have hundreds of extras in fancy costumes, you definitely need that. But take Dead Man's Shoes. I said to Shane [Meadows], what kind of crew do we need? He was frustrated having previously made an oil tanker of a film, which took forever to turn, but we were in a speedboat. How many people can you fit in a minibus? We'll get a 16-seater. That's the size of our crew. Those are the rules. We have handheld or tripod, nothing else. We have practical light, nothing else. One person in wardrobe, so everyone wears the same clothes. One make-up. You set out your agreement and don't veer off it.
JG-A: Everyone is talking about diversity and inclusivity but the problem I find is that there isn't access to gain experience if you're from a diverse background. So how do you create accessibility to give experience to a more diverse group of people?
MH: I don't want everything Warp does to be made for a middle-aged bald man like me. My business partner Peter Carlton also comes from a very different background and has very different taste, which is healthy. When building our development team, we wanted people who had a different perspective and upbringing to us. [Warp's] Soph Webberley came through a ScreenSkills scheme for underrepresented people in the industry as an intern. Now she has just been promoted to regional development executive. Kasheina Vencatasawmy, also from a BAME background, joined Warp five years ago and is now a senior development executive. They simply have a more fresh perspective than me. And we have found that helps our slate to be more diverse.
But I do think there is still a big problem in the industry. You try and make sure you've got a diverse group of people, not only on camera but behind camera. But you assemble a crew and it's still very white and that's something that needs changing. We can do everything possible, but it needs to be training from the ground up. It needs to be across everything.
There are over 100 people in the credits of a film but everyone wants to be a producer, writer or director. Why don't people want to be a gaffer or a grip or a DIT technician? These are amazing jobs. That's what we need to think about. I was a location manager for five years. If you work from the ground up, that will help. But there are not enough underrepresented people in those roles as crew. That's how I'd tackle it.
JG-A: It's about taking people on a journey through training. Sometimes, these schemes are so short-lived. Not a lot can happen in three days.
MH: The schemes need an incentive for those companies to keep them on. I don't mean a financial incentive. If you're going to get this paid-for person for six months, you have to agree you will employ them for six months. Then it's up to the individual.