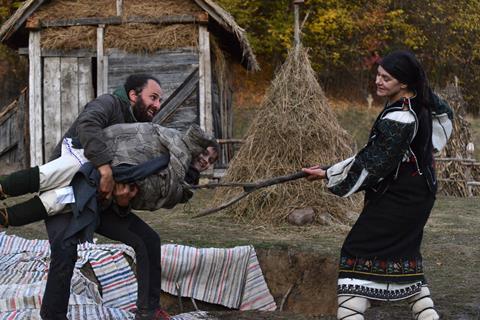 To raise the €200,000 budget for his feature directorial debut The Goat With Her Three Kids, Romanian actor and stuntman Victor Canache toured Romanian communities throughout the US with a short film based on the same folk tale about a woman who must defend her family from a friend turned foe.
Canache had no connections in Romania, having forged his career in the US, working in front of the camera on films including the Coen brothers' Hail Caesar, Roy de Silva's Tom Pachayo and Randall Yarborough's Radical. But when he wanted to make the move into directing, he turned to a story from his childhood in Romania by Ion Creanga.
"When my grandmother read me the story with its severed heads and blood smeared over the walls, I was really scared as a child," Canache says.
The gory story of the goat and her three kids exists under different names in different parts of Europe and Africa - in some countries it's called 'The Wolf and the Kid' and in Germany, for example as 'Der Wolf und die sieben Geißlein' ,'(The Wolf and The Seven Goats').
The short film was elevated by the presence of iconic Romanian actress Maia Morgenstern, who had been Canache's teacher at drama school in Bucharest.
"We made her an offer, she accepted without hesitation and when we went to pay her, she said 'Keep the money and re-invest it in the film, I'm not going to give you my bank account number,' " Canache recalls.
Morgenstern's support extended to the feature in which she stars with with Marius Bodochi. The film is making its world premiere in the Romania Days sidebar at this week's Transilvania International Film Festival where Morgenstern is also the guest of honour and recipient of this year's Excellence Award.
Personal odyssey
Making The Goat With Her Three Kids has been a real labour of love for Canache. As well as writing and directing and producing and raising the money from private investors with his wife Luana Georgita, Canache also constructed the set in Malu cu flori in southern Romania, and did most of the editing.
"I might be a little too hands-on, so much so that I need to let go and let other people to do the work in future," he admits. "I'm getting in my own way and, now we have more people in the team, I should be focusing more on what I should be doing."
The fundraising journey is chronicled in a series of six short films under the banner Breaking Through Thick Ice on YouTube,. The coronavirus epidemic stopped Canache and Georgita in mid-tour and they had to come back to Romania on the last plane out of the US.
Now based in Bucharest, Canache is working on a screenplay in English for his next feature film which will be based on the Legend of Manoli, known in some countries as The Walled-Up Wife, about the master-builder who is told by God to sanctify his work by sacrificing the first woman he sees, and this happens to be his wife.