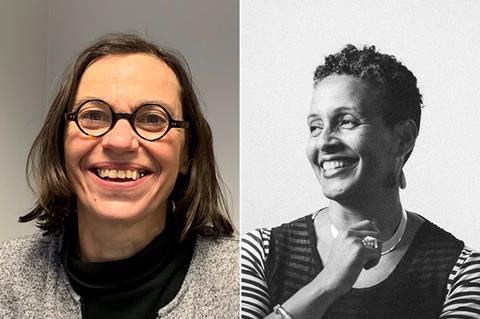 The Celebration of Sundance Film Festival: London, a collaboration between the Sundance Institute and the UK's Picturehouse Cinemas is taking place this year as an online event in which three feature films will screen at specific times to a UK audience over the weekend of Friday August 7 to Sunday August 9. There will also be a shorts programmes, two talks and talent interviews.
The features are Alan Ball's Uncle Frank, starring Paul Bettany; Zeina Durra's Luxor, starring Andrea Riseborough; and documentary Boys State, directed by Jesse Moss and Amanda McBaine, which won the US Grand Jury Prize for Documentary at Sundance. The screenings will be accompanied by Q&As with the filmmaking teams.
Sundance festival director Tabitha Jackson, talking from Connecticut on the US east coast and Picturehouse joint managing director Clare Binns, dialling in from Cornwall in south-west England, reflect on why it was important to them both to keep alive the spirit of Sundance London, when they both may return to the physical festival circuit, and how this period of immense upheaval has become a moment of important reflection and transformation.
Why did you decide to proceed with a version of Sundance London this year?
Tabitha Jackson: We recognise this isn't Sundance Film Festival London but it is a recognition of the partnership and a way of gathering a little community again and raising a cinematic glass to independent films. And, in this moment, realising how difficult it is for cinemas. Picturehouse has been our partner for a number of years and just seeing how difficult things are for cinema owners and cinema-goers, we wanted to do something.
Clare Binns: I've never thought of Sundance London as a venture where we want to make shedloads of money. This is about cinema, this is about directors, this is about independents. It's about a state of mind of why we all do this job.
Three films is obviously a lot less than the 12 features you screened last year.
CB. We wanted to do something small and perfectly formed rather than over-reach ourselves with something that was too complex and difficult to manage. There may only be three films but they give a real sense of what Sundance is all about over this short, punchy period
TJ: There are rich offerings out there that we wanted to have a moment across a weekend. To have these three films and the shorts and a couple of key discussions that include incredible people like [US filmmakers] Julie Taymor and Janicza Bravo and Justin Simion [whose films all played at Sundance in January] and these voices that are shaping culture and creativity at the moment. Just being able to be in an intimate space with them, hearing about their work. We don't need to do a million of them but just one great one on that and one great one on the industry.
Which online festivals have you had time to dip into yourselves during this time?
CB: I did the Cannes market and I have been seeing links of films that we look to buy and watching presentations. It was really interesting and I thought it worked pretty well.
TJ: I dipped into one of the first ones that had to make the super fast pivot, CPH DOX. Unbelievably impressive. I love that festival anyway and they set the bar high for what could be achieved. And then I dipped into AFI DOCS .
What has been amazing among the festivals is the degree of sharing and co-operation. We're talking to people. We were very lucky at Sundance in Utah to have been able to put our festival on in January. We've very lucky again to have a little time before our next edition. In the meantime we're all talking to each other. We are cheering on the fall festivals and also learning how we can improve that festival experience. Getting the films up and watchable and secure and having some interaction with the audience, that's hard enough, but making it feel like a festival, how do you bring that energy and that community feel? That's what we're all working on.
What is the first physical festival you both hope you will be able to attend?
TJ: Sundance, darling.
CB: I might go to Venice. I'm not making any firm decisions but I'm not ruling it out.
Do you see any advantages to the place we now all find ourselves in?
TJ: There are benefits to this moment as we imagine the future we want to emerge in to. Being invited, although the circumstances of that invitation are unwelcome, to think entirely differently about what we do and understanding what is essential about what we do, what could be more equitable about what we do, how we think about accessibility.
Not to be Pollyanna-ish about it but it is a real opportunity to understand what our role is in this independent ecosystem. Every element can be re-examined using both a values lens but also a sustainability lens. At Sundance we're a non-profit so figuring out what all that means is very interesting - and not altogether easy.
CB: One of things I'd say about [Sundance London], the celebration we're doing this year, is that normally we're in London, we're in one cinema [Picturehouse Central in Picadilly Circus]. This [digital version] is opening it up to the rest of the UK. That's exciting. Who knows how it will look in the future? In a way, a moment like this to pause and reflect is the healthy thing for us all who have just been going on the same way over and over again.
Tabitha, are you considering screening films in London, perhaps with Picturehouse, as part of the January festival?
TJ: We're definitely talking and thinking about the different scenarios that could work. We have a great partnership with Picturehouse in terms of thinking about what might be possible so nothing is off the table.
What we are considering together with each of these decisions is what the implications are of changing what we do because the ecosystem, although precarious in some ways, has worked. It has worked that we have been in Utah and not affecting any other markets anywhere else. There is a kind of dialogue between Sundance and Berlin and Cannes and Venice. In this moment where things are being upended and disrupted, we are just trying to be very conscious of what the implications might be for filmmakers, for release strategies.
In terms of values and access, we would love to be in London and other places in January but we are working together to understand what the ramifications of what that might be.
The new dates for the 2021 awards corridor means two Sundance Film Festivals will now fall within it. Is that changing how you are thinking about the January festival?
In all the global uncertainty what we can do at Sundance is stay close to our mission and our values. These other opportunities might come up. Oh suddenly we're an awards contender festival now. Does that change what we do? We shouldn't be reactive to that, these constantly changing things. But we must be responsive and not miss out on opportunities if it means the promotion of independent work and artists. But we shouldn't lose sight of what our mission is either.
And all in your first year as festival director.
TJ: I'm lucky in a way it's my first Sundance festival as director as it's all new. In a sense, the level of disruption this year is liberating for me. I approached the festival knowing I'd got the job, thinking 'I must not break the festival, I must not break the festival' It's got a 40-year legacy and it works.'
With the pandemic it became obvious we have to break the festival. We have to break it open. It opens up all kinds of opportunities and it's terrifying at the same time. Having partners like Clare and the PIcturehouse team, we figure stuff out as we go and we do what we can do. The great thing is people are willing us to succeed. They get it. If we can't put on an in-person all bells and whistles full expression of Sundance either in London or in Utah, people get it this year. Almost as interesting is what is going to happen next year.