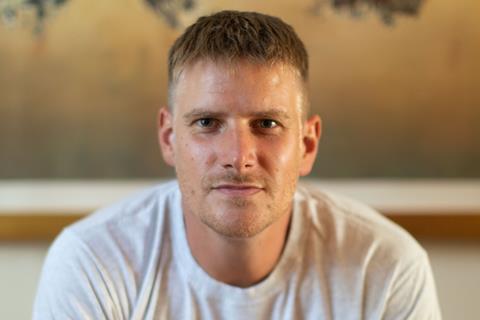 UK filmmaker Harry Macqueen is gearing up to world premiere his second feature, Supernova in competition at the San Sebastian International Film Festival this week.
With a cast lead by Colin Firth and Stanley Tucci, it marks Macqueen's second feature as a writer-director after 2014's Hinterland, which was made for just £10,000.
The story centres on a long-time couple who are travelling across the Lake District, visiting friends, family and places from their past. But more than that, they must confront what it means to love one another in the face of Tusker's early onset dementia.
Supernova is produced by Emily Morgan of Quiddity Films and Tristan Goligher of The Bureau with backing from BBC Films and the BFI. The Bureau Sales has already secured deals with a number of key territories including the UK (Studiocanal), Germany and Austria (Weltkino), and Benelux (Cineart).
The film is going onto play the BFI London Film Festival in October.
Where did the initial spark of the idea come from?
Initially it came from a really personal experience. I was working with someone who, although I didn't know at the time, had early onset dementia. She later got very, very ill with it and died about six months later. Around the same time a friend of mine had to put her father in a home just after his 60th birthday.
That made me just want to learn a lot more about dementia broadly, just as a human being rather than a filmmaker. I went on a kind of long and intense period of research and learning. I was taken under the wing of the Dementia Research Centre at UCL (University College London). I studied dementia in all its complexities over about two or three years, as well crucially being able to spend a considerable amount of time with people who were living with early onset dementia. I developed some incredible relationships through that, and it became one of the most kind of important and profound experiences I've ever had.
You famously made your debut film Hinterland for just £10,000. How do you go from that to a film starring Colin Firth and Stanley Tucci?
I don't really think about budgets when I'm writing. The film itself just kept snowballing, which is the best way to describe it. One thing Colin and Stanley responded to when they read the script was how simple it is. It's complexity of character and simplicity of narrative.
It's interesting you have these two well-known actors in a microcosmic story.
I was working with a much bigger budget with a much bigger crew with a lot of more experienced people than me working on it, so it was a big leap. But I think you've got to just stay true to your initial vision for the film.
Every actor has a different process. Can you talk a bit about how Colin and Stanley work?
By their own admission they do work in in quite different ways. Colin likes to talk about backstory, about the intricacies of a scene or the dialogue, and he welcomes a lot of supporting material about the character.
Stanley is probably a little bit more reactionary; he is more likely to dive straight in and be in the moment. What's wonderful about that is that they complement each other so well as actors, and what that means is they also complement each other very well as the characters on screen.
I act as well [his credits include Me And Orson Welles] so I sort of have an inside scoop on the actors' processes. But as a director you're always trying to be supportive and conscious of the idiosyncrasies of how people work. The challenge is to make sure that you're providing what they need from you to do the job properly. They worked incredibly hard.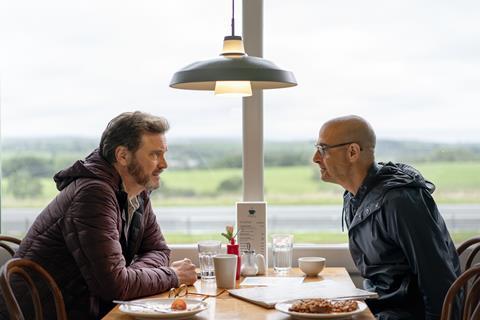 Did you have to do a chemistry test with them, or is that an insulting idea for actors of their stature?
In this instance we just didn't need to do that because Colin and Stanley have known each other for 20 years. They're really, really, really best mates. They are thick as thieves. And really great fun to be around when they're together. A chemistry test was definitely not necessary.
But it was interesting because it took us a while to work out who would play which character. At a table read, they each read both parts for me, which is amazing and doesn't happen very often.
They both really fell in love with both characters. And it took them and me quite a few weeks to sort of figure out what the best configuration was going to be. We absolutely made the right decision. But I also think they both had a bit of sadness to be not playing the other character.
Hinterland is a road movie and so is Supernova. Why was that the right backdrop to the story you wanted to tell?
The road is incredibly freeing. But also it's also very difficult. You have to work within ever-changing confines. I'm interested in the literal propulsion in film. Road movies appeal to me because they examine characters in physical and emotional transition, and I think that is inherently cinematic. It's also avoiding showing these characters in their domestic environment
Why did you choose the Lake District?
It's the micro versus the macro. There's something very interesting about framing the small story and looking at that under the microscope within the enormity of the physical environment. The Lake District is one of the most dramatic landscapes in the UK. You have someone who is looking at the environment and the world around them in all its beauty and its brutality, and we're framing that within the context of them not perhaps not having much time on the planet.
How was it working with the veteran cinematographer Dick Pope?
It goes without saying that he has this vast amount of knowledge and experience. But also, he's just emotionally so smart. He knows where to put the camera to capture performance in its most uninhibited and raw form. And as a photographer his landscape work is just incredible. He can do domestic drama brilliantly - like he has done with Mike Leigh - but he has an ability to have this massive canvas. I think that was the two things that we were really looking for in in a cinematographer.
How do you stop a story like this from being too sentimental?
I genuinely think it comes back to the period of research. You want to treat the work and the subject matter with integrity. Spending a lot of time with people who are living with dementia is an incredibly life affirming thing. It's also fun and it's funny, and it's heart-breaking. Dementia does bring people together in a very odd and nuanced way. I also felt a duty to the story and the characters and the audience for there to be a lot of light in there; there's a fun and playfulness because I had to show how much fun these guys have, and therefore how much there is to lose.
Did lockdown delay finishing the film?
We almost had picture lock about three days before lockdown. It's been a really long post process and, for obvious reasons, quite frustrating at times having to work at arm's length and not be able to see people that you want to share the experience with. But everyone's worked incredibly hard and the technological advances have meant that we've been able to do work remotely.
How does it feel to be putting the film into the world right now, and getting to have some physical screenings?
I feel very lucky to have made the film. I'm so excited about San Sebastian. Obviously being there in person and showing in Competition is a real honour, and we're very privileged that London will also have physical screenings of the film, as well as it being online. I'm just so I'm so excited for people to see it.
What are you working on next?
I've got a couple of scripts that I'm developing. They're in reasonably early stages, I'm excited about them but I can't talk much about anything yet.
To end on a lighter note, Stanley Tucci has been famous during lockdown for making negronis. Was that going on in the Lake District?
Yes, there were a few late nights at Stanley's cabin. He makes a great cocktail. And I think he spent a lot this time cooking for Colin.