With The Night Manager up for 12 Emmy Awards, the Danish film-maker sat down with Screen in LA to discuss her successful transition to television and those James Bond directing rumours.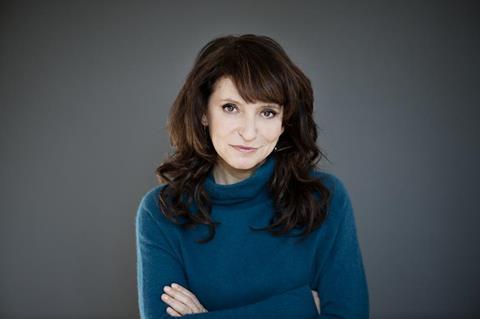 [Screen spoke to Bier ahead of her Emmy win for The Night Manager]
On the eve of the Emmy Awards (September 18), where The Night Manager is competing in 12 categories, Susanne Bier met up with Screen in LA to discuss her successful transition to television, rumours that she might direct the next James Bond film and why she thinks the best writing today is in TV.
Bier is the only female nominee in her Emmy category (Outstanding Directing for a Limited Series, Movie or Dramatic Special). She's up against five men, including three who have also straddled the film-TV divide: Jay Roach (for HBO's All The Way) and Ryan Murphy and John Singleton for separate episodes of AMC's The People Vs OJ Simpson. "I'm not expecting to win," says Bier, "so I'm just going to try to enjoy myself."
While the Danish film-maker could have been a left-field choice to bring John Le Carre's espionage thriller to the small screen, her skill at forging potent relationships between characters and making them resonate with an audience was a huge contributing factor to the BBC-AMC show's ratings and critical success. In China, it's reported that 40 million people are watching The Night Manager each week on local platform Youku Tudou. "That's six times the population of Denmark," Bier laughs.
"It's been very joyous to get this reception," she adds. "I've never had that kind of audience, I've never had that kind of public exposure. It's taken me by surprise, coming from being an arthouse director."
Making the move
Bier had been looking to direct television for some time when The Night Manager came her way. "A lot of the great writing is in television, and I enjoy watching the longer formats," says the film-maker, who is a long-time fan of Le Carre's writing. "You can live with characters in a different way. A great movie is a very distinct, refined piece of art. A great television series… it's almost like you live it."
"Television is as interesting as film now and it didn't used to be like that. Even 10 years ago, you wouldn't find great stars wanting to work in television."
Bier approached The Night Manager like she was making a six-hour film, and even created a rough cut of all six episodes together to screen for a test audience. The reaction was overwhelmingly positive, prompting Bier and executive producers Stephen Garrett and The Ink Factory's Simon and Stephen Cornwell to believe they had something potent on their hands.
The director also preferred to find her way in the edit like she was making a single piece of storytelling. Rather than deliver one or two completed episodes at a time, as per the norm for TV, Bier edited the story into six segments. That meant she found herself with some episodes running to 75 minutes, but it also allowed her to make some "radical decisions" about shifting scenes around without having to worry about disrupting earlier episodes.
"I don't think any of the episodes end where we thought they would before we started shooting," she notes. "It was a very, very intriguing process."
Working on a $30m series produced for two major broadcasters, the BBC and AMC, would seem to bring the potential for too many cooks in the kitchen, but Bier describes the physical production process as "very collaborative… There was no pulling. I'd been warned by colleagues about having two broadcasters and the fact that they might have contradictory notes, but they didn't. All the big notes were very similar."
Career boost
Off the back of The Night Manager's success, Bier has seen a sea change in available opportunities. "I'm getting offers that I've never gotten before," she says. "Both film scripts and television."
One side is impressing her far more than the other. "There are some great film scripts but I will say as a general rule, there is no doubt that the level of writing in television is better. And I've read lots – in the last few months, I've read between 75 and 100 scripts. There are exceptions, of course; there are some brilliant film scripts out there. But in general, they're not comparable to what you're finding in television. The difference is striking."
Bier believes it's not just that the best writers are migrating to TV but that TV is where creativity is encouraged and flourishing. Whereas in the film industry, the pressure to deliver projects that will perform commercially is intense.
"The fact that many of the summer remakes haven't worked might be pointing towards the need for the film industry to be more adventurous," says Bier, who would like to see the industry introduce more initiatives to develop screenwriting talent. "The need is clearly there and it needs to be nursed."
Even if The Night Manager hadn't already given her a confidence boost to seek further TV opportunities, Bier, whose drama In A Better World won the Best Foreign-Language Film Oscar for Denmark in 2011, says she will continue doing both TV and film in the future.
She hasn't decided what her next project is going to be (although Tropicana, a TV movie listed on her IMDB page, definitely won't be it: "No, I'm not doing that"). Given she doesn't have anything Danish in the works, she says it's likely to be an English-language project.
Could it be the next Bond film? Bier's skills wrangling actors, glamorous locations, set-pieces and a grand canvas on The Night Manager had many touting her for the position. Suddenly, she was being earmarked as a film-maker Barbara Broccoli and Michael G. Wilson should have on their list of contenders.
"I'd be honoured and happy to do it but it is just rumours," she says. "I would love to do that; I would love to do a big action thriller. But only if the story is good, and I am intrigued by the characters."
"I've never been a careerist; I've never done what is considered the smart move," concludes Bier. "You deliver your soul and your life to a project. I'm kind of obsessive and in order to be obsessive and 100% dedicated, I have to feel very strongly that this is going to be the best thing I've ever done. And that I know exactly how to do it."