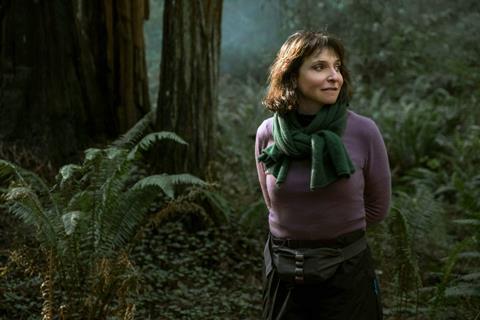 The success of her Emmy-award-winning spy thriller The Night Manager, a six-part TV series for the BBC and AMC in 2016, catapulted director Susanne Bier to the top of many people's wish-list to direct the next James Bond film. Bier laughs it off now but admits the attention was a bit uncomfortable, particularly as she is friendly with Bond producer Barbara Broccoli. Bier says Broccoli has never mentioned Bond, not then, not ever.
"It was a media thing!" says Bier of the speculation. "I've kind of joked about it [with Broccoli]."
The clamour came just as the industry was beginning to grapple with the reality very few female filmmakers get the high-budget jobs. So Bier chose to make a very different film about a very different type of action hero to 007.
The character of Mallory in Netflix's Bird Box is a terrified woman who is forced to become a blindfolded, scrappy killer in an attempt to save two children from an apocalyptic monster force intent on wiping out human civilisation. As played by Sandra Bullock, Mallory bears no resemblance to James Bond except in one small regard – Bier gave her a gorgeous, much younger lover in the form of fellow survivor played by Trevante Rhodes - and the characters jokingly acknowledge the age difference.
According to figures from Netflix, Bird Box has been seen by 80 million subscribers since it was released on the service in late December 2018. Based on a nominal average theatrical ticket price of $5, it is the equivalent of a global box office of $400m in just four weeks.
"Unusual image of motherhood"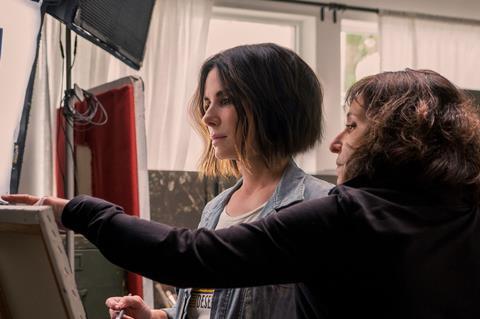 Bier was sent the script from her agent Beth Swofford at CAA, who also represents Bullock. Based on a novel of the same name by Josh Malerman adapted by Eric Heisserer, the project was gaining momentum as Netflix was in the process of buying the property from Universal and Bullock was in talks to play the lead.
"I got exactly why Sandy [Sandra Bullock] was interested," Bier explans. "It's got an unusual female protagonist and I thought, 'It's really possible to convey a relatively unusual image of motherhood, within a mainstream film, within a huge big thrilling movie'."
When Bier signed she was involved in what she describes as a very thorough script development process.
"Had it been a more general, post-apocalyptic, 'let's just do something horror', scary, I don't think I would have been interested," Bier explains. "But the potential of doing something of substance within that framework, I found really compelling."
With a cast led by Bullock and Rhodes and including Sarah Paulson, John Malkovich, Tom Hollander and Jacki Weaver, Bird Box shot entirely on location in Northern California and the Smith River near the border with Oregon for 70 days. "Shooting on the river with two small children was time-consuming," Bier explains. "There were a lot of scenes it took some time to shoot, such as the car crash."
The set was exceptionally focused.
"I am not a great fan of small talk," Bier explains. "I'm not a great fan of noise. Because I work on location what happens is you only have the real key crew on set because base camp is somewhere else. It makes it a little bit claustrophobic because you are in the world all the time."
"And I don't have lunch breaks," she admits. "It helps to make that creative extremes possible. You are in the world all the time and there is no getting away."
Bier likes to rehearse each morning with her cast. "We have anything from 45 minutes to two hours of walking and talking the day's scenes, discussing dialogue, changing dialogue, sometimes taking away dialogue because you realise it can be replaced by physical action. By the time the crew comes, the scenes are pretty much set and we can shoot."
"I just miss working in Europe"
It is a method the director has finessed throughout her career, which began in her native Denmark on films including The One And Only, Dogme title Open Hearts, Brothers and After The Wedding. The latter two have both been remade in English. (After The Wedding, starring Michelle Williams and Julianne Moore, premiered at Sundance and is due for release this year.)
Bier made her English-language debut with Things We Lost In The Fire, starring Halle Berry in 2007, before returning to Denmark to make In A Better World, which went on to win the foreign-language Oscar in 2010. The Oscar helped to transform her career.
"What it does is make stars want to talk to you," she says of the Oscar afterglow. "Because there is a trust that you can handle an artistic premise. Within the system today it's still really important stars are engaging and want to do a film with you. It's still exceptional that a film like ROMA is doing well with no stars.
"Winning an Oscar gives you access to meet people. You still have to prove yourself," she underlines.
Bier hasn't made a Danish film since 2012's Love Is All You Need, starring Trine Dyrholm and Pierce Brosnan, which was shot partly in English and Italian. She is toying with the idea of a return.
"I don't really mind working in English at all," she points out. "But I might miss working in Europe. I just miss being in Europe."
"I treat TV as a very long film"
Before that is a return to TV for HBO's six-part The Undoing, an original story written by David E Kelley and starring Nicole Kidman and Hugh Grant.
"I now think of feature film as short format and TV as long format. I treat the TV I've done as a very long film. It has the same arc as a feature film. It's just much longer."
Bier is now in full prep on The Undoing which will start filming in New York City at the end of February. It will shoot for 80 days, not much longer than the Bird Box shoot, and Bier will direct every episode as she also did for The Night Manager.
"I couldn't bear not [directing every episode]," she says "It's a kind of texture thing. Occasionally, you say 'try and do this shot without me'. But there is always something about the timing or something else. It's very hard to explain exactly what it is. It's a musicality. And it's a very distinct musicality. I'm not saying mine is better than anyone else's but it's a very specific musicality. And I have a hard time if it doesn't have that."
As one of the world's leading filmmakers, Bier is adamant much more needs to be done when it comes to further increasing the number of women directing films. She believes the impact of the #Metoo movement and the work of the TimesUp organisation is gradually changing the landscape in terms of sexual harassment in all industries but points out that addressing sexual harassment is not where the fight for gender equality begins and ends.
"I worry that if we keep talking about that particular aspect of it [sexual harassment] we don't put enough force behind everything else that needs to change," she explains. "By everything else I mean equal pay, equal opportunity, a serious conversation about proper maternity leave, a serious conversation about preventing employers from not hiring women because they are worried they might fall pregnant."
Bier is proud of her own record. "With The Night Manager it wasn't just making Burr, the character of Olivia Colman, a woman and a pregnant woman [Burr was male in the John le Carre novel on which the series was based], it was also Burr's office. Nobody really paid attention to it but her office was very complex in terms of cultural diversity. All the evil people were white!"
The success of Bird Box means Bier is more in demand than ever but she says she doesn't yet know what she is doing after she finishes The Undoing.
"And I don't want to know," she says. "Otherwise it becomes too much."The Danish director also talks about the ongoing fight for gender equality.