It took 12 years and some of the most powerful names in Hollywood to achieve Martin Scorsese's vision for The Irishman. Screen talks to the producer team about bringing the Mafia true tale to life.
Back in 2007, it must have seemed like the proverbial no-brainer. Martin Scorsese and Robert De Niro reuniting on a feature for the first time since 1995. A movie chewing on the kind of true-life Mafia material with which audiences have identified the director and actor since their earliest days. Joe Pesci, coaxed out of retirement, and Al Pacino in the frame to co-star. And Oscar-winning screenwriter Steven Zaillian on script duties. It was a dream team. A dream project. "But nobody wanted to give us the money we needed," says Emma Tillinger Koskoff, production president at Scorsese's Sikelia Productions.
The problem was twofold. First, the scope of The Irishman was vast. Based on the book I Heard You Paint Houses by Charles Brandt, it spans the adult life of Frank Sheeran, a Mob enforcer and bodyguard to notorious union boss Jimmy Hoffa. It would ultimately comprise 319 scenes, 160 cast members and 117 locations, with principal photography lasting 108 days. "It's not a small film," Koskoff understates, confirming that in the end its budget came to "right around $169m". A large portion of which was necessarily swallowed up by the second problem.
Brandt's book had originally been brought to Scorsese by De Niro, who was fascinated by Sheeran and keen to portray him, not merely during his latter years but throughout his life. "Bob really wanted to find a way to be able to play all aspects of the character, and all ages of the character," Koskoff explains. This would require the extensive, and expensive, use of visual effects to "youthify" De Niro and the other key cast in a majority of scenes. It was too much to ask of any of the traditional studios, for whom that kind of money was considered better spent on family-friendly genre spectacles, and the project was consigned to development hell, with Paramount Pictures retaining the domestic rights.
As Koskoff tells it, the shelving of The Irishman was "a blessing in disguise". As a script, it improved with age. Zaillian was able to spend more time with it, revising it in 2013, then again in 2017. "In each of those cases, Bob, Marty and I would sit around and talk," the screenwriter says, "just about the things that we found interesting in it. Then I'd go away and do my draft, and we'd get together again and talk about it."
Keeping the faith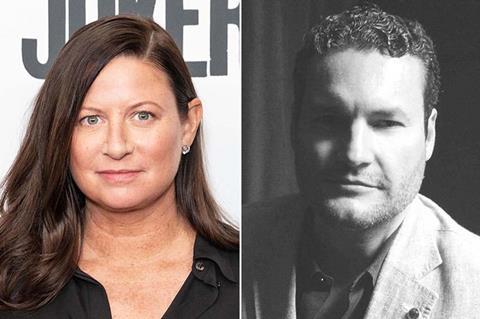 Scorsese and De Niro's enthusiasm for the project never diminished. Quite the opposite. Neither would let it go, and it was while Scorsese was animatedly discussing The Irishman during the shoot for his meditative epic Silence in Taiwan in early 2015 that he realised it was a better time than ever to achieve the youthification effects — certainly less technically problematic than it would have been seven years earlier.
"We had Pablo Helman from ILM as our VFX supervisor on Silence," says Koskoff. "He said to Marty, 'I really think we can help you achieve what you want to achieve with the youthification. We can do it in a very subtle way, not involving head-cams or green screen, or dots all over the face.' We were amazed to hear this."
During Silence, Scorsese also developed a relationship with producer Gaston Pavlovich, of Mexico's Fabrica de Cine, and after wrapping, invited him to produce his next movie, which he was now determined should be The Irishman.
"I had heard of it," says Pavlovich. "It was a bit of an urban legend." After meeting with De Niro for dinner in Tribeca, New York, in late 2015 and receiving his seal of approval, Pavlovich set about the "somewhat complex process" of extracting the rights from Paramount. He achieved this just before heading to Cannes Film Festival in 2016, where he aimed to pre-sell the international rights, as he had done on Silence.
"I only had Bob De Niro's contract signed as an actor and Marty's permission to use his name as the director, although we had not finished his deal yet," says Pavlovich. "A lot of people told me the world would not necessarily go for a big, drama-filled project, but I had a conversation with every studio in town and a few mini-majors looking to co-produce what was then a $90m project. I was on the phone for 20 hours straight. I felt I needed to get a reaction and a bid during Cannes to send out the message of the reality of this film. We needed to sign a lot of important people and they needed to see there was enough finance to take this seriously."
Partway through the festival, he received a $50m commitment for international sales rights from Robert Simonds, chairman of STX Entertainment, with Pavlovich confident he could arrange financing on the $40m balance.
Meanwhile, Helman delivered his proof of concept for the youthification, having recreated a scene from GoodFellas with Robert De Niro, shot in the late summer of 2015, and returned four months later to screen the results. "It was me, Marty, Bob, Jane Rosenthal [of Tribeca Films] and Thelma [Schoonmaker, editor]," says Koskoff. "It was just incredible, a magical 30 minutes of seeing a young Bob come to life on that screen."
But The Irishman's troubles were far from over. After talking with ILM about how it planned to "rejuvenate" the actors, Pavlovich quickly realised this was not a $90m budget. "This was surely going to go upwards in a very fast manner, because the budget did not include what Marty wanted, technology-wise."
He recalls a "pivotal" meeting that took place at the apartment of fellow producer Irwin Winkler in New York, with De Niro, Rosenthal and Koskoff in attendance. "They all sat in front of me and asked what the issue was. I told them we were no longer talking about a $90m movie. It was more towards $120m at least. It got very tense. They realised the project was in jeopardy. I told them either we go back to the idea of prosthetics, or use young actors, or get another big partner involved, otherwise as an independent production this would not work. It was Bob who calmed everybody down and said, 'It is what it is. We can't do this by ourselves. We need a big partner.'"
On stream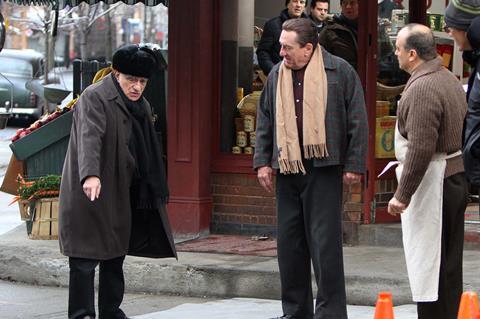 It was only a few weeks later that Net­flix came into the picture. The streaming giant, it turned out, was looking for material "that would satisfy the 50-plus generation", Pavlovich says. After some tough negotiations with head of original films Scott Stuber, Netflix came in as the sole financier, meaning Pavlovich had to step down as lead producer and unwind the international distribution deals with STX. "It was a huge task involving a lot of players, especially WME, who were making huge efforts to get this film done for Marty. They helped in negotiations to make sure many of these distributors were unwound in a healthy and safe manner so nobody got hurt in the process."
Production finally started in September 2017, a full decade after De Niro and Scorsese set their hearts on the project, using locations around New York. "It's not the easiest place to shoot," says Koskoff. "It's a very welcoming city, with world-class crew, but it's a city with a lot going on. You have to figure out how to manoeuvre and fit into the eco­system. So it was an extremely difficult production shoot. We were all over the place — Brooklyn, Long Island, Queens, upstate New York, Staten Island, the Bronx… You name it, we were there. But aesthetically the locations are phenomenal. The diversity you find in and around New York is astonishing."
The atmosphere on set helped, too, fuelled by the camaraderie between Scorsese and his cast. "It was great," Koskoff recalls. "It was laughs and big smiles and hugs at the beginning of the day and at the end of the day. As hard as it was, it was a joy. I always say I have the best gig in town with Marty." But shooting the film was only part of the effort. Despite The Irishman wrapping in March 2018, Koskoff reveals the finished film was only ready at the start of September 2019 — less than a month before its world premiere at New York Film Festival.
But the up-to-the-wire, multi-million-dollar gamble paid off. The film has been rapturously received, with glowing reviews, 10 Oscar nominations, including for best picture and best director, matching its number of Bafta nods. It has also picked up best film awards from the National Board of Review and the New York Film Critics Circle. Although Netflix does not report box office data, anecdotally The Irishman attracted a significant audience at those cinemas willing to play the film despite the brief, three-week window when it played exclusively in theatres before hitting the streamer's platform. Still, the majority of views have been on television screens and even smaller devices, with more than 26 million accounts watching The Irishman in the first seven days, according to Netflix.
"Of course that was a concern for Marty," admits Koskoff. "But the great thing about him is he's completely open to new forms of technology. He understands that times are changing, and he's always open to scenarios that enable him and other filmmakers to get their films made."
It all boiled down to one incontestable fact. "Nobody was gonna make this movie but [Netflix]," says Koskoff. "At a certain point, you have to say, 'How badly do we want to make this movie?'" And for all the setbacks and the risks, the producer never wavered in her belief in the project. "I knew Marty was making a masterpiece with The Irishman," she says. "Hands down."