Iceland has seen a recent Hollywood boom with projects such as Noah, Game Of Thrones and The Secret Life Of Walter Mitty, and local talents are also thriving despite funding challenges. Wendy Mitchell looks at the filmic draw of this unique island nation.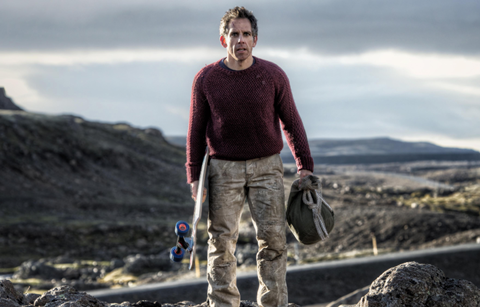 RELATED FEATURES
Tom Cruise, Ben Stiller, Kit Harington, Darren Aronofsky, Ridley Scott, the Wachowskis, Christopher Nolan — not just a rollcall of Hollywood's biggest players, they are also fans of Iceland.
The Nordic country is certainly going through a boom of inward investment, thanks to projects such as Interstellar, Oblivion, The Secret Life Of Walter Mitty, Game Of Thrones, Noah, Thor: The Dark World, Prometheus, Jupiter Ascending, The Fifth Estate and Sense8 shooting in Iceland. Star Wars: Episode VII is also said to have recently shot in Iceland, although the production will not comment officially.
So what is the attraction for the studios to bring such big projects to this tiny island nation that is closer to Greenland than to Los Angeles?
There is some precedent — Clint Eastwood was a pioneer in shooting his 2006 Flags Of Our Fathers in the country, back when the local currency was stronger and the rebate only 12%. And Nolan started his love affair with Iceland during 2005's Batman Begins.
Now, the country can offer the practicalities of a 20% tax rebate, experienced production service companies, a depressed local currency, a skilled, hardworking and non-unionised crew base and added post-production offerings. Green energy is efficient and cheaper, and the geographic location between the US and Europe is also a strength.
Added to all those practical benefits, much of the motivation to shoot in Iceland is creative — Iceland's landscapes look like nowhere else on Earth, and there are highly varied locations within short drives.
Stiller's production took advantage of a range of Icelandic landscapes — shooting for Greenland, the Himalayas, Afghanistan and Iceland itself. "The landscape creates such amazing, stunning imagery for a movie," Stiller has said. "I was blown away by the experience."

Iceland on the map
"I have been going to Hollywood for 10 years and now they know Iceland so much more," says film commissioner Einar Hansen Tomasson. Fox was comfortable to let Mitty shoot there because it had been pleased with Prometheus, for instance.
TV is also a growth area, and not just for visiting productions such as Game Of Thrones or Sky's Fortitude, says Kjartan Thor Thordarson of Sagafilm. He says local series such as his company's The Court, The Night Shift and The Press are seeing more interest in sales and remakes — akin to the trend from Israel with Homeland and In Treatment. He says: "I think we'll see much more of a spotlight on Icelandic projects outside of Iceland than we've seen before. I do feel the change."
'Baltasar Kormakur is a powerhouse… Through him we have this window from Iceland to Hollywood'

Einar Hansen Tomasson, film commissioner
Baltasar Kormakur's RVK Studios is planning Iceland's largest-ever TV project, the 10-part Trapped, with partners in Germany and France. Plus producer and production services company Truenorth is also developing a Viking adventure series as a feature film trilogy or TV series. Leifur B Dagfinnsson, Truenorth's founding partner and chairman, hopes it could be for Iceland "what The Lord Of The Rings was for New Zealand".
The 20% rebate on any local expenditure, administered by Film in Iceland, is secure through to the end of 2016. It has to be revalued by the government every five years, and the locals are hoping it will be boosted to a more competitive level of 25%. The benefits of tourism related to projects such as Game Of Thrones or Mitty should be another factor to convince the government to continue and boost support for the sector.
Dagfinnsson, whose Truenorth worked on films including Oblivion and Mitty, says in an understatement: "Business has been really good for the last three years; 2012 was exceptional, when we had Oblivion, Noah, Mitty and Thor all in the space of eight months."
He even dreams of a trial of a 30% rebate. "We will go way back in the line if we don't build on what we've done. If the krona gets stronger then we'd definitely need to increase the tax rebate."

Local highlights
It is not just the studio projects that are growing the Icelandic industry. Local talents are pushing ahead with interesting projects despite tough financing conditions following government cuts to the budgets of the Icelandic Film Centre (IFC).
Laufey Gudjonsdottir, director of IFC, notes the funding "was cut drastically this year, back to post-crash level". Film funding now stands at about $3.8m (€3m) per year, less than half what it was a few years ago.
"It's a small country but there's a minimum you need to run a production professionally, and that's a challenge at these levels," she says. There has been strong lobbying all year by the film community and the hopes are now that the government will increase the funding again.
Olaf de Fleur, an Icelandic director who sold his sci-fi script Revoc to Summit, says Iceland is a good base to be a film-maker, but much of that is down to the steady funding of the recent past. "The story training I've gotten in Iceland has been a blessing, and that's thanks to the film fund here."
IFC funding is especially stretched because it needs to cover new voices and established talents, as well as shorts, animation and documentary. Gudjonsdottir is hoping to see film funding levels raised back up to $8.8 (€7m) per year to keep the industry at a healthy level.
Fridrik Thor Fridriksson, the Oscar-nominated veteran director and producer, produced Benedikt Erlingsson's debut feature, Of Horses And Men, which was Oscar-shortlisted. Fridriksson says backing new talents cannot be forgotten, even with budget cuts. "It's difficult for young directors to come out unless they're imitating Hollywood crime stories," he says.
Hilmar Sigurdsson, chairman of the Association of Icelandic Film Producers, reiterates: "The big challenge in local film-making now is stabilising the film fund… We produce fewer films now and also the long-term planning is unstabilised. We need that sustainability in the industry."
Film-maker Dagur Kari sums it up well: "In terms of talent we're doing great; in terms of money it could be better."
He says the government should see backing film "as not just support but as investment, for every krona you put into film you get it back five times".

Connecting globally
Iceland continues to actively co-produce as well, working on recent titles such as Finland's The Grump, Denmark's The Shamer's Daughter and Palestine's Eyes Of A Thief. Plus, more independent US and European film-makers are choosing to tell stories in Iceland, with one example being US directors Martha Stephens and Aaron Katz with Land Ho!, which has become a festival hit and secured a US theatrical release (it launches on DVD and VoD on November 4).
'If the krona gets stronger then we would definitely need to increase the tax rebate'

Leifur B Dagfinnsson, Truenorth
Julius Kemp, whose Kisi co-produced The Grump, adds: "We cannot bring much money to the table but we have to want the talent or else it doesn't work. The Grump wanted an Icelandic composer, for instance."
Hlin Johannesdottir of Land Ho!'s local production company, Vintage Pictures, agrees that, especially when local funding is limited, "connecting internationally is a priority… to be a successful business, we need collaboration with other countries".
Mikkel Jersin, who produces Runar Runarsson's Sparrows, has opened an outpost of Denmark's Nimbus Film in Iceland to work on projects by Runarsson and other local talents. "We have many ideas for the future," he says, noting the "crews are very talented and artistic and hardworking, and will work 12 hours a day".
Snorri Thorisson, whose company Pegasus has managed Game Of Thrones' Icelandic shoot for the past three seasons as well as Sky/Tiger Aspect's new Fortitude, agrees that hardworking crews are a big draw. "Everyone is willing to put in 150%," he says.
If there is a posterboy for local and global success, it is now Baltasar Kormakur. Tomasson says: "He's a powerhouse. Having him doing these big Hollywood movies helps us. Through him we have this window from Iceland to Hollywood."
Of course, the Icelandic industry is not just about one man's work, and with every Hollywood project that comes to Iceland, Kormakur can see the whole industry maturing. "The energy is buzzing. Each project brings new people to the table… Now we can actually call it an industry. It's layers, we're doing different things, there's more local films, there's Hollywood films, there's big TV, we can now do visual effects of scale."
Iceland's independent film-makers agree these Hollywood projects help their local industry. There may be the occasional scheduling challenge because crews can be working year-round, but that is a small price to pay for the stability these projects afford local crew, and the expertise it grows.

Building on success
So where can Iceland go from here to keep up the momentum?
A boost to the 20% rebate would help across the industry, and certainly IFC's funding needs to be reinstated to healthy levels. There is also a call for a studio facility to be developed in Reykjavik; local government is already scouting disused industrial spaces for such a project. Dagfinnsson notes: "I see an opportunity for collaboration from Pinewood or Leavesden to do something here."
Iceland also needs to keep up its offerings compared to eastern Europe, adds Thorisson: "It's hard to compete on some costs — we import timber, for instance. Adding a studio to the backdrop we have would be great." Even with cinema-going at a healthy five-plus visits annually per capita, there could be more audience development for specialty films.
Managing director Hronn Sveinsdottir admits it can be an uphill battle running Iceland's first arthouse cinema, Bio Paradis, established in 2010 in Reykjavik and backed by the professional associations. "It's like growing a market from scratch," she says.
Bio Paradis will host a second major film festival for Reykjavik, launching in February 2015. Fridriksson is among the creative talents backing the event, called Stockfish. Sveinsdottir says of the new festival: "We want to establish and create real connections with the international industry."
Meanwhile, Reykjavik International Film Festival (RIFF) celebrated its 11th edition in September with guests including Mike Leigh. RIFF director Hronn Marinosdottir notes that 30,000 tickets are sold each year, representing about 10% of the entire country's population. "A lot of young people attend. It's important to get them hooked on good films."
Another area for improvement is the support for women producers, directors and writers. There are some bright spots here with Anna Maria Karlsdottir producing Gudrun Ragnarsdottir's debut feature Summer Children, or Hlin Johannesdottir and Birgitta Bjornsdottir working on Asa Helga Hjorleifsdottir's The Swan.
Overall there is a positive mood in Iceland. Baldvin Z, who directed this year's local box-office hit Life In A Fishbowl, sees parallels to how the music scene grew. "The Sugarcubes did something to Iceland and now we have this special place for music. Maybe we'll get that for film-making as well — it feels like something is happening."