Animated action adventure The Mitchells Vs The Machines offers a futuristic dystopian tale rooted in fractious family life. Screen talks to writer/director Mike Rianda and producers Phil Lord and Chris Miller talk about the six-year creative journey.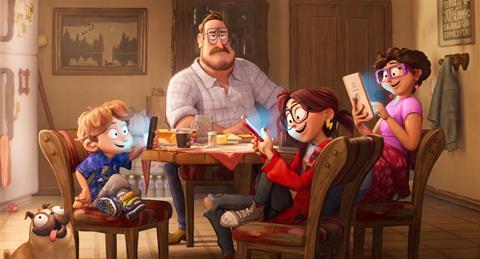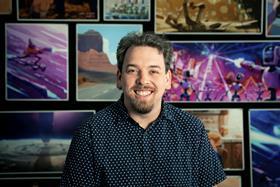 "There are a lot of X-Men on screen, and I don't know any X-Men. But I do know families that don't get along." Fittingly, The Mitchells Vs The Machines writer/ director Mike Rianda is animatedly discussing the genesis of the idea for his debut feature: an apocalyptic comedy where a normal family has to contend with robots hell-bent on destroying the Earth. "It was less about people having to grapple with great power, and more like people having to grapple with their dad."
Rianda, who wrote and directed the film with Jeff Rowe, says that while this story of gay freshman film student Katie (voiced by Abbi Jacobson) repairing her fractured relationship with her father Rick (Danny McBride) in order to survive an attack by robots controlled by vengeful artificial intelligence PAL (Olivia Colman) may play like science fiction, its roots are intensely personal. "I got excited about digging into the specifics of real people," he says, noting that while the inspiration came from the "inner furnace of love that I have for my own crazy family, as the movie grew, other people brought their own experiences and family memories into it".
"It took us six years to make this movie, and you have to get excited about it every day," continues Rianda, who initially pitched the project to Sony Pictures Animation in 2015, after the studio approached him following his work on Disney's animated series Gravity Falls. The Sony division agreed to develop the film, and ultimately produced it. "One thing that powers you through is collaboration," he adds. "I feel lucky we had the freedom to tell the artists to bring their own ideas, whatever is going to make them excited."
That creative freedom was largely made possible, says Rianda, by the arrival of Phil Lord and Chris Miller — the powerhouse duo behind envelope-pushing animations including The Lego Movie and Sony Pictures Animation's own Cloudy With A Chance Of Meatballs and Spider-Man: Into The Spider-Verse — who joined as producers (alongside Kurt Albrecht) three years into the process.
"We had made an animatic that we liked, and that audiences liked, but the studio was still a little freaked out because these things cost a lot of money," Rianda recalls. "They were like, 'People like it but it's very weird.' Chris and Phil did a million things on the movie, but first of all they sold it to the studio. I don't know if there would have been a movie without them."
Lord and Miller say they were sold on The Mitchells Vs The Machines the moment they saw that early animatic. "It was very rough, Mike was doing all the voices but you could tell he was really talented and funny," says Miller. "He was interested in telling relationship stories and cared about emotion."
It took another three years of hard work — not to mention the creation of new animation techniques — to bring the film to life. How did the producers and their creative team stay motivated during such a lengthy process?
"The answer is fear," laughs Lord. "You just want to make sure you've done everything possible to help connect it with an audience and be its best self."
"The first few months on a movie are like first dates, where it's all exciting and the possibilities are endless," says Miller. "By the time you get to year two of making a movie, it's more like a marriage. Maybe the excitement of possibility is long gone, but you have this new, more profound relationship with the characters so that you love living in their world."
"The other thing is that this movie is breaking new ground in so many ways," adds Lord. "From a technological standpoint, an artistic standpoint, a story standpoint. And that keeps everyone thrilled because they know they're doing something unique. They're pushing the medium forward, they're taking risks that no-one else is willing to take."
Serving the story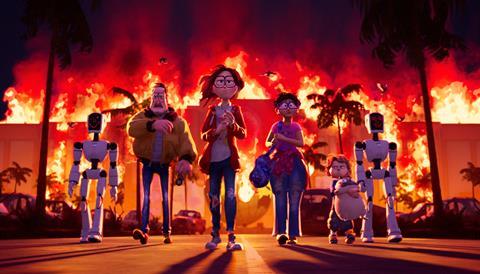 The Mitchells Vs The Machines is one of several notable animations this awards season grappling with themes relating to pervasive, possibly dystopian digital technology — see also Belle and Ron's Gone Wrong. And while the film demonstrates an individual visual style, powered by groundbreaking technological developments, everyone's focus was ensuring the story — which takes a road-trip narrative form, as dad Rick attempts to repair the broken bond with Katie by driving the whole family to her California campus — shone through.
"We always make the visuals enhance the story," asserts Lord, pointing to the juxtaposition between the hand-drawn, imperfect quality of the Mitchells and the sleek futuristic design of the robots. "The Mitchell family doesn't have any straight lines in their house; this is a warts‑and‑all depiction of a family. Every time you're with the Mitchells, it's like the camera is handheld, everything feels organic. Whereas the computers and robots are all machines, and that's when the camera is square to the architecture and there's symmetry in the frame."
"Technology only works if it serves the story," agrees Rianda. For example, initial tests applying a water­colour texture to lighting proved too pretty. "It was like Terence Davies made an animated movie — the light flowing through the window was gorgeous. But it didn't serve the story because it made all the human stuff look untouchably beautiful. And that wasn't the story we were telling; we're telling a story about normal people who can't get it together."
"I don't write software," notes Miller. "I'm never going to be a person that spends a weekend coming up with a new way to make robots move. But we do spend a lot of time trying to make sure every moment of this movie is telling a coherent story."
After the Covid pandemic hit, the film — at one point called Connected — slid around Sony's 2020 release schedule, and was then acquired by Netflix in a deal announced in January 2021 with a price tag reported to be more than $110m. Netflix gave it a short theatrical run last April 23, and then released onto streaming. How did that feel at the time?
"Well, as a friend of mine said, 'The theatres are closed, Phil,'" laughs Lord. "We were just excited for the movie to get in front of people."
"It definitely felt like it was relevant for what we've all been going through, this weird apocalyptic situation, and how we all came together as families," says Miller. "It's beautiful to see on the big screen, and we love the theatrical experience, but, thanks to Netflix, the movie was viewed by so many more millions of people than probably would have seen it in a theatre." (Netflix reported in July 2021 that the film had become their most-viewed animated work with 53 million households having watched it in the first 28 days of availability.)
"It was the best-case scenario," agrees Rianda. "This global emergency forced people into their family homes, and they had to deal with each other. The movie is a sort of guidebook to work through that. Everyone thinks their family is weird, disturbed and demented, and it's reassuring to see a family on screen that's like them. People have said it was a cathartic experience."
Spoilt for choice
Lord and Miller are witnessing — and have been at the forefront of — a true "golden age", as Lord describes it, of animation, with streamers like Netflix creating more space for diverse animated content, and technology pushing the limits of what is possible.
"When Cloudy [With A Chance Of Meatballs] came out [in 2009], there was a concern there wouldn't be enough movies for the Academy to have an animation category," says Lord. "Now you have so many features that being part of the animation branch, and watching them all, is the real task. It's wonderful there's such breadth and depth of animation, and that there's so many diverse voices.
"The thing about Cloudy is that it was then a radical departure from how people were treating feature animation," Lord continues. "Now we try to innovate every single time we make a film, and you see it permeating through the business that people take more visual risks."
"I think it's the beginning of an explosion," agrees Miller. "The technology is there to allow anything you can imagine to be seen on screen. Imagination is still driving story; you use technology to figure out how to execute that.
"I think audiences are waking up to the idea animation is a medium and not a genre," adds Miller who, with Lord, is working on a raft of live-action and animated projects including The Afterparty for Apple TV+, a sequel to Into The Spider-Verse and horror comedy Cocaine Bear, directed by Elizabeth Banks and based on the true story of a bear who goes crazy after ingesting cocaine. ("That one's not for kids," laughs Lord.)
The sheer breadth of possibility offered by animation is something that excites Rianda, who is lining up several projects that remain under wraps. "There are so many rich opportunities in animation, and we've only scratched the surface in terms of subjective storytelling. There's never been a more exciting time to make animation."
Embracing the imprecise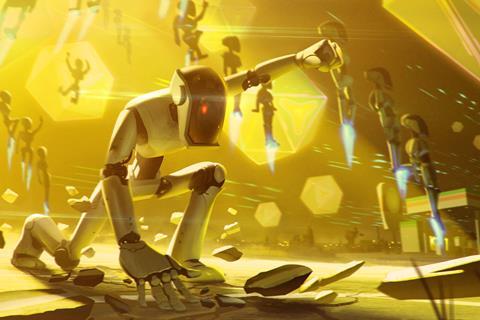 "I had check boxes on the wall when I was making the film, and one of them was, 'Make it look unlike any other animated movie'," laughs The Mitchells Vs The Machines writer/director Mike Rianda about the film's two distinct styles — the Mitchell family has a hand‑drawn, painterly quality while the futuristic robots unleashed by the film's AI villain are sleek and slick.
"The movie is about imperfect people, so we wanted those imperfections evident in every frame," he says. "We wanted it to have the texture of humanity. And because Katie is a filmmaker, we wanted it to seem that she was editing the film; that her opinion of the stuff you're seeing is filtering through."
"The idea was that the Mitchells and their world would feel like a watercolour illustration come to life," notes producer Chris Miller. "Making Spider-Man: Into The Spider-Verse, we had just broken all of the pipelines of how to make a CG movie not feel like a standard CG movie. So we had to break it again, to figure out how to make a movie feel like it was hand-painted.
"On top of that, the idea that this whole movie was being told by Katie, who was a budding mixed-media filmmaker, was an excuse for us to add another layer," Miller continues. "We called it 'Katie vision', and it was her doodles, collages, puppets and photographs and stuff."
"I love the idea of a teenager doodling on top of a multi-million-dollar studio film," laughs fellow producer Phil Lord. "So much money and technology has to go into rendering those shots, and then she's treating them like they're something they are drawing in her textbook."
In direct contrast to the Mitchells are the robots, who are designed with straight lines and a smooth texture. They can also disassemble and reassemble at will — even while in motion in mid-air — which meant the creation of new technology.
"Our animation lead Alan Hawkins decided to do an experiment because he wanted those robots to move differently to how anything had moved before," says Lord. "So he figured it out, and wrote new software."
"All sorts of new techniques were used to make this movie," adds Miller. "One of the things was mapping watercolour textures. Having painted lines around all the characters, props and environments wasn't enough to make the movie feel like it was a painting. We had to figure out a way to make the light itself be painted. It wasn't just like we shine a CG light onto a bunch of painted shapes; light had to have a watercolour texture itself."
"We had to teach the computer to paint like a 17-year-old girl, but we also had to teach the computer restraint," notes Lord. "Just because something moved a tiny bit doesn't mean you have to shift the light around. Figuring out how to make the whole world feel of a piece was the real challenge."