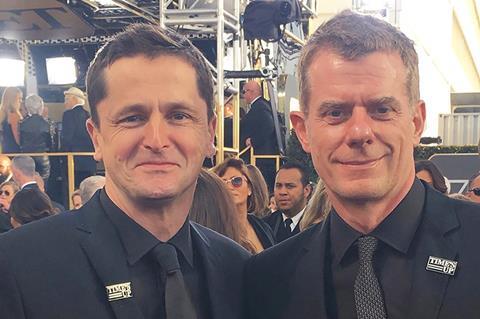 Need to know: Blueprint Pictures' film division celebrated signature success in 2018 with $159m global box office, and seven Oscar nominations and two wins for Martin McDonagh's Three Billboards Outside Ebbing, Missouri, including the first ever Oscar nominations for company principals Graham Broadbent and Pete Czernin. A few months later, A Very English Scandal, the first fruit of its Sony Pictures Television-backed TV division under the auspices of 2016 hire Dominic Treadwell-Collins, proved a critically admired ratings hit. The 1940s-set The Guernsey Literary & Potato Peel Pie Society scored solid UK box office for Studio­canal, making up for the relative disappointment earlier in the year with The Mercy. University pals Broadbent and Czernin plotted separate careers in the film industry after graduation, coming together to form Blueprint in 2005. Hits include the two Best Exotic Marigold Hotel films, and McDonagh's In Bruges.
Key personnel: Graham Broadbent, Pete Czernin, co-founders; Diarmuid McKeown, managing director; Dominic Treadwell-Collins, head of television, Ben Knight, head of film.
Incoming: Blueprint is set to make a budgetary leap with A Boy Called Christmas, adapted by regular collaborator Ol Parker from Matt Haig's book, for Studiocanal. "It's the origin story of Father Christmas," says Czernin. "Previously, Blueprint has been $10m-$25m filmmakers, that mini-major space. This is definitely bigger." Also in the works is The First 15 Lives Of Harry August, a sci-fi love story with FilmNation, adapted by David Farr from the Claire North novel. For television, Blueprint plans to extend A Very English Scandal into a brand, and is looking at another story that fits the template, preferably in partnership once again with the BBC and Amazon. "The English have always been a bit naughty," says Czernin. "We've been poring over the history books and we've come up with some quite juicy other ones. We are going to do another one from the 1950s, with a female lead, and a big actress looming for that role." Also in television, it is developing spy action adventure Maggie Hope as a returning series, with Daisy Ridley executive producing and Daisy Coulam adapting from the Susan Elia MacNeal book series. Juno Dawson's book Clean, set in a rehab centre for under-30s off the coast of the UK, is being developed as a six-parter for Channel 4, with Anya Reiss adapting.
Pete Czernin says: "Our approach to material is: quality for an audience. Will it sell into North America? Will it sell internationally? Our film and TV side are working well together. We are borrowing from our film slate for TV, and vice versa, and it's interesting and fun. Everyone here knows what everybody else is doing. I was out in LA recently, and I think what's been interesting is the combination of Three Billboards and A Very English Scandal. We want to capitalise on the success. It's a serious opportunity, and you don't want to miss it, while people think you know what you're doing."
Contact: enquiries@blueprintpictures.com