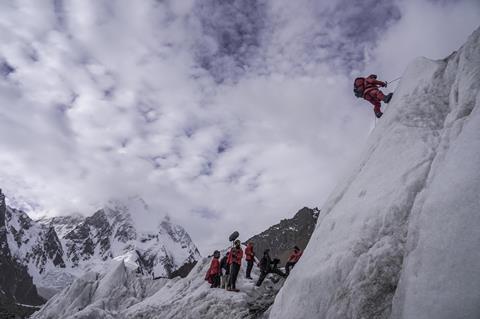 Leszek Dawid's ambitious mountaineering feature Broad Peak received the first Screen International Best Pitch Award at Polish Days earlier this month, which was held during the New Horizons International Film Festival in Wroclaw.
Based on real-life events, Dawid's third feature centres on the tragic story of Polish mountain climber Maciej Berbeka.
In 1988, Berbeka was the first person to pass the 8,000 metres milestone during winter in the Karakoram range in the Himalayas, but he had to wait 25 years until early 2013 before returning to Broad Peak to fulfil his dream of reaching the summit of the 12th highest mountain in the world. Tragically, Berbeka and his teammate Tomasz Kowalski went missing after descending from Broad Peak and were declared dead two days later.
"Broad Peak is a real example of producer's cinema where we initiated the project," recalls Maciej Rzączyński,.CEO of the Warsaw-based East Studio which was founded as a family-run production house among others by Rzączyński and his brother Krzysztof Rzączyński in 2010. The studio is now owned and run by the Rzączyńskis, Dawid Janicki, Paweł Rymarz and Maria Stemplowska-Rymarz.
"The idea for a film based on this story had been in my mind ever since I read Jacek Hugo-Bader's book A Long Film About Love. Return To Broad Peak which appeared a year after the fateful expedition in 2014. There was a big social conversation in Poland at the time about what happened there, and everyone seemed to have an opinion about what the mountaineers had been doing," he says.
"I felt that the passion to want to climb up to the summit of these mountains was so strong that we should make a feature film about it and realised that this would be the first Polish feature about mountaineering because there hadn't been any before."
Rzączyński and his partners at East Studio approached the Berberka family with the idea of making a film about Maciej Berbeka and received his widow Ewa's blessing.
"The family of four sons have been very supportive and have closely followed the production," executive producer Maria Herbich adds. "Ewa sadly passed away from cancer earlier this year, but, fortunately, she had an opportunity to meet the actress Maja Ostaszewska who plays her in the film just a few weeks before her death and they hit it off."
After another six months of research into the story, East Studio approached Polish filmmaker Leszek Dawid to direct. His feature debut My Name Is Ki premiered at the Venice Film Festival in 2011, and he followed it one year later with You Are God, the story of the legendary Polish hip-hop band Paktofonika, which had successful cinema runs in Poland and the UK in 2013.
With Dawid onboard, Łukasz Ludkowski, who had been a student of Dawid's at the Wajda School in Warsaw, was hired as the screenwriter.
"This was Łukasz's first ever screenplay for a feature film and we spent two years of intensive work between the screenwriter, director and producers on preparing 11 drafts of the screenplay," Rzączyński recalls, pointing out that Broad Peak is also the first narrative feature film project for East Studio, which has a previous track record in documentaries and commercials.
Dawid stressed that the film doesn't want to compete against a blockbuster like Everest: "I'd like Broad Peak to be a story about a man struggling against nature, cold fear, exhaustion… for the viewers to get close enough to the protagonist to understand this yearning. In order to help them relate to the main character, I'm going to make use of the subjective narration by letting them gradually take Berbeka's point of view."
The $4.3m (€3.8m) budget was raised by financing from Polish private TV station TVN, five private investors, Kino Świat as co-producer and a theatrical distributor for Poland, with funding from the Krakow Film Commission and the Polish Film Institute as well as the Film Commission Valle dAosta in Italy.
Production challenges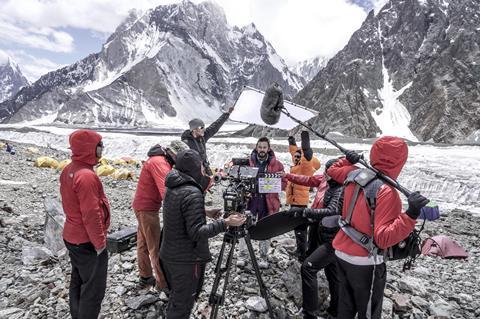 Embarking on such an ambitious project as its first foray into feature production would be a big enough challenge in itself, but East Studio had plenty of others to confront during the production's journey.
"The film was like our own Broad Peak," Herbich says. "We could see during the preparations for shooting in the Karakoram and shooting at high altitude that there weren't many people who had done this before, so you didn't have many experiences to draw upon. But we spoke, for example, with Kevin McDonald about Touching The Void and he gave us some useful feedback."
"We had to create the whole idea of the production from scratch and spent hundreds of hours talking about how we would shoot in the Karakoram and the Alps," Rzączyński observes. "We didn't have a service production company in Pakistan, but there was a coordinator to organise 250 sherpas carrying three-and-a-half tons of equipment. There was just a small crew of 21 people for the shoot there, who trekked for six days one way through the mountains to get to the base camp."
Shooting at an altitude of 5,600 metres brought its fair share of potential hurdles. The producers say the project is the first full-length feature film to shoot at such a high altitude.
"Apart from getting used to the altitude, there is the fact that you are working in minus 30, even colder when the wind blows," Herbich recalls. "Logistically, how were we going to have the mandatory lunch break, how were we going to prepare lunch which freezes in minutes? In fact, everyone would get back down the mountain as quickly as possible, so they were happy to survive on soup, coffee and tea." She continued: "We had an A and B list where people were prepared to take over in case somebody got sick – and the first person to get sick was the doctor!"
Finding the right actor to play Berbeka was also a challenge because the successful candidate would have to go through rigorous training for more than a year to acquire mountaineering skills before shooting could start in 2018.
"It was quite a long process, but the decision was easy when we met Ireneusz Czop because he has been so passionate about becoming a mountaineer."
"Herbich continues. "Ireneusz didn't take on many other film roles during this production because he really wanted to focus on our project. He has always been going to the gym to keep trim and he was the only actor to go with the crew to the shoot in Pakistan."
Czop – whose past film credits include Aftermath and Jack Strong - was joined in the cast by well-known Polish theatre and film actors, including Maja Ostaszewska, who plays Berberka's wife, and was previously the lead in Malgorzata Szumowska's Berlinale competition film Body; Łukasz Simlat (United States Of Love, Fugue); Piotr Glowacki (Gods, Disco Polo); Tomasz Sapryk (Tricks); and European Shooting Star 2019 Dawid Ogrodnik.
Next steps
During the pitch at the Polish Days, associate producer Poła Łangowska explained that East Studio is looking to attract a sales agent to take on the film and generate presales to help cover the post-production costs and for the planned special effects, which will be handled by Human Ark (the rest of the post-production is being handled by DI Factory, with sound post being done by Aeroplan).
In the meantime, the production will be returning to the Alps in Italy next January for some final shooting. "We only have nine days of actual shooting, but you have to be there for a month when you are filming in the Alps. It's a quite different kind of production schedule," he says.
Broad Peak is set to be delivered towards the end of 2020, and East Studio is aiming to liaise with the film's sales company and local distributor Kino Świat to decide on the best platform for its premiere.