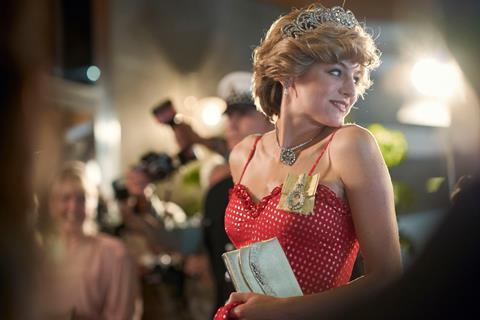 Emma Corrin is set to become the breakout star of The Crown after playing the young princess Diana in season four of the Netflix drama, which debuts November 15 (Elizabeth Debicki will take over the role for the final two series).
Corrin, named a Screen Star of Tomorrow this year, has also appeared in Warner Bros' Batman prequel Pennyworth, and had a role in Philippa Lowthorpe's UK feature Misbehaviour, starring Keira Knightley and Gugu Mbatha-Raw. She is also looking to develop her own projects through new production company Polpo Productions.
How did coronavirus impact the shoot for season four of The Crown?
We had one week left, then lockdown happened so we had to stop. We were lucky that the only thing left to shoot was a skiing scene abroad – it was a very specific thing so they could take it out and work around it. So it just suddenly finished from one day to the next. It was a very weird way to end it all, as it had been such an intense experience.
How did you spend lockdown?
I'd been filming [The Crown] solidly since September [2019], and it's been the best experience of my life hands down, but I was knackered. So I just rested. I made a spreadsheet of what films I should watch – a lot of independent cinema. I'm trying to educate myself around film, which weirdly you normally don't get time to do. It's something that will help me know what I want to do in the future.
How did you get the part of Princess Diana in The Crown?
The whole process took about a year. It started in the summer of 2018, even before I'd done [Corrin's first role] Grantchester. For season three they'd narrowed it down to five actresses who they wanted to play Camilla [Parker Bowles] and were doing a chemistry read with them and Josh [O'Connor, who plays Prince Charles] and they needed a girl to read for Diana. I'd auditioned for Nina Gold for something else, so she asked me to come in.
It wasn't an audition, but it was an amazing opportunity because I was in a room with [The Crown creator] Peter Morgan, [executive producer] Suzanne Mackie and [Left Bank Pictures CEO] Andy Harries, so I thought I'd prepare as if it was an audition and make it something.
Then it went quiet for a while and I was hearing things on and off about the part for months. The actual role was announced around seven months later and I went in and auditioned for it and they were really fun. I had one audition with Peter Morgan where we spent two hours just talking about Diana and I remember leaving and thinking, "Even if this is as far as it goes, this has been the most incredible two hours, it's been so worth it".
When did you know you'd got part?
They asked me to chemistry read with Josh on set [whilst filming season three]. I practiced the scene with him, then they took me into this room and I remember Ben [Caron, director] looking to Suzanne [Mackie] and saying, "Can I do it now?". And he said, "Will you be our Diana?" It was like being proposed to.
How did you approach playing such a well-known figure?
To be able to do her justice I had to leave behind all the voices around me saying, "She's an icon". It's terrifying because it makes it feel out of your control – how do you even begin to try and get yourself into the shoes of that person?
But when I got the script and started doing research with The Crown's incredible research team – which is about ten people strong – and especially when I started working with [dialogue supervisor] William Conacher and [movement coach] Polly Bennett, it really changed a lot for me because you leave the Diana in capital letters on one side and you start focusing on the human being. What are the emotions she is going through in Peter's storylines?
From my research, I found out more about what she'd been through in her childhood, and then growing up and meeting Charles and becoming part of this firm and thinking about how that might make her feel.
What moments in playing her stand out for you?
One was a scene we filmed in Almeria, Spain [doubling for Australia, which the royal couple toured in 1983]. They built this incredible ranch in the middle of the desert that she and Charles are staying in where they have this huge argument. It's in episode six, so the middle of the arc of their relationship in the series and the first time that Diana brings up what she's feeling in a very confrontational way. Something about them actually discussing their emotions for the first time and also the insane setting in the middle of the desert at sunset, all those factors felt powerful.
Then there was the wedding dress. It was really weird. Quite a lot of my scenes are recreations [of real-life moments]. We did her [1981] engagement interview for example which you can watch on YouTube. But it wasn't until putting on the wedding dress that everyone on set just went completely silent and remained silent. There was no acknowledgment that we were all doing this and for the rest the scene, for like an hour or so, there was just whispering. It was really bizarre. I felt this weight of presence and responsibility. There was something that happened to the atmosphere that was very odd.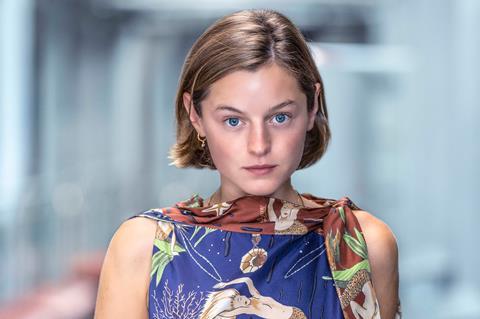 How did first get into acting?
I've always wanted to act since I was very small. When I left school, I tried to get into drama school but didn't get in which was a lovely reality check. I'm grateful it happened because in this industry you need to get beyond the fear of rejection or at least learn to cope with it.
I then started at Bristol Uni studying drama but was very unhappy there – sometimes a place isn't a good fit for you. But my grades had been better than I thought and a great mentor who'd been at my school recommended a course at Cambridge called education with English and drama, where you also study the theory of learning and child psychology. My dissertation was on the architecture of children's primary schools!
A lot of people on the course do theatre on the side, and the student-run theatre at Cambridge is just phenomenal. It's a bit like training in rep theatre. I did around 20 shows whilst I was there. In the final year I was one of 14 graduating actors selected for the Marlowe showcase, where you perform to agents in London and I got my agent [Maya Hambro] from that. My first paid job at the end of that summer [August 2018] was a little part in Grantchester.
Your first big role was Warner Bros' Batman prequel seriesPennyworth. How did that come about?
I was working in London at a fashion startup and I was packing pants all day and I used to get these calls from my agent saying, "You have an audition" so I'd have to make an excuse to leave. I'd done a couple of rounds for Pennyworth, then I got a call from my agent saying, "They want you for a chemistry read in two hours and to dress for the part [of Esme, a 1960s dancer]".
She picked me out some clothes on the Top Shop website and told me to go to Debenhams and say I was going to a birthday party so they would do my make-up. I rushed around doing all that and ran to my audition and got the part. Looking back, it was a completely different machine in terms of scale and what they expect of you as an actor and I'm glad I had that as a lesson for The Crown. It meant I felt somewhat prepared.
How was working on Misbehaviour?
I filmed it after Pennyworth and I wasn't expecting it to be so different as an experience, just because it was such a female-driven set. Not just because Philippa Lowthorpe was directing but also most of the crew and all the ADs were women which was a very new experience for me and is quite rare in the industry, sadly.
What have you been doing with your production company Polpo Films?
I've just closed the option on the life rights to an artist I've been speaking to, who has an incredible story which I'm really looking forward to telling. I'd like to co-write the script with a partner, and play her in the adaptation. I'm also working closely with Suzanne Mackie to try and get the rights to a wonderful memoir, which I'd love to produce and star in.
I also recently wrote and directed a short black-and-white Western for Gucci and Dazed & Confused, as part of their "Absolute Beginners" series, called Red Rendezvous, which I loved doing. It was Polpo Films' inaugural production.
Besides Suzanne Mackie, who else are you working with?
My agent Maya Hambro, who produced Red Rendezvous under the banner of her company Insight Management and Production. I also work closely with my team at [LA-based management company] Circle of Confusion in the US, and we are regularly on the hunt for IP to option, develop and produce.
Acting-wise, what's next for you?
Nothing I can talk about yet. I'm auditioning and in talks for a few things, as well as workshopping a play which I hope will go into the West End next year sometime.