Dir: Theo Angelopoulos. Greece /Germany/ Italy/ Russia, 2008. 125 min.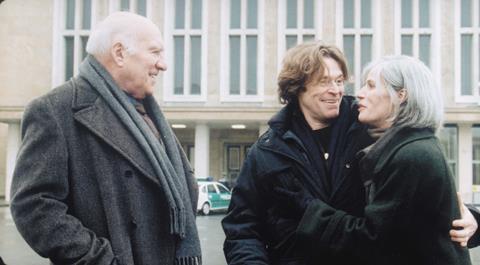 An art film which demands full viewer commitment, Theo Angelopoulos' new picture is his most affecting and personal in years. Spanning more than half a century and taking place across three continents, this sequel to the monumental Weeping Meadow is a larger-than-life love story, a saga of displaced people constantly on the road, always looking for a home they ultimately only find within the journey itself.
For a production which shot between Berlin, Rome, Greece and Kazakhstan, the result is technically seamless
Headlined by Willem Dafoe and Irene Jacob but featuring a towering performance from Bruno Ganz, this feature is partially set in Berlin and is reportedly set for an international premiere in an out-of-competition slot there in February. It will undoubtedly be a hot ticket for arthouse distributors and festivals, but Dust of Time still falls short of settling the differences generated by Angelopoulos films. His admirers will be deeply moved by the Dust Of Time's emotional impact and appreciative of the intricate work on display, but his detractors may once again find themselves irritated Angelopoulos' loose treatment of reality and narrative.
The basic premise is realistic enough. Film director A (Dafoe), is working in Rome on a film about his own parents when his adolescent daughter goes AWOL in Berlin. Soon the present, the past, his search for his daughter and the saga of his parents merge together in a richly-woven fabric of facts, fiction, reality, dreams and poetic images.
In the mid-1940s, A's mother Eleni (Jacob), a Greek refugee in Tashkent, is deported to Siberia, where she meets Jacob Levy (Ganz), a Jewish man who shares her fate. Meanwhile her husband Spiros (Piccoli) had emigrated to America prior to the Second World War and the couple will only be reunited after almost half a century of separation thanks to her obstinate faith in a love which will not be destroyed.
Placing a director at the centre of this story is indicative of Angelopoulos' very personal approach to The Dust of Time. Close observers of his cinema will notice his famous travelling shots are shorter here, and his camera is placed closer to the characters. The editing no longer just stitches together complicated camera movements, but has a role of its own, moving audiences out of one specific time and place and into another. This does not mean Angelopoulos' trademark sequence shots have been put aside, however: one long travelling shot inside a bar takes the audience through three different time periods without a cut.
And the stunning visual force of his images feels as immediate as ever - for example, a silent crowd dispersing in a Tashkent square after hearing the news of Stalin's death, or Gulag inmates painfully trudging their way up a frozen staircase against a white and gray Siberian landscape.
Following the same characters for over 50 years inevitably poses casting issues, which Angelopoulos sometimes circumvents by putting the camera behind his characters, but this isn't always a satisfactory solution. With the best will in the world, and despite their committed and sincere performances, Irene Jacob and Willem Dafoe never look like mother and son. Michel Piccoli does provide a powerfully authoritative presence, however, and Bruno Ganz towers over them all in one of his best performances ever.
For a production which shot between Berlin, Rome, Greece and Kazakhstan, the result is technically seamless. In his sixth film for Angelopoulos, Andreas Sinanos displays a complete understanding of the type of imagery required, from framing and colour composition to camera movements; art and production design is remarkable; and the music from Eleni Karaindrou (with some help from Tchaikovsky, Catalani, Bach and Beethoven) plays a decisive part in establishing the mood.
Production company
Theo Angelopoulos Film Production
International sales
The Match Factory
+49 (221) 539 709-0
Producer
Phoebe Economopoulos
Screenplay
Theo Angelopoulos
Tonino Guerra (consultant)
Petros Markaris (consultant)
Cinematography
Andreas Sinanos
Editors
Yannis Tsitsopoulos
Yorgos Helidonidis
Music
Eleni Karaindrou
Main cast:
Willem Dafoe
Bruno Ganz
Irene Jacob
Michel Piccoli
Christiane Paul
Reni Pitaki
Costas Apostolidis
Alexandros Mylonas
Tiziana Pfiffner