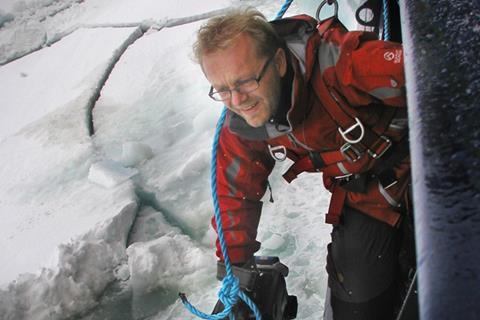 Danish filmmaker Kenneth Sorento's The Fight for Greenland tells the story of four young Greenlanders who want to shape the future of their country.
Greenland – the world's largest island with a population of about 56,000 – 90% of them of Inuit heritage – has been part of the kingdom of Denmark since the early 18th century. Now, the debate about Greenlandic independence rages The Fight For Greenland deals with this question of independence, but also cultural and societal issues such as language, alcoholism, child abuse and suicide.
The story also took an unexpected turn when Donald Trump declared in mid-2019 that he wanted to buy Greenland.
The film was scheduled to have its world premiere as the opening-night selection at CPH:DOX on March 17 at the Royal Danish Theatre in Copenhagen. When Danish events were cancelled due to the coronavirus pandemic, the cinema screening had to be shut down along with the rest of the physical festival.
The silver lining is The Fight for Greenland is now available online (only for audiences with a Danish IP address) as part of CPH:DOX's digital festival, which runs through April 5.
The film is produced by Ulrik Gutkin for Copenhagen Film Company Short & Doc, as a co-production with Greenland's Jørgen Chemnitz and Norway's Benedikte Bredesen. Backing comes from DR, NRK, RÚV, Danish Film Institute, Nordisk Film & TV Fond, Fritt Ord, AP Møller Fund and the West Danish Film Fund. DR sales has international rights.
The Fight for Greenland is Sorento's feature-length debut as a director, after having worked as a documentary maker and cinematographer for decades.
How long have you been interested in Greenland?
I've always had some kind of fascination for the Arctic and Greenland, the beauty of the landscape. It's really on the edge of the world. It's extreme and fragile. I've read a lot about Greenland for the last 20 years and I've also been to Greenland working on TV projects. I joined an icebreaker expedition in 2007 and again in 2012, as a cinematographer. We saw the Kingdom of Denmark trying to extend its territory north of Greenland. I wondered why was Denmark spending all this effort and money researching how to extend the Greenlandic borders, while also passing a law declaring that Greenland could have its right to independence.
It has taken nine years for me to make the film. I thought I wanted to see the situation from a young people's perspective in Greenland…I wanted to tell the story in two levels, it's about identity and it's also about the geopolitics.
Did it help that you had the perspective of an outsider?
It helped me that I wasn't a Greenlander. I was born in Denmark but I spent my formative years in Spain, I went to a Spanish school in the Alicante province, where there is a regional language called Valencian, but as an outsider I felt like I was never allowed to talk in Valencian. That wasn't a rule, it was a feeling. So I could connect with [the languages issue in Greenland] emotionally. I will never feel Danish the way that other Danes feel. I have another expat friend who grew up in Tanzania who calls it "third-culture kids." This has helped me to see Denmark and the Danish influence in Greenland in a different way.
Did being a Dane make it harder to get people to open up to you?
I started following a Danish-speaking Greenlander from 2013 to 2016. But then she said her life had changed and she didn't want to be part of the film. Then I had to find other participants, and that was difficult – people were skeptical. I found an amazing Greenlandic co-producer, Jørgen Chemnitz. And a Greenlandic assistant director, Mali Kleist.
What was important for me was that this had to be told for the Greenlandic perspective. What we often do is see the story from one point of view, that's fascinating, but for this story I knew I had to tell it in from more than one perspective. I wanted to include the perspectives of those who are pro-independence and those who are pro-Kingdom of Denmark.
That was crucial to me, if a Greenlander cannot see himself or herself in this film, I've failed.
I spent about eight months total shooting in Greenland over three years. I would come back and come back and come back, each time I came back, I came closer to people.
When we finally showed the film to the participants and their families, they loved it. Paninnguaq said, "this feels like a film told from a Greenlandic perspective" and that's exactly what I wanted.
Did Donald Trump's sudden interest in Greenland in August 2019 seem like a gift to the film?
The first reaction was that the editor of the film, Peter Winther, and I said, "Wow, this is fantastic." It made clearer the geo-political position that Greenland has. This was part of our story from the start. So when Trump said he wanted to buy the country, the whole point about it being a geopolitical hotspot becomes very clear.
Greenland has amazing landscapes and scenery, and that stark beauty helps tell the story of the uniqueness of the place. But this isn't a nature documentary, so how did you decide how much of the nature and vistas to show?
That was a difficult balance to reach. I think of myself as a cinematographer who also directs, so that's when I have to turn down what is the cinematographer in me and turn the director up. I was the assisting editor, and this was such a difficult and complex story to tell.
With the montage sections, I could feel that when they got too long that we lost the energy and my editor would want to take even more out. I'd start with five or seven shots, and he'd say three is enough. It was a difficult balance to strike. These characters have so much energy, there is so much going on in the scenes, that if you stop that pace [to show nature], the story falls apart. A slow pace wouldn't work in this film.
But we also had to show some nature, and how this civilization has been set up. We see concrete buildings, where the hell did they come from? Greenlanders can feel estranged in their own country. [Much of the architecture] was influenced by Denmark, and what works well in a flat country might not work there.
How did it feel when your big world premiere as the opening of CPH:DOX had to be cancelled because of Coronavirus?
First of all I was devastated, I have a different background from most people. I didn't attend film school. I went to tech school and I have a technical background, people have this perception that we cannot be artistic. So it was so huge that CPH:DOX programmed the film, and then that they chose it as the opening film. I've been attending so many opening nights at CPH:DOX and this was such an honour.
How did you feel about the festival going virtual, and the film being screened online to Danish audiences?
It's very impressive what CPH:DOX has done. There are more than very good films you can watch. And the media has been great at supporting the film, too.
What are your hopes for the film now?
I hope it will end up at other festivals, the DFI is sending it out to more festivals for consideration. Also, DR Sales will work on theatrical and TV sales, we have a 60-minute version and a 96-minute version. What we hope for and what we aim for is to have some kind of opening night for the crew and supporters of the film, when we're able to show it in a big cinema in Copenhagen. And we also want to have a big screening in Greenland when it's safe.