Sound Of Metal began as a hybrid docufiction in 2007, directed by Derek Cianfrance, and emerged over a decade later as the fiction feature debut of Darius Marder. Screen talks to the filmmaking team about their bold creative ambitions
It all began with Miami Vice for Sound Of Metal executive producer and story originator Derek Cianfrance.
His passion for drumming was ignited as a child while watching the Michael Mann-produced 1980s NBC cop show, and hearing Phil Collins' 'In The Air Tonight' for the first time.
From there, he graduated to heavy metal, and the drum sounds of Slayer's Dave Lombardo and Metallica's Lars Ulrich — "I spent my entire adolescence trying to play the drums like those two guys" — with a surprising amount of encouragement from his family, who allowed his drum kit to invade half the living room in their Colorado home.
"I remember just going to shows and I had this idea that I would make a movie called Metalhead, but I didn't know what that would be," says Cianfrance, who scored his breakthrough as a filmmaker in 2010 with second feature Blue Valentine.
In 2007, he had what he calls a "magical moment", as the story­lines of three films occurred to him almost at once: one was The Place Beyond The Pines, which he made in 2012; one was Muscle, which is a current project; and the third was Metalhead, the film that would eventually mutate and evolve into Sound Of Metal, directed by Darius Marder.
Cianfrance had damaged his hearing in his drumming days, "and so I wrote this story about a heavy-metal drummer who blows out his eardrums and goes and lives in the land of the deaf. And as he raises money to get a cochlear implant, he eventually realises that he had actually found himself in the deaf community and he rips out the implant and goes back."
Cianfrance, who also has a background in documentary, decided to take a hybrid approach to the story: he cast Edgar Livengood and Gazelle Amber Valentine of husband-and-wife heavy-metal duo Jucifer to play versions of themselves, as they toured the US in their motorhome — but adding the fictional story of hearing loss. He shot footage at intervals in 2007 and 2008, but then "there were some walls that we would run into", with the actors resisting story beats and informing the filmmaker, as he tells it, "I would never do that."
At the same time, "after trying to make Blue Valentine for 12 years", he got the green light for that project, and pushed Metalhead to one side.
Chance meeting
Cianfrance met Darius Marder at a children's birthday party in Brooklyn in 2008. "I had just gotten back from shooting on Metalhead, and in the first moments of our first conversation, we talked about this story of the drummer," says Cianfrance.
The two men, who are both now in their mid-40s, hit it off. Marder had just made documentary feature Loot, which premiered that year, and Cianfrance played him some Metalhead footage. He also showed Marder the screenplay for The Place Beyond The Pines and was so impressed by the script notes that he invited Marder to join the film as co-writer.
After The Place Beyond The Pines premiered at Toronto International Film Festival in September 2012, Cianfrance finally decided to let go of Metalhead.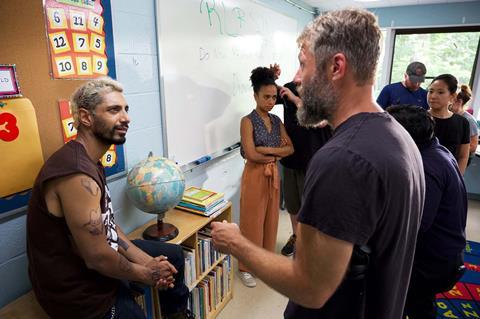 "I felt like I couldn't go back to making Metal again because I had already learned the lessons I needed to learn from it," he says. "And I felt like Edgar and Amber needed to be recast by actors, but I didn't want to betray them. Just knowing how Darius could take it and turn it into something, I was like, 'Why don't you do this?'"
Marder, who had already been tasked with editing the Metalhead footage, was amply enthusiastic for the project. "I saw it very clearly, I was so passionate about writing it," he says. "My heart was in this story, and I could see it and feel it."
While Marder was grateful for what he terms the "baton pass" from Cianfrance, he effected a similar manoeuvre when he and his musician younger brother Abraham Marder went to spend time in a cabin in Chatham, upstate New York in October 2013.
Abraham explains that he had injured his back trying to juggle paid work in construction and truck driving with playing music at night. "I really just kind of drove myself into the ground, trying to reach some imaginary point where I could get some time off. So I had to stop performing, and I suddenly had no work, no music and no outlet."
The pair had planned to spend their time upstate pursuing their own projects, but Abraham had always been a sounding board for his brother ("we've always done a lot of walking and talking"), and got drawn into the Sound Of Metal screenplay.
"Darius is as natural a storyteller as I know, but writing is brutal and I remember he was being quite hard on himself at the time," explains Abraham about their collaboration. "We're both such believers in each other's work and I think this allowed us to shut out some of the noise and to get vulnerable with the writing."
Once the pair returned to their respective homes in Brooklyn, they officially became co-writers on the film (Abraham also co-wrote the score with Nicolas Becker).
While the Marders worked on successive drafts of the screenplay, Darius succeeded in adding producer partners, and the long, slow process of finding the right cast began.
The elder Marder draws a veil over the names of those producer partnerships, explaining simply, "I came across some really lovely people, but I also recognised there's a kind of a mentality in Hollywood, which is that people back-pocket projects. It's like, 'If you strike gold and cast Ryan Gosling, we're psyched, because then we're making a movie. But if you don't, it's no skin off our backs because we haven't put anything in.'
"And the same is true in the world of financing movies, I learned this the hard way over and over again," continues Marder. "I had to fire a number of financiers when it became clear to me they were literally going to leverage the whole movie and not put anything in."
Conversation stopper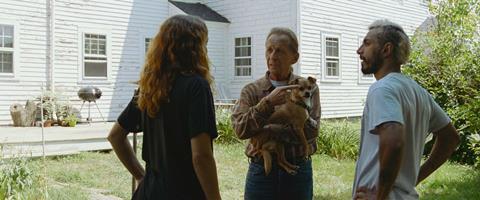 It did not help that Sound Of Metal was hardly the easiest sell. "Hollywood didn't want to hear about two things — heavy metal and deaf people," says Marder. "Hollywood loves to pat itself on the back for representing this, that or the other, but when you're trying to do it, man, it got no love. It was the end of a conversation before it even began."
Marder succeeded in attracting Matthias Schoenaerts and Dakota Johnson to the lead roles of Ruben and his music/life partner Lou, and the budget vacillated up to and down from $8m, but it did not proceed.
Sound Of Metal did eventually find appropriate partners when Caviar entered the picture — a company that straddles commercials, music videos, branded content, television and film, with offices in Los Angeles, Brussels (where it originated), Paris, London and Madrid. Caviar's film arm had enjoyed success with early productions — Marielle Heller's The Diary Of A Teenage Girl (2015) and Chloé Zhao's The Rider (2017) — and Sound Of Metal's previous producers approached the company, looking to close a financing gap.
"I had to keep on saying, 'That's not what we do,'" explains Belgium-born Caviar managing director and co-founder Bert Hamelinck. "We put money in our own movies, but we're not financiers. And the way those people envisioned the film was very expensive, very different than the model we use."
It was only after Marder parted ways with the original producers that he circled back to Caviar, and the company took over production on the film. "I literally took the script, broke it down myself and redid a budget, realigned within the vision," explains Sacha Ben Harroche, who joined Caviar in late 2015 with a brief to develop side projects (shorts, documentary, television and features) for the company's roster of commercials directors, and whose debut feature as producer was The Rider. "We cut probably one third of the budget without altering the creative aspect of the film."
By this stage, Marder had reason to be disheartened ("every year it gets harder to make the movie, because every year that goes is the industry saying it will never get made"), but Caviar was not concerned by the chequered history of Sound Of Metal.
"We don't approach things like that," says Hamelinck. "We look at the script. And if the script is good, and we like the talent, if there's a click, we just go for it. There's no point in looking at the past."
"We knew right away this was a very special high concept, about a musician losing his hearing," adds Ben Harroche. "We just fell in love with the story."
Caviar employs a full-time staff of 125 across its five offices, and produces around 500 pieces of content per year, says Hamelinck, giving the company ample stability and the freedom to pursue independent films as part of the overall mix. These activities also give the company lots of experience of production across a range of budgets.
The production parted ways with Schoenaerts and Johnson — a setback, but Cianfrance advised Marder to take a Zen approach.
"One thing I tried to tell him repeatedly is like, 'Okay, if this actor drops out, there's a reason for it,'" he explains. "And if you look at the film now with Riz Ahmed, you can't imagine anyone other than Riz playing the role. There was a reason why Darius had to struggle for all those years. And the actors that dropped out paved the way for what happened."
Ready to go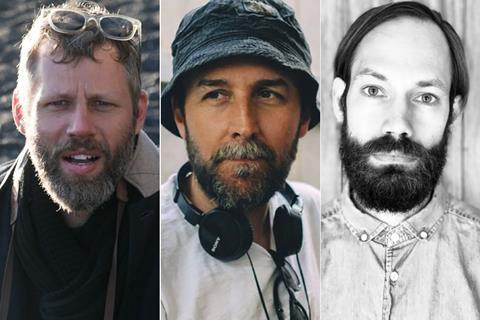 Ahmed spent seven months preparing for the role, learning American Sign Language and how to drum — a commitment that might not have been matched by another actor. With rising UK star Olivia Cooke also on board, and Mathieu Amalric in a small role towards the end of the film, Sound Of Metal secured financing and moved towards a summer 2018 shoot, near Boston, Massachusetts.
However, the ground started shifting just two weeks before principal photography. "The shit hit the fan with these financiers," recalls Marder, who recounts a list of late demands he says they sought to impose. "We were in a very tough position because you either do what they say or you don't have a movie."
But Marder was not willing to compromise. "I would do anything rather than make a movie with people that were doing that — like, anything in the world. I think films are only as good as the people involved. And it's truly a living enterprise. This movie wouldn't be what it is if we had done that."
Bill Benz and Kathy Benz, who produce Sound Of Metal alongside Hamelinck and Ben Harroche, stepped in to save the day, after Hamelinck made a persuasive pitch that Caviar had never lost money for their financiers, backed up by line producer Chris Stinson. "We woke up, and there was an email at six in the morning, and Bill says, 'We're in,'" recalls Marder, who knew the couple personally. "That's it. 'We're in' and they wired the money that day with no contract."
The production budget of Sound Of Metal has been reported as "low seven figures" (a range confirmed by the filmmakers) — a significant reduction on the original finance plan, but enough for Marder to achieve his creative goals, including shooting chronologically, on 35mm, and with elaborate concert scenes with hundreds of extras.
Another creative choice from Marder was his request that all prints of the finished film should include open captions for dialogue, so that hearing and deaf audiences would have the same experience of watching the film.
"The choice to open caption a movie is not a little choice," he says. "Everybody told me, including everybody in the industry and friends, 'Don't do it, you won't be able to sell the movie, people won't want to watch it and people will be angry.'"
However, Bill Benz and Kathy Benz supported the plan, as did the Caviar producers. "That's what I mean," explains Marder. "Had I started making compromises, years back, I would have been in a very different situation. I would have been with producers that would have tried to bully a much-less-brave version of this movie into the universe. It's a damn good thing I was working with people that I trusted."
Sound Of Metal premiered at Toronto in 2019. Amazon Studios acquired it soon after, finally releasing in the US on Prime Video in December 2020. Vertigo Releasing will distribute in the UK.
With the film picking up traction from awards bodies, notably for Ahmed and for veteran actor Paul Raci, who plays the leader of an addiction treatment centre for deaf people, the faith of many in the project, and the battles along the way, look set to be rewarded.
"I almost feel like a parent that put their child up for adoption," says Cianfrance about the film he handed over to Marder many years ago. "And years later, you get to meet that child, and it's healthy, well-adjusted, successful and thriving. I can't explain to you the joy that gives me to be able to see it."