Dir. Karim Dridi. France. 2009, 84 mins.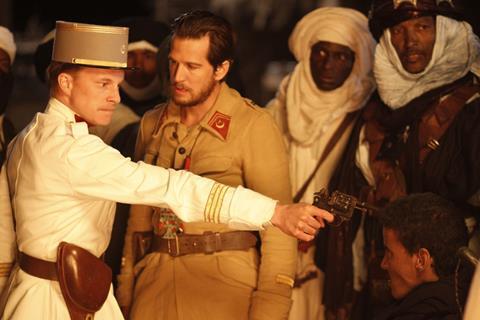 The considerable combined star power of Marion Cotillard and her real-life partner Guillame Canet should give The Last Flight a sizable opening on its French festive release December 16, although poor word-of-mouth could daunt follow-through on this picturesque Gaumont production. Internationally, this aimless period piece set in French-occupied Sahara of 1933 is unlikely to fly, although its name cast may pique some ancillary interest – despite the fact that they are out-performed by a camel.
Playing like an uneasy flashback to The Sheltering Sky but with even more dune drift, The Last Flight is a brief cinematic experience at 86 minutes but feels lengthy and leaden. It is based – although this is not information dispensed until the closing credits – on a real-life search by renowned French aviatrix Marie Vallieres de Beaumont for her missing pilot boyfriend in the Tenere desert as the French command there struggle with the restless Tuareg natives.
Apparently Cotillard identified with Marie's obsessive need to find the love of her life but viewers watching every character repeatedly tell the "headstrong" pilot that (a) her married lover has by now perished in the desert and (b) she will die too if she goes after him will find her eventual sally forth with Canet's gone-native French officer something of a trial.
Dialogue is expository throughout, and there's little between Cotillard and Canet – certainly no spark of attraction, this is not technically a romance – to merit taking the long journey through the sand dunes with them.
Director Karim Dridi made last year's riveting Marseilles-set drama Khamsa, focusing on the present-day Muslim gypsies on the industrial city's outskirts, so it's something of a surprise to see him turn his hand to a lavish period costume/romance in the desert. Expectations of planes flying over beautiful sand dunes in the style of The English Patient or Sheltering Sky are not disappointed in this evidently expensive production, and the local Tuareg tribe looks particularly majestic throughout.
Cotillard and Canet both seem to sleepwalk through their roles, however, a problem which obviously intensifies when their characters run out of water and wander listlessly through the Sahara with minimal dialogue. It's at this point that the sole surviving camel comes into his own, providing the only real energy in the film's final 15 minutes. The Last Flight's score is an unalloyed delight.
Production company
Gaumont
Les Films du Dauphin
France 3 Cinema
International sales
Gaumont
+ 33-1-46-43-24-24
Producer
Franck Chorot
Screenplay
Karim Dridi
Pascal Arnold
Based on the book, Le Dernier Vol de Lancaster, by Sylvain Estibal
Cinematographer
Antoine Mono
Editor
Lise Beaulieu
Music
Le Trio Joubran
Main cast
Marion Cotillard
Guillame Canet
Guillame Marquet
Frederic Epaud
Saidou Abacha
Michael Vander-Mieren