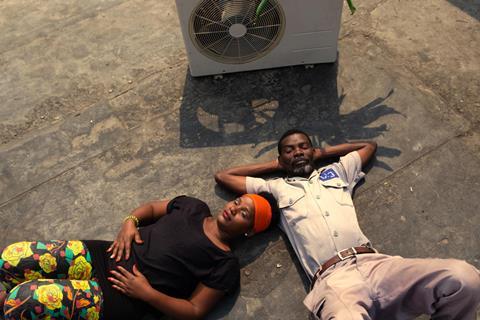 Fradique, director of Rotterdam Bright Future title Air Conditioner, has always been interested in making a film set in one of the crumbling colonial apartment buildings in down-town Luanda, the capital of Angola.
"Me and my cinematographer [and co-writer] Ery Claver were born and raised and still live in these very old buildings, which have lots of infrastructure problems, mainly with water or electricity," he said. "People live there in apartments, but there's also people who work there as security guards, people who carry the water; there's a black market around the buildings themselves. We wanted to tell a story where the whole universe of the film would be the building and the surroundings."
The director, making his fiction feature debut, studied film in the US and is an alumnus of the Berlinale Talent programme. He has been part of Angolan collective Geração 80 (which also handles sales for the title) for the past ten years, previously directing documentary Independence (2015) and several music videos.
The film tells the story of security guard Matacedo who is tasked with tracking down a new air conditioner for his boss before the end of the day after the units start to mysteriously fall from the buildings.
Air Conditioner started out as a short, but during the film's 12-day shoot on location in Luanda the filmmakers, all members of Geração 80, realised they could get enough material for a feature. "We always had the script for a longer version," said Fradique, who adds that collaborating with the residents of the building they shot in played a key role in shaping the film. "[Many in] the cast are people from the building who we trained and created scenes for." There are two professional actors in the film; Angolan star David Caracol in a supporting role and actress Filomena Manuel. Leading man José Kiteculo is a producer for local 'Nollywood'-style films and had only previously had extra roles.
Shooting on location did create unexpected headaches for the filmmakers however, not least when they staged a funeral ceremony in one of the apartment buildings.
"In our society people stay in the apartment with family and friends and grieve for a week for the one who passed away," said Fradique. "When we did this scene in the apartment, although we'd been shooting there for one week and people knew us, when residents started hearing people crying for the scene they started coming to pay their respects dressed up for the ceremony. At least for three or four takes we had to stop and say 'look nobodies dead!' It says a lot about the sense of community there."
Despite the international recognition for Air Conditioner, Fradique is happy to continue working in Angola despite the challenges of making films there. "There's no public funding for film in Angola or any kind of programmes," he said. "We understand that the country has a lot of social issues and economic problems and but it's still our responsibility to pressure [the government for funding]. But we are not going to wait for them. If we have to do low budget we do low budget. We make stories with the means that we have."