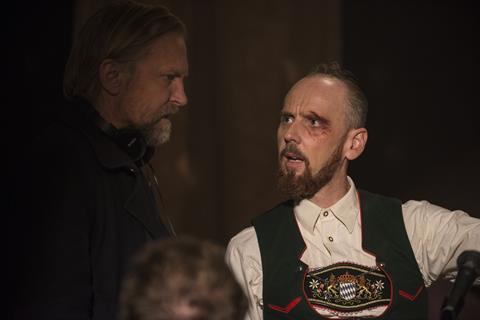 On the surface, dark comedy Gutterbee is the tale of an unlikely friendship in small-town America, told over a plate of hot German sausage.
But it also aims to be a damning indictment of Trump's America and tackles timely issues of racism, homophobia and intolerance, says Ulrich Thomsen, the Danish actor for whom Gutterbee is his second feature as writer- director.
"The movie is about identity and fear of losing identity in a world where people are so afraid of one another," he explains. "The quirkiness of this story is meant to show how bigotry stands in the way of proper conversation… and how the sausage can bring everyone together over a barbecue, before everyone gets drunk and into fights, of course."
The film centres on a German sausage maker who relocates to the small US town of Gutterbee (the fictional, self-styled 'cabaret capital of the west') to open his own restaurant. But he is opposed by a local impresario and racist bully and a conflict of escalating violence begins to burn out of control.
"There was a real wildness about the script and the film has a gentle absurdity about it," says Scottish actor Ewen Bremner, who stars in the film. "My character in the film is a traumatised orphan who's become a depressed adult and is on a final mission to realise an idyllic dream – or fall into oblivion."
Bremner, best known for roles ranging from Trainspotting and Julien Donkey-Boy to Black Hawk Down and Wonder Woman, came to the project via a recommendation from Oscar-winning cinematographer Anthony Dod Mantle who provides a distinctive look to the film, which bursts with vibrant colours.
"I think the glue that ties this film together is Anthony Dod Mantle," adds Bremner. "He really enjoys using these faces in the film and the landscape - putting those in juxtaposition with each other."
"Anthony shot the first movie I was ever in, Thomas Vinterberg's The Biggest Heroes," recalls Thomsen. "And, of course, he shot The Celebration," he adds of the first Dogme 95 feature, which won the jury prize at Cannes and launched Thomsen onto the global stage. "I had this little script and Anthony loved it," he adds. "I was lucky that I caught him at the right time."
It was a script that had gone through several iterations. Thomsen first wrote it in Danish ("It was a different story but still had sausages") before relocating the action to Jerusalem, inspired after filming a role in Israel ("I would have had a German sausage seller in front of the Wailing Wall").
But feeling the story had lost some of its charm, the script was shelved until interest was reignited while on an acting job in the US. "I did a show called Banshee, which shot in North Carolina, and saw Trump starting to rally," says Thomsen. "It led me to look at the story again. I relocated it to a small town in America and began adding elements of gay conversion therapy, prosperity preachers and all these taboos that a get in the way of sane communication."
Starr reunion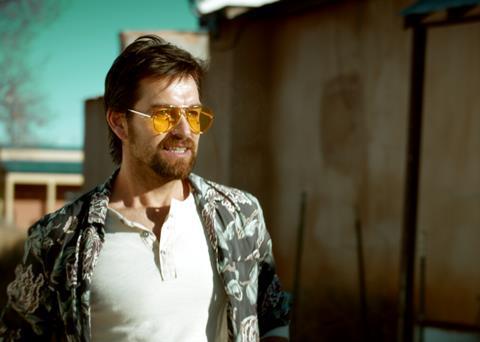 Securing finance from private investors, the feature was produced by Thomsen and Henrik Puggaard for their Danish outfit Pro Tempore Film, and shot over 29 days in November 2017, in the town of Roy, New Mexico.
Antony Starr, recently seen in Amazon drama The Boys, co-stars in the film. Starr and Thomsen both featured in Cinemax series Banshee. "I saw some old pictures of him with a mullet and he's very funny in real life," says Thomsen of casting Starr.
The cast is rounded out by W. Earl Brown (Deadwood), Clark Middleton (Birdman), Joshua Harto (Bridge of Spies) and Chance Kelly (Generation Kill).
However, unlike his 2016 debut In Embryo, Thomsen chose not to take a role in own film. "I had a part for myself but it wouldn't have worked as there should only be one foreigner in this story," he explains.
Gutterbee received its world premiere at Sao Paolo International Film Festival before being selected to screen at Tallinn Black Nights and the Santa Barbara International Film Festival in 2019. It is now screening at International Film Festival Rotterdam (IFFR) in the Visions section.
Future projects
Bremner will next be seen in Creation Records as UK music legend Alan McGee, who signed Britpop band Oasis among others before burning out spectacularly. "That's another mad, low-budget, hell-ride of a production," says Bremner of the film, directed by Nick Moran and co-written by Trainspotting author Irvine Welsh. "I think it will really capture the energy and danger of that Creation Records office and the mayhem that was going on there."
Thomsen, meanwhile, is working on ideas for his next Danish feature, which promises to be a "more edgy drama" as well as a prison drama written by UK actor Ross McCall.
As to what he has learned from the countless filmmakers with whom he has worked over the years, Thomsen recalls an early interaction with Denmark's most controversial filmmaker. "When I met Lars von Trier, he looked at me and said: 'So are you going to make films as well?," he recalls.
"I said I was and asked for a suggestion, to which he replied: "Don't listen to anyone," and then just left, which is very Lars. But there's a truth to that. You need to stay true to your vision. You 'gutterbee' firm."