SCREEN SUBSCRIBERS: Thomas Vinterberg tells Wendy Mitchell about drawing on his childhood for his most personal film yet, The Commune, which reunites him with the stars of Festen and is screening in Competition at Berlin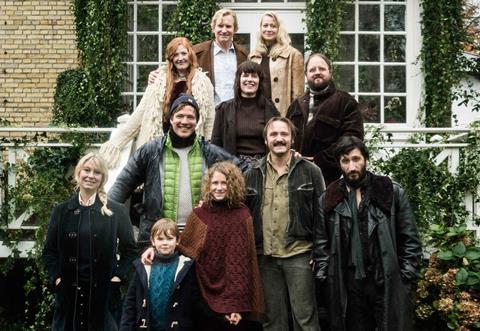 Danish film-maker Thomas Vinterberg is proud of his unusual childhood. "I grew up among genitals in a big house, and it was absolutely fabulous and wonderful," he says with a big grin.
He lived with his parents and a group of their intellectual friends in a large communal house in north Copenhagen from the age of seven to 19. "I remember it as golden, fantastical, but of course there were dramatic issues, conflicts."
He's clear it's not jokes about genitals, body hair and organic food that inform his new film, The Commune. "Most films about communes are sort of a sellout of hippy ideals and make people look like caricatures," Vinterberg says. "In this film I was trying to dig a bit deeper and also defend it a bit more and make as honest a portrait of that time as possible."
The project started as a stage play for Vienna's Burgtheater in 2011. Then Vinterberg recruited Tobias Lindholm — his
collaborator on Submarino and The Hunt — to co-write a film script. That close collaboration helped take it past Vinterberg's personal stories and memories.
"It's definitely not autobiographical; I'm saying it's 'based on a true feeling'… This is no longer my or my parents' story, but it mirrors an atmosphere of my childhood and I hope it's loyal to it," Vinterberg explains.
The commune of the title provides the backdrop to a family drama about a woman losing her place in her family and her daughter's coming of age. The film tells the story of newscaster Anna (Trine Dyrholm), her professor husband Erik (Ulrich Thomsen) and their teenage daughter Freya (newcomer Martha Sofie Wallstrom Hansen), who inherit a house larger than they need and decide to invite friends to live with them. But the family dynamic changes, and Erik takes a younger lover, Emma (played by Vinterberg's wife Helene Reingaard Neumann), leaving Anna feeling broken.
"In essence it's a story about how everybody is replaceable and how horrible that is to realise," says Vinterberg. "But by telling that story you emphasise how important love is to us, how endearing it is to us."
Vinterberg says the commune's members function as something of a classical choir. "Or it's the rock band you want to be a part of. And inside of that there's a family tragedy. Such as in Festen and The Hunt, there is this body of warmth and also a tragic spine."
The Commune reunites Vinterberg with Dyrholm and Thomsen for the first time since they made 1999's Festen. "I felt all three of us came with the most embracing and generous attitude," says the director.
The two leads needed only about 48 hours of rehearsal time because the characters were so clear on the page, but the rest of the commune had more time together to be seen as a cohesive unit on screen. "Those actors had to be such a loveable family, we spent 10 days working together with drinking and rehearsals and discussing the scenes," he says.
Something to celebrate
There will, inevitably, be comparisons to Festen, not least because this is another extended, dysfunctional family coming together around a dining table. Vinterberg admits he did think of his earlier film while working on The Commune. "I have no problem mirroring my own work from back then," he says cheerfully. "But this film is by definition so, so far away from Dogme."
After opening in Denmark in January via Nordisk at the top of the Danish box office, earning $533,000 in its first weekend, The Commune receives its international premiere in Competition at Berlin. It is Vinterberg's second film to do so following Submarino in 2010 (Festen and The Hunt screened at Cannes).
It is produced by Sisse Graum Jorgensen and Morten Kaufmann for Zentropa, and TrustNordisk has sold the film to territories including the UK (Artificial Eye), Germany and Austria (Prokino), Spain (Golem), South Korea (Challan), Russia (Silver Box), France (Le Pacte), Italy (BIM) and Benelux (September).
In many ways, Vinterberg's career path means his work has come full circle. After Festen, he tried new styles of film-making with titles including the English-language, US-set teen drama Dear Wendy and the musical fantasy It's All About Love. But with Submarino followed by The Hunt and now The Commune, his most personal film yet, "I came back to myself and had a kind of rebirth."
The Commune was a much more intimate film-making experience than directing last year's Far From The Madding Crowd for DNA Films and Fox Searchlight in the UK.
"It was a great experience," he enthuses. "It was very, very hard work. The script contained 250 scenes compared to about 120 for a normal script. It was a large cast, large crew and many Dorset locations. It was a completely different ballgame.
"I asked the producers, 'What do you want from me?' They said, 'We think in your other movies you provide a great combination of grandness and believability.' To some degree that's what I tried to do with The Commune on a completely different scale. What I do is explore human fragility in whatever context or language."