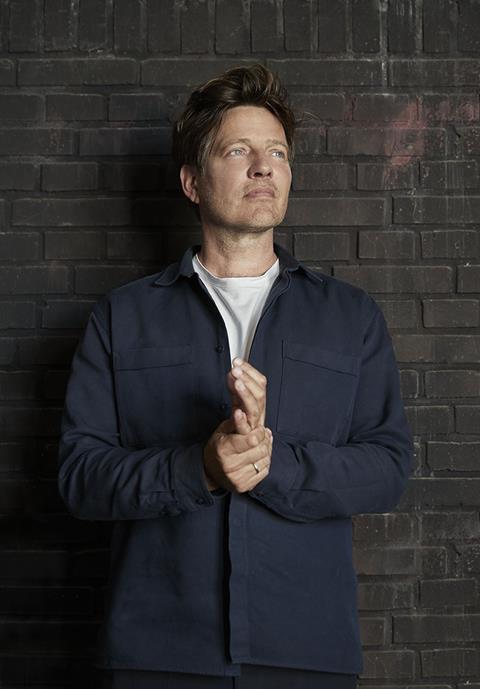 Thomas Vintererg's Another Round centres on four Danish high-school teachers who test a theory that they will work and live better by maintaining a constant level of alcohol in their blood.
Their initial results are positive with classes and results improving; however, as they continue the experiment, the results become more extreme.
Another Round, which Vinterberg wrote alongside frequent collaborator Tobias Lindholm, reunites them with The Hunt star Mads Mikkelsen, alongside Thomas Bo Larsen, Lars Ranthe, and Magnus Millang. TrustNordisk handles international sales and has already sold the film widely, with Samuel Goldwyn Films recently acquiring US rights.
The film was selected for the Cannes 2020 Label and has its world premiere in Toronto on Saturday (September 12). After Toronto, the film screens in competition at San Sebastian before going on to play at the BFI London Film Festival. Nordisk releases in Danish cinemas on September 24.
Sisse Graum Jørgensen and Kasper Dissing produce for Zentropa Entertainments3 in co-production with Film i Väst, Zentropa Sweden, Topkapi Films and Zentropa Netherlands with support from Danish Film Institute, TV 2 DENMARK, Eurimages, Netherlands Film Fund, Svenska Filminstitutet, Netherlands Film Production Incentive and MEDIA.
We did an interview back in 2013 and you told me then that you and Tobias were thinking of doing a film that was "a celebration of drinking". How has this film evolved from that early idea?
Yes, we started with this idea to make a film that was a celebration of alcohol. There are so many other movies that have been made that show the other side of that story. But when we embarked on writing the script, we very quickly realised that making a story about alcohol also comes with responsibilities. Now it's more an investigation of alcohol, and we couldn't leave out the dark side. With Dunkirk, when Churchill asked civilians to get into their boats, was he drunk that day? History could have looked differently if he wasn't. There is that courage that comes with the first couple of drinks.
How did you hear about this Norwegian philosopher's idea that we are all born without enough alcohol in our blood?
My Norwegian editor read an early draft of the script and told me about this philosopher. It was about the same time that we figured out that the characters should be schoolteachers. At first we had thought Mads's character would be an air-traffic controller who suffered from lack of courage to make decisions, and then when he got a little bit drunk he was better at decisions. But that was too gimmicky. So the setting of the school became very important. I also think it's interesting to see why youngsters drink so much.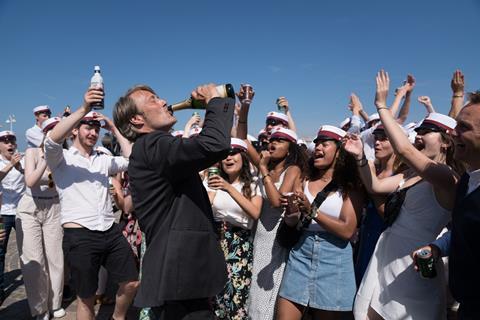 The movie is about more than alcohol, it's about these men having a sort of second coming-of-age.
We also wanted to make a movie about thinking on life, not just being alive but living. I hope it has become a celebration of life. I lost my daughter while making this film [Vinterberg's 19-year-old daughter Ida died in a car accident]. It was nightmarish, it will always be. The only reason I could continue making this movie was because a couple of months prior to her death, she sent me a letter talking about how much she loved this project. And she was a pretty tough judge! The only possibility of continuing with this movie was by making it more than just a funny alcoholic story, it had to be about being alive.
Were you and Tobias able to draw on your personal experiences for the film?
When I was writing this film, I was in a pretty healthy place. You don't have to live your movie to make it. Our main tool is, curiously, investigation. But of course some of this topic was resonating with us. We wanted to show this community being fragile and pure together, about sharing. I remember how it was to be 16, coming home at four in the morning and smelling the spring flowers, being in love, and being drunk. That is the starting point of all joy. And we're all still yearning for that somehow.
How did you work with the four main actors? Did you workshop it with them, or ask them to draw on their own personal lives?
I like to develop the script for the specific actors. I didn't use their private life or private stories. But I was inspired by writing for them. I did that the first time for Festen, it's a method I've used all the way [in my career].
Watching actors 'play drunk' can be so cringey, how did you avoid that?
These characters are very vulnerable and very pure, so it's challenging to play drunk on top of that. When we were shooting, the actors didn't drink. But when we did some rehearsals, we tried to break down some of those barriers of embarrassment, let's see this character on 0.3 percent [blood alcohol], 0.8, 2.8. At first you try to hide the fact that you are drunk, you try to sit up straight in the chair. But after 0.8 that doesn't work anymore, you're just a noisy horrible bastard. It was a tricky balance.
We won't spoil it for readers who haven't seen the film yet, but Another Round has an extraordinary final scene. Did you always know that's how it would end?
Yes. And Mads was nervous about it. He didn't want it to get too "private" – and he's very, very intelligent and a great storyteller so we discussed his points. The final scene felt like a risk. My friend Lars von Trier once told me about writing, "All I know about writing is that you should save the best for last." So I thought a lot about that with this ending.
How does it feel to be launching a film into this changed world? Your world premiere is in Toronto and you're in competition in San Sebastian, and you can't travel to either festival.
It feels like being blindfolded. Because I'm sending a film about being together and sharing into a world that is more about isolation and fear. I don't know whether this film is going to be a revelation for people, or slightly irrelevant. I hope there is love and caring that radiates from this film, from these extraordinarily great actors.