Tokyo International Film Festival provided a launch pad for a number of rising Japanese talents. Wendy Mitchell met seven of the directors.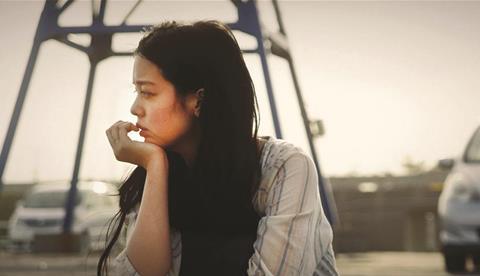 Rikiya Imaizumi
Sad Tea
Rikiya Imaizumi's backstory is like the cliché of a mogul who works his way up from the mailroom: the writer-director-editor started out as an administrative clerk at Tokyo-based film school ENBU, which runs seminars for actors and film-makers. He listened to directing masterclasses and then convinced the school to let him run a three-month seminar with up-and-coming actors.
The result of the seminar is Sad Tea, a feature about modern love told in 12 chapters with a stellar ensemble cast. "We wanted to give equal opportunity to all the students, so they all get their time in the limelight," he explains of the structure. Koji Ichihashi of ENBU produced; the school also financed the low-budget feature.
The intertwined stories offer insight and humour about the intricacies of contemporary relationships — following a two-timing aspiring film-maker, a flighty shopgirl who knows little about love, a former pop idol in an abusive relationship, a speedwalker obsessed with the former pop idol, and a lovesick young man who dumps his girlfriend on her birthday.
Imaizumi wrote the script with input from the actors in the seminar. Sometimes they even provided real-life fodder for the storylines. "After class we'd go out drinking, and some people shared their stories and I'd include those in the script," the director recalls. He also eavesdropped on conversations in cafés.
The film was shot, remarkably, in only seven days. But it has an assured and ambitious feel, with none of the hallmarks of a bad student production.
"It's a romantic film but not exactly a love comedy, it's not the typical they-meet-and-fall-in-love story," he explains. "What struck me is the tragedy in relationships. Relationships don't usually end well."
The theme of troubled modern love was also explored in his last feature, 
I Catch A Terrible Cat, which played at festivals including BAFICI in Buenos Aires and won the best director award at Transilvania International Film Festival.
When Imaizumi speaks of film-making, he excitedly references films that influenced Sad Tea — including a repetitive driving motif from Sofia Coppola's Somewhere, the chapter style of Dagur Kari's Dark Horse, or a hairstyle from Gus Van Sant's Restless. The sharp comedic dialogue also brings Woody Allen to mind, or the mumblecore movement.
"There are two different types of directors, one has everything all planned out, the other leaves it up to what happens. I'm like the latter, I like that spontaneity," he says. The ensemble cast that helped him craft the film, both before the shoot and during production, includes Seiji Okabe, Fumiko Aoyagi, Chika Uchida, Chihiro Nagai, Junya Abe, Aya Kunitake, Takuya Fuji, Yumi Sato, Tomohisa Takeda and Kayo Hoshino.
The director is certainly busy, he is currently editing a silent short film he shot this summer, another tale of troubled romance, in which a girl at home with a cold is looked after by her younger sister and her boyfriend until "a clumsy relationship erupts". He is also planning features based on a comic-book adaptation and another story of "practical love" in which he has the first scene already in his mind: "It opens with a girl in a messy room, making the audience unsure if burglars have caused the mess or if it's the girl herself who turned her room upside down."
Meanwhile, Spotted Productions is releasing Sad Tea in Japan.
Contact ENBU Seminar
ichihashi@enbuzemi.co.jp
Koji Fukada
Au Revoir L'Eté
The use of a French title is no accident — the film has much in common with a European auteur like Eric Rohmer. Koji Fukada's story follows an 18-year-old girl who goes to a seaside town with her aunt for the summer, where she meets a boy who is a Fukushima refugee working at his uncle's love hotel.
"If you make a film about modern Japan, I thought you need this element of 'nuclear Japan'. But this is not a propaganda film," Fukada clarifies. "I just thought it would be natural that you'd encounter these victims in ordinary life."
His next feature film also has a nuclear theme. Sayonara is about a nuclear power plant attacked by terrorists, seeing 80% of Japan polluted by radiation. "It tells a story of life and death in that predicament," he says.
Contact Wa Entertainment kousuke@waentertain.com
Yusuke Ichikawa
Night And Keigo's Car
Two buddies go on a road trip during which they confirm their ineptitude with women and run into a gang.
"It started out as a 30-minute film and turned into 45 minutes, with ad-libbing and improvisation extending it," director Yusuke Ichikawa says. "I first had a couple of scenes that I wanted to film, and I thought, 'What kind of story can I create around that?'"
Ichikawa is a 28-year-old graduate of Tohoku University of Art and Design's film-making programme. Night And Keigo's Car recently won the $10,000 grand prize at Japan's influential Pia Film Festival. He says he will use the prize money for his next film, about a man who wants to kill people just to see how it feels.
Contact Pia Film Festival international@pff.jp
Akira Ogata
Walking With A Friend
Director Akira Ogata and writer Kenji Aoki reunite on their first feature since 2005's The Milkwoman, the story of two pairs of male friends, one elderly and the other twenty-something. Ogata's credits include Boy's Choir (a winner at the 2000 Berlinale) and Elevator To The Gallows.
Ogata and Aoki self-funded the project, which started as a 30-minute short about the two elderly friends walking on the streets on the outskirts of Yokohama, but soon expanded to include their interactions with the younger men. The sombre themes and thoughts of death are livened by some comedic moments.
"When I first read the script, it was pretty profound and heavy. That's why I wanted to develop a side that was lighter, and I worked on that with the actors," Ogata tells Screen. "It may be a simple story set in Japan, but it has themes of life and death that can appeal in any market."
His next feature is likely to be based on the true story of a veterinary doctor who fought against the common practice of exterminating Japan's stray dogs.
Contact Studio3 Inc morishige@stu333.com
Hisashi Saito
There's Nothing To Be Afraid Of
This relationship drama about a husband and wife lingers on everyday moments, such as making a meal or gardening, rather than showing explosive confrontations. "When depicting a husband and wife, it would be wrong to make it dramatic because the essence of a relationship is the bits that trickle out at every moment in the day," Hisashi Saito says.
The director, who says he is influenced by Ozu and Imamura, likes long takes in his work. "In a reaction to Ozu's work, I try to create drama without putting in anything dramatic." His approach is meticulous. "I like to do many, many takes. I do take after take to get that moment of naturalism."
The director, who is also a writer with credits including Hideo Nakata's Chaos, self-financed the project and is handling promotion and distribution himself.
Contact LICRI yutaka@licri.co.jp
Hideo Sakaki
Disregarded People
Disregarded People tells the story of Mamiana, a down-on-his luck, sex-obsessed man who moves to the Goto Islands, where director Hedeo Sakaki comes from. Mamiana rapes a girl, Yusuke, and they begin a troubled relationship. The project is based on an original story by comic-book artist George Akiyama, whose son Inochi Akiyama adapted the screenplay and produces.
For Sakaki, who is also an actor, Disregarded People marks his fifth film as director. "I will probably continue with both acting and directing," he says. "I won't be able to tell you which I like better until I'm dead." He has already shot his sixth feature, "a sad story about a boy," and plans to adapt more of Akiyama's work in the future.
Contact Ark Entertainment kusunoki@ark-ent.com
Takuji Suzuki
"A Band Rabbit" And A Boy
Adapted from Kei Nakazawa's popular 2000 novel, the Glee-esque story follows a shy boy in junior high school who follows a mysterious rabbit into a music classroom, where he then joins the brass band. Director Takuji Suzuki recruited his young, mostly untrained actors from the area around the music hub of Hamamatsu City.
Suzuki says: "I wanted to bring these kids together as they were, bringing their individual characters together as an ensemble not just as actors but as musicians as well… There's something special about making music with a band like this. The story is not about playing to win a contest, it's about discovering themselves and their pride in playing music."
He is grateful the young actors gave their time during such a crucial period in their lives. "Part of their life is recorded now. They spent that valuable time, when they were 13 or 14, with us."
His next project will be a collaboration with the actors course at The Film School of Tokyo, centring on a jogger musing about the people who run alongside her on a track. But the story is not as simple as it seems: "There's crazy stuff like UFOs and extra terrestrials," he adds.
Contact Slow Learner kosikawa@kg7.so-net.ne.jp
» These directors participated in TIFF's new Tokyo Cinema Night, working in collaboration with the Tanabe-Benkei and Pia film festivals to promote young talents.