The co-chairmen of Working Title Films reflect on 30 years at the heart of the UK film industry after wining the first Outstanding Achievement award at the Screen Awards.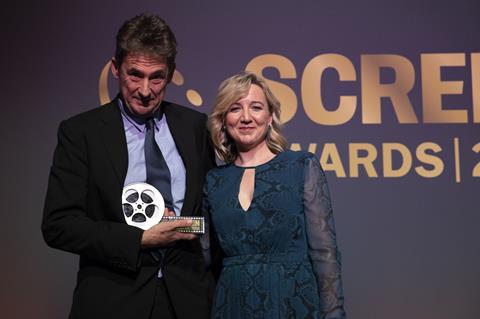 Winners of the inaugural Outstanding Achievement in UK Film at the Screen Awards last night, Tim Bevan and Eric Fellner are the Midas men of the UK film industry. They have run Working Title Films together since 1992, making films that have grossed over $1bn at the UK box office and over $7.5 billion worldwide.
"We have always felt a producing partnership is the best way to do these things because there are so many battles that you have to fight," says Bevan of their enduring collaboration. In reality they don't spend that much time together. "We'll communicate a lot but it may not necessarily be in the same room or same country," Fellner explains.
When asked what they have learned from the occasional misfires, they say they tend to realise there were problems with the decision-making process at the outset which were never properly resolved.
"I always liken in to a building," says Bevan. "If there is something a little bit off in the foundation, you can end up with the Leaning Tower of Pisa."
Of all the films Working Title has made, the two producers both credit Four Weddings And A Funeral, which they produced with Duncan Kenworthy in 1994, as the movie that transformed the company.
"To take a low-budget British film and for it to do the level of business it did around the world, that just hadn't happened before," says Bevan. "It gave us the confidence to say that an English-language film that wasn't American, if it had the right ingredients, could work all around the world."
Ironically, Bevan had been told early on in Working Title's existence that UK comedies were box-office poison and that he should avoid them at all costs. "Very fortunately, we totally and utterly ignored that piece of advice and it [UK comedy] has proven to be the financial backbone of this company," he says. Bean, Johnny English, Bridget Jones's Diary and Shaun Of The Dead are just some of the films that underline his point.
Bevan and Fellner have never been snobbish about trying to replicate success. Their filmography includes many sequels and they talk about some of their best-known film characters, most notably Bridget Jones, as if they are family friends. Fellner for one would love to keep on making Bridget Jones movies forever.
"There is every possibility that you could continue with that and take her on into her late 40s, 50s, 60s, whatever," he enthuses. "She is a character we absolutely adore. [Author] Helen Fielding is a genius. If she ever wanted to do more, we would do more."
The same applies to Mr Bean, although Fellner says that decision remains firmly in Rowan Atkinson's hands.
New projects
As ever, the company is extraordinarily busy with new films. Working Title is in post-production on Radioactive, Marjane Satrapi's biopic of Marie Curie starring Rosamund Pike, which is a co-production with Paul Webster's Shoebox Films. Nearing completion is their latest collaboration with writer Richard Curtis, as yet untitled and directed by Danny Boyle. Due to be released next summer, the film is about a "loser musician who discovers he has a massive repertoire of music in his head that the rest of the world has forgotten about," says Bevan.
They are also shortly to go before the cameras with Tom Hooper's screen adaptation of Andrew Lloyd-Webber's hit musical Cats, starring Taylor Swift, Jennifer Hudson, Ian McKellen, Judi Dench and Idris Elba.
Bevan and Fellner insist they approach each new feature in the same relentless fashion as they have all the other 100 or more movies they have made.
"I still have a deep sense that once I start something, I can't envision not making it work. That drive and desire that used to exist from day one is still there," Fellner says
He adds that when you try to "do things by rote, it goes horribly wrong. The dramas, the nightmares, the problems, the firefighting, the challenges are different on every single film."
The idea for Cats came from their former colleague and fellow producer, Debra Hayward, with whom they have worked with on projects such as Les Miserables, Bridget Jones's Baby and Mary Queen Of Scots.
"She is a producer we like enormously. It was her passion to bring Cats to the screen after 35 years of people trying that caught our eye," Fellner remembers. "Once Tom Hooper also came on board, that's when we committed to help get the movie made." It helped, too, that Universal, which owns Working Title, held the underlying rights to the musical and that the producers had developed "a really good relationship" with Lloyd Webber.
Bevan and Fellner are also among the high-profile backers of the new London Screen Academy, a sixth-form college which is due to open next year. The school has been set up as part of ongoing efforts to bring new entrants from a range of backgrounds into the film industry.
"Sadly, the most diverse crew we've ever had on a film was with My Beautiful Launderette [in 1985]," Bevan admits. "The crews in Britain, though brilliant, are not really reflective of the society we are living in, particularly in the London area. It's collectively our duty, having worked such a long time in the industry, to see if we can do anything about it."
Through the new Academy in north London, Working Title and its partners hope to "offer opportunity to those who hitherto have not had it." They will be advertising in, and visiting, schools throughout London attended by children who would not normally consider a career in film and TV as a possibility.
Unlike many of their peers, Bevan and Fellner remain optimistic about the theatrical business but even their approach has shifted a little in the era of the VoD giants and high-end TV drama.
"The most obvious change in what we do is now rather than just thinking, 'Is it a film?', you think, 'Is it long-form? Or is it a film for an SVoD digital platform?' You've got to try to identify where the film would sit best," says Fellner.
Parent companies
Over the last 25 years, Working Title's relationship with its parent companies, first at PolyGram and then at Universal, has remained remarkably stable. "We've been very fortunate in that we've found a niche that Universal likes and continues to like and support – and that makes them money," Bevan says. "Certainly, the backbone of our business has been having a very close relationship with a studio/international distribution outfit."
Universal Pictures International under Duncan Clark has handled the international releases of many of Working Title's films. "We have done 50 or 60 films through that group," says Bevan. "We know a lot of the managers who run the international operations. They know us, they know our films. We have a fantastic partnership with the whole group. That is the lifeblood of Working Title."
Another advantage the company has is the huge resources it can devote to development. "Being a mature company, we don't care if something takes four or five years to develop," Bevan says. "Younger companies, who don't have so much in development, that's more stressful for them."
At any given moment, Working Title will have "dozens" of projects in active development and generally around 10 or so "hot" ones, ready to be made into films within a year or 18 months. "Many of our films do take five, 10, sometimes 15 years before they hit the screen," Fellner notes.
Bevan and Fellner are famous for their long-term relationships with writers and directors including Curtis, Joe Wright (with whom they have a new feature in development), Tom Hooper, Stephen Daldry and Edgar Wright. They are also continually looking to identify new talent and are working for the first time with Joe Cornish on his new film, The Kid Who Would Be King, and Mary Queen of Scots, the debut feature from Donmar Warehouse artistic director Josie Rourke.
"The thing that Tim taught me when I first started working with him is that if you spend too long thinking about what has gone well, you get left behind," says Fellner. "You have to immediately move on with the next thing. That is what has driven us for the last 35 years. It's constant motion, constantly wanting to make new films and build new relationship – and constantly wanting to get that fix of sitting in a darkened room with 300 or 400 people and feeling them absolutely loving what they are seeing."