Gaga chairman and CEO Tom Yoda talks to Jean Noh about the changes in Japan's film industry.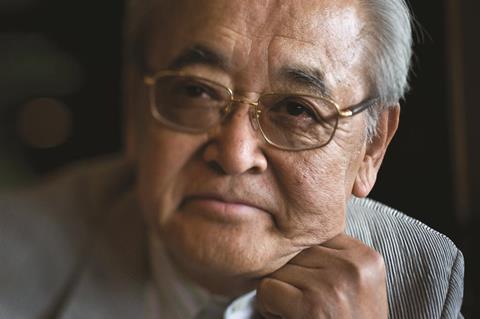 At his TY Building offices in Tokyo's fashionable Aoyama neighbourhood, Tom Yoda talks about how he got started in the film business. Currently chairman of the board and CEO of producer/distributor Gaga Corporation and chairman and CEO of TY Limited, Inc (formerly Thomas Yoda Limited), he is also well-known in Japan as one of the influential players that developed music company Avex DD into the current Avex Group Holdings, and in recent years invested in John Woo's multinational co-production Red Cliff.
"I started on the board of directors at Gaga in 1999, while I was still at Avex. Avex was about buying and distributing music, and Gaga was about buying and distributing films. In the last part of the 20th century, I was aware that films and music were going to be integrated," he says.
At Avex, a key strategy was picking up tracks overseas and compiling them in packages for the local market where users would rent popular Avex-branded CDs. He used a similar strategy for Gaga.
"The reputation of Gaga — that is my strategy for branding. As long as it is 'a Gaga film', people pay attention and know it is a high-quality film," he says.
Yoda credits Satomi Odake, member of the board and operating officer in charge of the acquisitions & planning division and legal affairs division, as a pivotal force behind Gaga's marketing. The success of Slumdog Millionaire is one example. "Satomi Odake approached Fuji TV, which was airing Who Wants To Be A Millionaire? We had very strong TV promotion and awareness because of this. Slumdog took $11.3m," says Yoda.
As chairman of the Tokyo International Film Festival (TIFF) from 2008-2013, Yoda also used the festival for acquisitions and marketing. Gaga picked up French film Intouchables after it won the 2011 TIFF Sakura Grand Prix and best actor award. Released in September 2012, the film took $18m at Japan's box office and won the Japan Academy prize for foreign-language film earlier this year.
Gaga acquisitions such as Oceans and The Three Musketeers opened TIFF and went on to local success.
"Oceans took $25m in Japan — bigger box office than in the US. The Three Musketeers made its largest box office in the world in Japan," says Yoda of the film that took $24.4m at local box office.
Japan's cinema-going has been changing and Gaga has been adapting.
"Before, [Japanese people] would spend $50m-$100m on a Hollywood film [total box office per film], but nowadays domestic films have taken that slot. Therefore we need to have our business portfolio made up of foreign film acquisitions and also a good amount of local films," says Yoda.
The company handles 20-25 films a year including two to three local productions. Recent ones include Sion Sono's Himizu, whose young stars Shota Sometani and Fumi Nikaido jointly won Venice's 2011 Marcello Mastroianni Award for best young actor or actress.
"This year, Kore-eda Hirokazu's Like Father, Like Son won Cannes' jury award from Steven Spielberg and then he decided to remake it in the US," says Yoda of the film that has clocked up $29m in Japan since it opened on September 28 at the top of the box office. It has sold to 230 territories.
Yoda says he has always been wary of the system of production committees prevalent in the Japanese industry, where entities from actors' management, to TV and newspapers, to advertisers will be involved in a film's production. "For Like Father, Like Son, we only had three companies: Fuji TV, Amuse and Gaga. I think if you are an owner or producer or distributor, you have to have a leading hand yourself. Otherwise it's better not to be involved in this business, because it's a human business," he says.
"Internationally, the Japanese film industry is just starting to grow because the government is starting to support Japan's content business overseas. Newcomers are producing films that get good feedback from overseas and then do well in Japan," he explains. "One of my tasks is to get Japanese governmental funds to support Japanese content internationally. So it's a good thing our film was picked up by Mr Spielberg. This is a big story for the Japanese film industry."