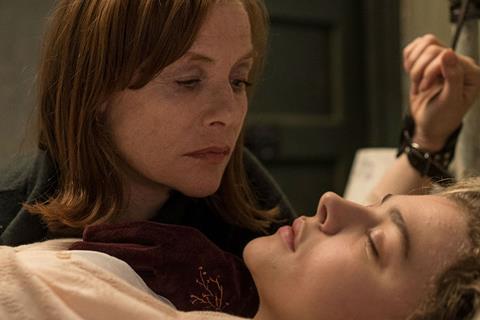 Buyers, typically, are tempering their expectations over the pool of acquisition titles heading into a major festival, although in fairness what Toronto offers would appear to merit more enthusiasm.
The late summer festival and its unofficial market, which continues to grow in stature as a venue for finished films in particular, arrive – surprise surprise – at a time of turmoil in the film business.
One year ago Donald Tang's Tang Media Partners was about to launch its consolidated IM Global and Open Road stable as Global Road Entertainment, while Byron Allen's Entertainment Studios would announce several loud acquisitions, Lionsgate picked up the sci-fi Kin in a splashy pre-buy, and The Weinstein Company seemed muted.
Heading into the 2018 Toronto International Film festival (TIFF) , events have brought a number of issues into sharper focus. The ongoing travails facing the distribution arena are as intense as ever. This week, after months of lacklustre releases and a struggle to raise cash, Tang's venture finds itself rolling towards bankruptcy. Global Road began to lay off staff last week after Screen revealed exclusively that a consortium of banks (led by Bank Of America) had taken the reins at his film studio.
Allen, the distributor behind the 2017 summer breakout 47 Meters Down who used a CinemaCon keynote address last spring to urge exhibitors to shake up the business, has withdrawn somewhat after a subdued year without a shark to his name. The April release of Chappaquiddick was modest, while the pre-TIFF 2017 pick-up of Keanu Reeves sci-fi Replicas remains unreleased one year after the acquisition was trumpeted with much fanfare in the trade press.
By now everybody knows what The New York Times and The New Yorker had in store for Harvey Weinstein last autumn and, 11 months after the first allegations saw the light of day, the disgraced former mogul and superstar distributor faces the prospect of jail time and is well and truly out of the game.
Yet hope springs eternal. North America is emerging from a $4.4bn summer session that ranks as one of the five highest of all time, distributors of all shapes and sizes have enjoyed success this year, and three documentaries in particular have soared at the US box office: Won't You Be My Neighbor? through Focus Features, Three Identical Strangers through NEON, and Magnolia Pictures' RBG.
Some familiar names have been eying a return to the fray. Weinstein's former COO David Glasser, busy as executive producer on Paramount Networks' western Yellowstone starring Kevin Costner, is being wooed by a consortium of investors to run an entertainment company. And Mark Gill, the former Warner Independent Pictures chief, is getting closer to unveiling his new venture.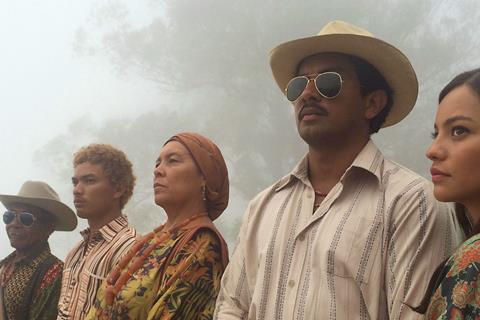 Tech giants
As buyers descend on Toronto in search of finished gems – at time of writing every sales agent who spoke to Screen said they were still weighing up which if any packages to bring – the word on the street once again is that this could finally be the market when Apple shows up with its wallet. If they turn shy again, Netflix and Amazon Studios could do the honours and fly the flag for Silicon Valley with the odd purchase here and there, although they have been relatively quiet on the North American festival acquisitions front this year.
"I think both companies will continue to seek out movies they believe are good for their respective platforms," said Rena Ronson, partner and co-head of UTA Independent Film Group. "Now that they are producing more annually, they might need to be more selective in their strategy, but ultimately they will bid aggressively if a film can help support their global business."
There are plenty of options for distribution, and sellers and their producer and financier clients know what they're getting with TIFF. "The value of Toronto is screening a finished movie," says Nadine de Barros of Fortitude International. "Usually the big question is what's coming up at AFM." De Barros sells international on TIFF closing night selection Jeremiah Terminator LeRoy, and has rights available for the UK, Australia and Italy after she truck a multi-territory deal with a studio and pre-sold France to Metropolitan and Japan to Pony Canyon.
"We're more focused on finished product these days rather than getting in at the pre-buy stage," says Paul Davidson of The Orchard, who snapped up the Colombian Oscar submission Birds Of Passage by Cristina Gallego and Ciro Guerra in Cannes. "The market place is tougher. It's better to wait to see the movie in many of these situations. There are exceptions: if it's a filmmaker we've worked with before."
"It's the best festival to watch movies because of the structure," says Uri Singer of Passage Pictures. "The reaction of the audience is a good indicator for how the movie's going to play."
Singer agrees the business is getting tougher and says he tries to stay ahead of the game by optioning books at auction, such as The King Of Oil, set up at Universal with Matt Damon and John Krasinski, and Ethan Hawke as electricity pioneer Nikola Tesla.
"From a business perspective, TIFF is a dark horse," says DDI CEO Jason Moring. "It has the unique ability to surprise." DDI will be actively selling recently completed films Sometimes Always Never, A Violent Separation, and Elliot the Littlest Reindeer, which Screen Media has acquired for the US. Moring will show footage on Think Like A Dog, Becoming, Heidi: Queen Of The Mountain, and The Cleansing Hour.
"It feels like a buyer's market on the narrative side and the films will probably be discoveries," says one seller who asked to remain anonymous, "and it will be interesting to see if it will be more of a seller's market on the docs side."
Buzz titles
Besides hundreds of festival selections, early screenings of potentially hot acquisition titles include Michael Moore's TIFF Docs opener Fahrenheit 11/9 on September 6. Tom Ortenberg's Briarcliff Entertainment distributes in the US and, as Screen first reported, Stuart Ford's AGC International will kick off international sales on the night of the world premiere.
Chloe Grace Moretz-Isabelle Huppert psychothriller Greta (Endeavor Content, CAA / Sierra/Affinity) plays the same night.
Meanwhile Friday (September 7) brings Jamie Bell getting down and dirty in the bare-knuckle fighting drama Donnybrook. UTA represents the US and handling international is Sierra/Affinity led by Nick Meyer, whose role has been absorbed into the new title of eOne head of film after the Canadian titan acquired the remaining stake in Sierra Pictures.
Meyer will also be selling, among others, Midnight Madness selection Nekrotronic starring Monica Bellucci, and Natalie Portman pop star saga Vox Lux, which heads to Toronto after Tuesday's world premiere in Venice (CAA and Endeavor Content represent US rights).
Also premiering on September 7 are Carol Morley's police procedural Out Of Blue starring Patricia Clarkson (CAA / Independent), Judi Dench in spy drama Red Joan (Embankment sells worldwide), and Elle Fanning in Teen Spirit (CAA / Mister Smith).
Among the weekend offerings to tempt buyers are: Claire Denis' English-language debut High Life with Robert Pattinson (CAA / Wild Bunch), Farming (CAA, Endeavor Content / HanWay), Midnight madness selection The Wind (ICM Partners), American Woman starring Sienna Miller (Endeavor Content / Bloom), Kim Nguyen's The Hummingbird Project with Jesse Eisenberg, Alexander Skarsgaard and Salma Hayek (CAA / HanWay), Jamie Bell in another rough role as a skinhead seeking redemption in Skin (ICM Partners worldwide), Wild Rose (UTA / Sierra/Affinity), and what some are already describing as a Canadian gem, the coming-of-age tale Giant Little Ones (UTA / Celluloid Dreams).
Looking ahead to next week, there are premieres for Xavier Dolan's The Death And Life Of John F. Donovan ( CAA / Seville International), John DeLorean film Driven (Endeavor Content, UTA / Embankment), which arrives from its out-of-competition slot in Venice, and Sam Taylor-Johnson's detox drama A Million Little Pieces starring Aaron Taylor-Johnson and Charlie Hunnam (CAA / Sierra/Affinity).
Industry attendees will not only be watching films during their trip. "Toronto is becoming more and more important to us and we're looking at it from a standpoint of financing," says The Exchange CEO Brian O'Shea. "It's a place to take films that are not screening that you need financing for and it can be incredibly effective in terms of getting key deals to trigger financing. We've done that [before] on A Street Cat Named Bob and Irreplaceable You."
O'Shea has a few territories left on We The Animals (now in US release) and Blaze. He has also assumed sales duties on Mrs Lowry & Son from The Little Film Company after the sudden death of Robbie Little in early summer, and will show first footage. UK rights are available to the drama starring Vanessa Redgrave and Timothy Spall. The Exchange will also show footage from completed crime thriller The Corrupted starring Sam Clafin.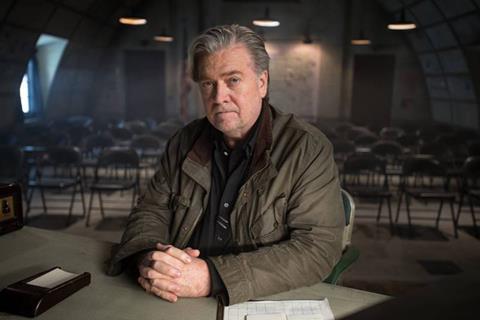 Hot docs
As the summer has shown, documentaries have proved an appealing option for savvy distributors and besides Michael Moore, TIFF Docs will be showcasing new work from Errol Morris (Steve Bannon film American Dharma), Frederick Wiseman (small-town American profile Monrovia, Indiana), Werner Herzog (Meeting Gorbachev), Mark Cousins (Women Making Film: A New Road Movie Through Cinema), and Alex Gibney (wearing his executive producer hat on Divide And Conquer: The Story Of Roger Ailes).
TIFF Docs programmer Thom Powers notes, "We're coming off the summer of docs and in the conversations I've been having with buyers all summer they want to keep this roll going with these new films, and that was in my mind with these selections. In the last couple of years I've watched some of the bigger Hollywood talent agencies get more and more involved with docs. It's noticeable this year when you see how many docs are being represented. I've counted 13 represented by major sales agents."
At time of writing the summer's big three remained active. Won't You Be My Neighbor? has grossed $22.5m, while RBG and Three Identical Strangers – both of which CNN Films produced and financed – stand at $13.9m and $11.7m, respectively. According to Powers, the reason for the summer of doc love is this: "Platforms like Netflix have broken down the barriers for people to watch docs. Docs like Wild Wild Country, The Fourth Estate are becoming part of dinner party conversations. People are hungry for stories that are an antidote to the really negative political culture we're living in North America right now."
Powers points out several other works that could get tongues wagging: The Elephant Queen (Endeavor Content / Mister Smith), by wildlife documentary veterans Victoria Stone and Mark Deeble; The Biggest Little Farm (UTA) by John Chester, about a farm outside Los Angeles run by the filmmaker and his wife Molly that sprung from a desire to offer a better life for their rescue dog; fishing industry slavery tale Ghost Fleet (Endeavor Content) by Shannon Service and Jeffrey Waldron and backed by Paul Allen; and Alex Holmes' Maiden (Dogwoof), which chronicles the unprecedented journey of Tracy Edwards and the first all-female sailing crew to enter the Whitbread Round the World Race.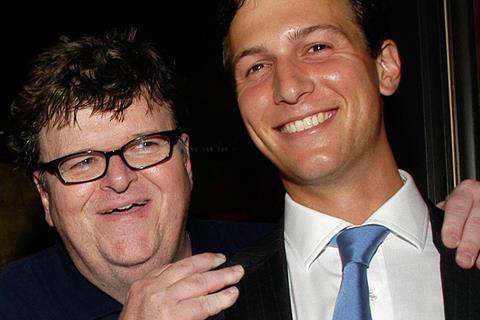 Of course Moore's Fahrenheit 11/9 is going to be the big kahuna and its take on the United States under president Trump will be a populist draw. Powers has known his fellow Michigan native for 13 years and programmed several of the Oscar-winner's titles. "The film's very timely in the run-up to the US mid-terms," he says.
For Josh Braun of documentary sales specialist Submarine, who represents Herzog's Meeting Gorbachev, the hostile anti-press climate in the US fostered under Trump has impacted the documentary community. "There's no doubt it absolutely has… Documentary [makers] as a whole embrace fully that their work is non-fiction and the opposite of fake, and you have to keep those standards and keep that priority."
ICM Partners partner and head of international and independent film finance Jessica Lacy notes the bulk of her films in Toronto (besides Skin, The Wind, and documentary This Changes Everything) already have distribution in place: Annapurna bought Destroyer from footage in Cannes, and YouTube is partnering with Roadside Attractions on Viper Club.
"This is a trend that we've seen over the last year starting with last Toronto," says Lacy. "More and more of our films are getting set up with distributors at earlier stages as these distributors focus more and more on in-house production