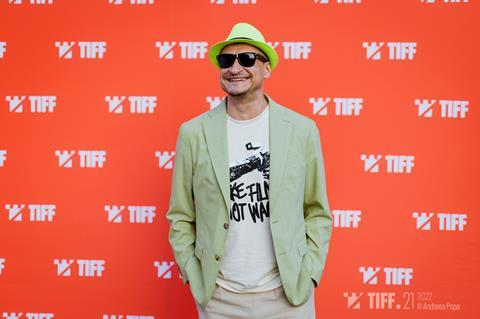 The 22nd edition of the Transilvania International Film Festival (TIFF) in Cluj-Napoca, Romania, opens today (June 9) with an open-air screening of Icelandic director Hafsteinn Gunnar Sigurdsson's Northern Comfort. UK actor Timothy Spall, one of the stars of the film, will be honoured with a lifetime achievement award at the ceremony.
The two international competitions are the official competition for first and second -time directors and the What's Up, Doc? competition which was introduced last year. The jury for the official competition is comprised of Mexican director Michel Franco, UK filmmaker and actor Harry Macqueen, Romanian dancer Judith State, Nicoletta Romeo, artistic director of the Trieste Film Festival and the Serbia-born, Spain-based actor Darko Peric.
The documentary jury is comprised of Paris-based producer Christian Popp, Romanian filmmaker Monica Lazurean-Gorgan, and Bulgarian producer Martichka Bozhilova.
In addition to the festival's regular sidebars of Supernova, No Limit, and Full Moon, this year's line-up includes a wide-ranging focus on Nordic cinema, and Close Up homages to Jean-Luc Godard, Sidney Lumet and Oliver Stone. Geoffrey Rush is receiving the second lifetime achievement award of the festival.
Romanian Days is the annual showcase of contemporary local filmmaking, screening a mix of features and shorts from the last year as well as several world premieres. They include Paul Negoescu's dark comedy Men Of Deeds, the big winner at this year's Romanian Gopo awards, and Mihai Mincan's fiction debut To The North, which premiered in Venice 2022. Bogdan Mirică's returns to the festival with Boss, while Andrei Tănase is in town with his feature debut Day Of The Tiger, that made its world premiere at the International Film Festival of Rotterdam earlier this year.
Vlad Petri's Between Revolutions won the Fipresci prize in the Focus section of the Berlinale in February, while Dana Bunescu returns to directing alongside anthropologist Cătălina Tesar with The Chalice. Of Sons And Daughters about the marriage traditions of the cortorari communities.
Journalists Adina Popescu and Iulian Ghervase are back with their third documentary, Eagles From Țaga, the story of a football coach training an eternally losing soccer team.
The two world premieres in the Romanian Days competition are Daniel and Alexandra Bărnuți's My Muslim Husband, a story about love and prejudice in contemporary Romania, and Blue Planet by Daniel Sărăcuț, a bittersweet chronicle of the rock band Dio Family reuniting for the recording of the title track.
Tudor Giurgiu's Freedom, is screening out of competition as a world premiere. The Romania-Hungary co-production is a drama inspired by real events surrounding the Romanian Revolution in 1989 in Sibiu.
Also playing out of competition is Alexandru Solomon's Arsenie. A Miraculous Afterlife, a documentary about the popular Romanian monk Arsenie Boca, and Dragoș Lumpan's Last Transhumance, an ambitious artistic and ethnographic project filmed over 10 years in six countries.
The programme also includes a second film from Negoescu, the comedy Another Lottery Ticket, Cătălin Saizescu's The Dream, the story of prisoners performing in a theatre show, and Liviu Mărghidan's family mountain drama Refuge, filmed in the Piatra Craiului Mountains.
Andi Lupu's The Young Dictator a docudrama about the young Nicolae and Elena Ceaușescu, and Iura Luncașu's S.B.C.R.D.F., inspired by a Chekhov play.
Artistic director Mihai Chirilov gives Screen the lowdown on this year's programme, the state of Romanian cinema and why the festival has joined the Smart7 festival network initiative.
What are the common threads running through this year's Official Competition line-up?
Lately it seems that you can't avoid the hot topics of the day - class and ethnic differences, immigration, drug use and prostitution, although these issues thankfully tend to be in the background of this year's competition entries. What really stands out is how the films tend to deal with all sorts of broken relationships. They show how it is becoming increasingly difficult for people to connect with one another whether as a couple or within a family, or, as in the Moldavian film Carbon, when inter-ethnic conflict makes it hard for people to maintain their humanity towards each other.
There are no Ukrainian or Russian films in the programme. Was this a conscious decision after the controversy that followed selecting Russian films to screen at last year's festival?
Cluj is one of those festivals which didn't consider any boycott of Russian films because I simply don't think we, as cultural events, should be turned into war zones as well. Our festival is all about quality cinema, innovation and freedom of expression. [This year] there were fewer Russian submissions than usual to the festival and also fewer to track and consider from other festivals. Those films we did see didn't make into the final list because of artistic reasons and the same went for the films from Ukraine. We had more submissions than usual but it all came down to the artistic quality.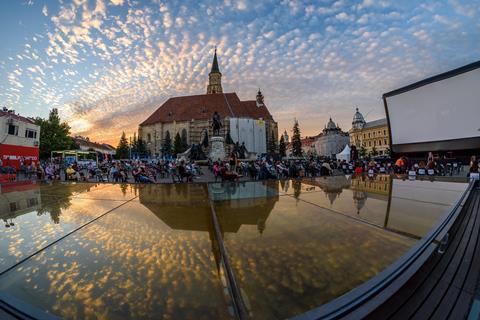 There are nine Romanian feature-length films making their world premiere in the Romanian Days section which received a record number of 50 submissions this year. section. What do you think this says about the state of Romanian filmmaking?
Well, films were put on the shelf during the pandemic and others were delayed, so now we have a kind of traffic jam of Romanian films coming through. I'm sure this situation won't be replicated next year.
Overall, there's a real mix of established names like Cristi Puiu, Tudor Giurgiu and Alexandru Solomon as well as first-timers such as the Cluj-based filmmakers Dani Saracut (Blue Planet) and husband and wife team Daniel and Alexandra Barnuti (My Muslim Husband).
There are also documentaries by Carla-Maria Teaha (Nora) and Cornel Mihalache (Phoenix. Har/Jar).
Only three out of 17 films in Romanian Days are directed by women. What do you make of this?
If maths really matter, one should add two more female-directed Romanian features shown in other sections. [Carla-Maria Teaha's Nora in Larger Than Life and Tunde Skovrán's Who I Am Not in Supernova]. Last year we had several female directors, but there weren't so many among the 50 submissions for this edition. I am following very closely what's in the works in Romanian cinema and I can tell you that there are a lot of female directors and even more female producers working on projects, so I can see a greater presence in the future at the festival.
Meanwhile, an addition to the TIFF programme this year is the Smart7 competition. Why did you decide to become a member of this network of festivals?
We've been working on establishing closer links with other festivals for some time and finding ways of learning from each other. Every time I go to a festival my first priority is naturally to watch films, but I also look at the festival's technical setup and organisation and so on. This initiative is a bit like an iceberg: the tip is the seven-title selection for the competition [the network jurors voted for Sebastian Mihailescu's Mammalia as the Romanian representative] while the rest [of this iceberg] is about knowledge transfer to help us when we are putting out festivals together when faced by the economic constraints and pressures coming from every kind of direction.
And deciding to have an open-air screening of Michael Curtiz's classic film Casablanca on Unirii Square is particularly appropriate since the Hungarian-born director started out his film career in Cluj as Mihály Kertész more than 100 years ago.
This is a dream we've had for many years to screen Casablanca at TIFF. Things worked out well this year because we now have a content partnership with Warner Bros Discovery to mark the studio's centenary. Casablanca was the logical choice, The cherry on the cake indeed was that the director had made some of his first films here. It was just a case of the planets aligning.