Ruben Ostlund is no stranger to talking-point moments in his films — but he has raised the bar with the vomiting sequence in Triangle Of Sadness. Screen talks to the key team members who aimed for the best puke scene in film history.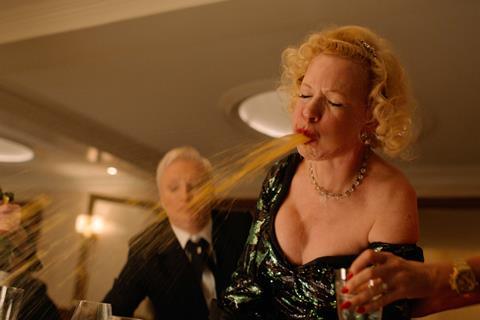 The shit is flying — and so is the vomit. It is the sequence in Swedish director Ruben Ostlund's Palme d'Or winner Triangle Of Sadness that enthralled audiences in Cannes and has become arguably the most talked about scene of any movie this year. The film has been one of the few festival titles to catch fire at the box office, earning more than $3.5m in the US for distributor Neon and $11.8m worldwide at press time.
Wealthy passengers aboard a luxury cruise ship are beginning their special dinner with the ship's curmudgeonly, boozy captain (Woody Harrelson). A storm brews. The ship is listing. Passengers' faces turn paler. And then the carnival of vomiting begins. All that black truffle, caviar, grilled squid, oysters and champagne is regurgitated in spectacular fashion.
Those involved in the film's production talk with justifiable pride about a sequence that combines slapstick and pathos, grotesquery and magical choreography.
"I knew this could possibly be the scene of the movie," says producer Erik Hemmendorff of Platt­form Produktion, recalling his reaction on first reading the screenplay. He has been working with Ostlund for almost 20 years — from early shorts and features Involuntary and Play to breakout hits Force Majeure and The Square — and knew his ambitious director collaborator would be aiming for "the best puke scene in film history… it was all about seeing how far can you push something".
It takes a lot of planning to organise screen vomiting on this scale. The filmmakers met early on with the SFX team. "We made a dummy test early on with a smaller set just to see what it looked like," the producer recalls.
Make-up and hair designer Stefanie Gredig divided the captain's dinner scene into three sections: before, during and after the meal. The guests start out clean, tidy and happy. Then the storm begins. "They're slowly getting sick. The tan fades from their face. They're getting pale and greenish around the nose; really rough, getting red eyes and sweating," explains Gredig. "And then they start to throw up."
Surprise element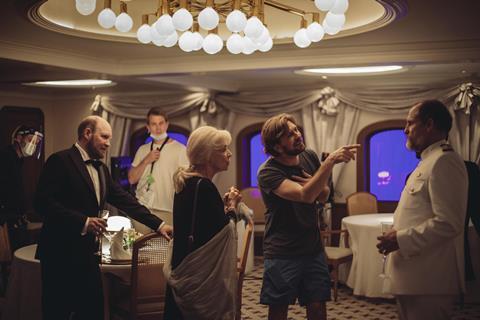 Actors were equipped with tiny nozzles to put in their mouths, which were attached to tubes operated by the effects team who could pump fluid whenever needed. This meant the performers had no control over precisely when they would vomit. "It just sprays out — you cannot hold it in," explains Hemmendorff. They could feel the vomit spewing up just "a split second" before it came out — and audiences could see the panic in their eyes.
Gredig and her team also gave actors who were not vomiting so heavily their own "vomit to go" bottles that allowed them to swig and spew on their own.
The idea was to capture the carnage as much as possible in-camera — and not rely on VFX in post-production. It took around a fortnight to complete the sequence, shot on a set at Trollhattan film studios — about 70km north of Gothenburg — where the interior of the cruise ship had been constructed.
"We built two gimbals," explains special-effects supervisor Johan Harnesk. "One set was 200 square metres, another set was 100 square metres." The sets may have been complex but the biggest challenge was "ensuring the actors would feel safe and comfortable with this stuff in their mouths".
"It's a strange feeling. You're on a set with a lot of people you don't know and someone is putting stuff in your mouth and pushing a button and out comes litres of fluid," the SFX specialist says, summing up what the actors were facing.
At least the vomit they were spewing was made out of a "fruit soup" concoction that did not taste too bad. "They made a mix of different fruit soups and made them a bit different depending on the character," says production designer Josefin Asberg. "Some had a little bit of pink vomit of red wine, some others had pieces of octopus. We made tests of the texture and colour both of the vomits and also the shit exploding out of the toilets."
Fortuitously, the Switzerland-born German actress Sunnyi Melles, who plays the wife of the Russian oligarch and throws up more than anybody else, already had experience of puking as a performer. She helpfully guides Screen International to a clip on her website of her retching violently during a German stage production of Yasmina Reza's God Of Carnage. "I've played this piece 99 times," she volunteers.
In Triangle Of Sadness, Melles is also shown falling off the toilet bowl and sliding around on the bathroom floor covered with water and bodily fluids. "I was bumping sometimes on my head because the toilet was [made] from porcelain. I was a little bit dizzy but I was so satisfied to give him [Ostlund] this scene," Melles notes of her performance.
"I've never met an actor prepared to go as far as Sunnyi," marvels cinematographer Fredrik Wenzel. "It was kind of beautiful to watch, like a ballet. It has a baroque feeling with the colours. Originally, I think she was supposed to sit on the toilet and feel it [the vomit] coming, not knowing where to put it. Then she puked on the floor. She started to float around in that. I think it was one of those things that happened. It wasn't really planned but we just realised it was quite beautiful when she was just sliding on the floor like that."
Pivotal moment
As soon as he read the screenplay, Wenzel realised how important the vomiting scene was to the movie. "With Ruben, there is one pivotal moment in all the three movies I have done with him. Force Majeure is the avalanche. In The Square, we have the dinner scene with the ape man. This time, I knew when reading the script that this [the vomiting scene] was equivalent to that," Wenzel says. "Instantly, I knew this was one of those scenes that Ruben wants to push as far as he can and make as extreme as the context allows."
The camera was kept "rigged to the movement of the ship" in order to capture the sense of motion sickness, "of being aboard this rocking world", as the DoP explains.
"Everything was moving. People were puking. There was rain on the window. When you're up on the gimbal, it's like you're on a boat," adds special-effects supervisor Harnesk.
Hemmendorff talks of the inspiration he and Ostlund took from the Swedish national dish, surströmming, a fermented Baltic herring with a virulent smell. "There are videos of US Marines opening a can and they start puking immediately," he says.
The scene was being shot in the middle of the Covid-19 pandemic. "Unfortunately, I was not allowed on to set," the producer says of the strict restrictions in place. "We were kept in separate floors on the studio."
However, he did get his moment in the limelight as an extra. "I am the one sitting on the stairs, getting all the shit over me. I can assure you that scene was not done in post."
When Triangle Of Sadness premiered in Competition at Cannes, the vomiting scene brought the house down. "I felt it was much more like a sports event than a movie," enthuses Wenzel, recalling the euphoric moment inside the Palais des Festivals. "People were cheering and applauding during the screening. I've never experienced that before."