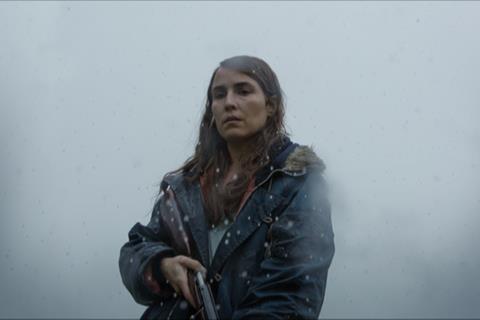 Icelandic filmmaker Valdimar Jóhannsson brings his debut feature Lamb to Cannes Un Certain Regard. The story follows an Icelandic couple living on a remote farm who adopt a mysterious newborn and raise it as their own.
New Europe handles sales and hosts market screenings on Friday and Saturday, and the film premieres publicly on July 13. Lamb is an Icelandic-Swedish-Polish co-production, produced by Hrönn Kristinsdóttir and Sara Nassim at Go to Sheep alongside Piodor Gustafsson and Erik Rydell at Black Spark Prod., and Klaudia Śmieja-Rostworowska and Jan Naszewski at Madants. Other partners include Film i Väst, Chimney Sweden and Chimney Poland, in association with Rabbit Hole Productions and Helgi Jóhannsson. Backers include Icelandic Film Centre, Swedish Film Institute, Polish Film Institute, Iceland's Ministry of Industries and Innovation, Eurimages and Nordisk Film and TV Fond.
Where did the initial idea for Lamb come from, were you inspired by Icelandic sagas or folklore?
I was inspired by so many things: films, folklore, books, paintings, images. I started to create a sort of sketchbooks with some elements of the story and drawings, and then I took this to my producers [Hrönn Kristinsdóttir and Sara Nassim] and they introduced me to Sjón [Icelandic author and poet] and we discussed this book I had made. After that, we talked about the ideas for a few years and wrote the treatment, and then Sjón took over and wrote the rest of the script. It was a long process but very organic.
Your grandparents were farmers?
Yes, my grandparents were sheep farmers. And I grew up in a small village close to where they lived, and I spent my childhood helping on the farm. I'm sure part of the story is inspired by my grandparents. One thing I loved about them was that there was no 'women's job' or 'man's job' on the farm, they respected each other and I wanted that feeling to come across.
Were you interested in exploring themes like parenthood or connection to nature?
There were so many things that we were thinking about. I did want to make a film about humans against nature. I think it's also about dealing with a loss and how willing you are to do almost anything to bring back the happiness and the joy that you had before. People can read so can many things into this story. I really want the film to talk for itself.
You cast Noomi Rapace as Maria, I didn't realise she had an Icelandic connection?
Yes, for Maria we were looking for the right actor for a long time, and we knew that Noomi speaks Icelandic and she had lived here as a child. Maria is a soft and gentle person but also with a really strong mindset who can sometimes be cold. I thought Noomi was just perfect for that role.
Had you worked with actor Hilmir Snaer Gudnason before?
I've known him for a very long time and I made a short film, Dawn, with him. The character of Ingvar is gentle, nice husband, who is willing to do everything for his wife, to try to make her happy. He was the perfect actor for that role. They were both so invested in the film and we were a team creating these characters.
What would you say were the biggest logistical challenges of the production, and how did your producers Sara and Hronn support you?
We were on the same page, and it's important for me to work with producers who are creative and can bear with me in every detail. We were dealing with elements like shooting in the remote countryside and shooting with animals and children. Everybody knew what our goal was, and the crew was amazing, they made it all possible.
How did you find the perfect shooting location?
We were driving around Iceland for about two years looking for the right location. I had drawn storyboards with the idea I had of the farmhouse, and I even made a dream house in clay, so I really wanted it to look like I imagined. We found this farm in the north, the house didn't have the exact layout I had imagined, but most of it could work. And it was amazing that there was nothing around it, and we could shoot 360 degrees. You look out the windows and you don't see anything around except the mountains and the land. The landscape was also supposed to be a big character in the film. Nature represents danger in this film.
What was the visual style you wanted for the film and how did you work with your DoP Eli Arenson?
Eli understood this story so well. We spent so much time together at the farm in pre-production and we had a plan for every scene. I wanted to make a film that is almost like a visual poem.
How did you want to approach the look of Ada?
We had an amazing team working on Ada. VFX supervisor Peter Hjorth was on set with every day and we were also working with Fredrik Nord from The Chimney Pot on the VFX. It all exceeded my expectations. If it didn't look good, it would pull you out of the film. The actors were also very important, because we used lambs, children and puppets to shoot those scenes, so shooting took a long time and they had to be very patient.
You studied at Bela Tarr's film school Film Factory, how did that shape you as a filmmaker?
It opened my eyes, we were, we were watching four films every day and then going to the cinema every evening. The lecturers they brought to Sarajevo were amazing, like Carlos Reygadas and Tilda Swinton. It made me realise that I needed to have the courage to do what I wanted to do. Spending so much time with Bela was also amazing and changed my views on filmmaking. Now he is an executive producer on Lamb.