The legendary actress tells us about her directorial debut, refugee documentary Sea Sorrow.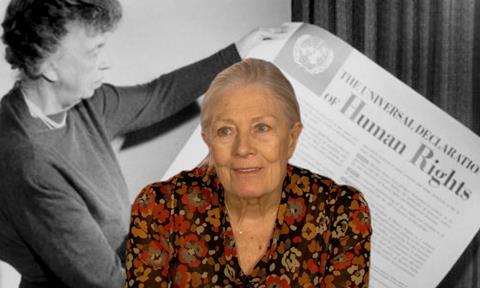 Vanessa Redgrave, 80, first came to Cannes in 1966 when she won Best Actress for Morgan - A Suitable Case for Treatment. 51 years later she returns with her directorial debut, Sea Sorrow, a very personal documentary about the refugee crisis.
Her son Carlo Nero (whose credits include The Fever and Eyes of St John) produces. Key contributors to the film include interviewee Lord Alf Dubs, as well as Ralph Fiennes and Emma Thompson.
The film screens Thursday (May 18) as a Special Screening in Official Selection and is sold by Autlook.
Had you thought about directing a film for a while?
No I hadn't at all, absolutely not. It's the subject matter.
Why is the story of refugees so important to you, did that start when you were young?
Very definitely it started in my childhood [during World War 2]. Like many children, I was an evacuee as we were called in those days. There wasn't any human rights legislation regarding refugees. I think it's unforgettable when you get separated from your parents. We went to live with a relative so we were lucky.
There were thousands of London children who were evacuated and didn't stay with relatives. One story I will never forget – I had learned to read very, very early, and when I was about four our nanny had a newspaper, and there was a terrifying story of two evacuated children that had been starved and beaten by a farmer. One of them died, they had been stealing turnips from his field because they were so hungry. I shiver thinking about it now. That cruelty goes on today with refugees. That's what happening
What was it like for you to visit the refugee camps?
It's horrifying to see. That shouldn't have happened to refugees, but it did. I've been in Kosovo, I've been where Palestinians have been refugees, I've been in the freezing cold where people are surviving in UN programmes It makes you all the more determined to get them the help that you know could and should be getting.
How did you decide to tell such a massive global story in a personal way?
I can't remember the exact moment. It's very much thanks to Carlo [Nero, her son and producer] that it's told that way, it's instinct.
Why was Lord Dubs such a compelling figure to follow, is he someone you already knew?
I hadn't known him. It was a wonderful blessing to meet him. Alf Dubs is proof of what can happen. To him it would be impossible not to do what he's doing, to spend morning, noon and night to think of how he can help refugees. It makes a huge, huge difference. The more we heard about Alf and his story, I knew we had to have him in the film.
What do you want your audience to take away from the film?
First, I like the film to enter inside them. Because it's their own history that they don't know, most people don't know the history, or have forgotten it. We all need reminding continually I think.
At the same time I hope that the film will make people feel that they could do something, The feeling of, "I can't carry on with my life and not do something." That's what I hope will happen. For that to happen things have to sink in gently and deeply to really grip people. The news channels are full of quick impressions, people are bombarded with every kind of problem. So it's hard to think what they can do.
Did you learn anything new in researching the film or this was all history you knew?
I know this history so well, it's an obsession for me and has been for a long, long time. I was always reading up, finding books that were out of print. I've studied pretty well every account that's every been written of the concentrations camps and the individual experiences.
You have a long history with Cannes, why are you excited to premiere your film here?
My very first award was in Cannes, Morgan was the first film I made. So it's a special connection for me. Last year I was there with Howards End in Cannes Classics. With respect to many other film festivals like Toronto or London, Cannes is a very special place. I'm awfully glad that Carlo and Alf Dubs and our little film company will be there with our film Sea Sorrow.
Do you think you will direct again?
I don't for a minute! I'm 80 and had a heart attack two years ago, I don't think I've got much time left. I will spend the time I have helping this film be seen. We will work on how we can show it in schools as well, I think young people need to see it. There's not been a proper education on the Holocaust. Part of the horror of the Holocaust was that no European country opened its doors wide to the Holocaust refugees. We need to be steady and choose love and be very firm and stand up to the wrong and not let fascists win. That's all that's required really.