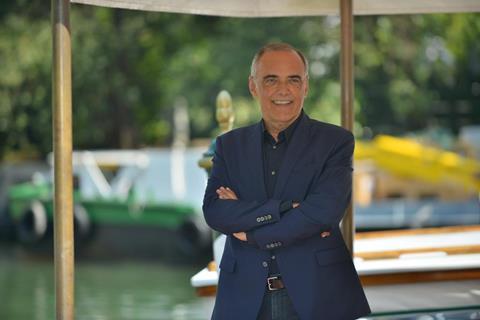 Venice artistic director Alberto Barbera unveiled the lineup for Venice Film Festival's 80th edition on Tuesday with new films from David Fincher, Michael Mann, Sofia Coppola, Ava DuVernay, Yorgos Lanthimos, Bradley Cooper and Ryusuke Hamaguchi.
Barbera spoke to Screen about a range of topics including the impact of the SAG-AFTRA strike on the festival. (MGM pulled the initial opening night selection Challengers starring Zendaya and the festival replaced it with Comandante.)
The festival head also addressed gender inequality in terms of number of female directors in competition, and programming films by Roman Polanski and Woody Allen.
Screen: How has the strike affected the selection process? Beyond Challengers, were there any other films that you invited but could not accept as a result of the strike?
Barbera: I had completed the selection the week before we announced, on a Thursday evening. For the first few days I questioned everything in that many films were American films that perhaps risked their presence, and [I thought] there were going to be many cancellations.
It seemed that I would [be] forced to review the selection, to reopen it or to change the screening programme. Then actually, fortunately, everything calmed down a bit. The only film we lost was the opening film by Luca Guadagnino and that was because it was postponed to next spring, to April 2024. But all the other films I had invited have been confirmed.
There will be some missing stars and talent, especially those related to films produced by studios or platforms as they are on strike and obviously not able to participate in promotions. But they are a minority because the majority of American films in Venice are independent and therefore in theory are able to be present.
You can apply for a waiver, for an exemption to bring the actors and to promote the film at the festival – and they have all already requested this. We are waiting for SAG-AFTRA to answer and hopefully confirm, so I'm quite optimistic. Overall the impact of the strike on the festival was minimal, at least much smaller than it seemed initially when the strike was announced.
The wonderful thing is that everyone has confirmed the commitment made and confirmed their willingness to come to Venice to promote their films. They do not to want to postpone their release, which is another important thing – not so much for us, as for cinema in general and for the audience.
So all this is extremely positive, even in a situation of great difficulty for which the rationale of the strike is understandable: concerns with respect to artificial intelligence; the protection of more vulnerable workers; and a series of issues are widely shared and therefore the situation is not easy.
But in short, from our point of view, the outcome has been quite positive and, I would hesitate to say, much better than we could have expected.
Which stars have you confirmed will attend this year?
For now, stars from the big US films have not confirmed their presence. Not the Yorgos Lanthimos (Poor Things) stars as the film is produced by Searchlight and so is a studio film; nor the stars in the Bradley Cooper film (Maestro) or the David Fincher film (The Killer) stars, which are both at Netflix; nor the William Friedkin movie [The Caine Mutiny Court-Martial, produced by Selsed House and Loveless Media for Showtime]. They absolutely won't be able to be present.
Everyone else in theory could be present if they get their waiver. For example, the Michael Mann film protagonists, or the Richard Linklater-directed Hit Man stars, or the stars of Sofia Coppola's Priscilla movie. All these independent films have requested waivers and now we are waiting for a SAG decision.
At the moment, it seems they are evaluating waiver requests from films that need to resume production, after which they will examine exemption requests for festivals. So we still have to wait to find out who will actually be able to be present, and who will not.
It's going to be a few days of suspense. Let's hope it's not too long a wait.
The Venice Biennale and Netflix have a special relationship – and that seems to continue this year. Why do you think they have chosen to put forward films, but not the other big streamers or studios?
Amazon, Apple, Disney, the other big streamers were present in previous years. This year, the big Amazon film was the Luca Guadagnino one [Challengers], and it isn't going to be in Venice because the release was postponed. We do not have Disney films, simply because there were none ready or available. Similarly, Ridley Scott's Napoleon, an Apple production, wasn't ready either.
We don't have a different attitude towards each streamer. We started inviting Netflix from back in 2014, 2015, so certainly in this sense there is a consolidated relationship. Netflix can't go to Cannes because Cannes doesn't open up [the main Competition] to streamers. So it's simple: Venice is a festival where these films are welcome. Let's say the festival and Netflix have a mutual interest to find points of agreement on these titles.
You've chosen to programme films by Roman Polanski and Woody Allen – can you explain why given that Polanski is a fugitive from the US after pleading guilty in 1977 to unlawful sex with a minor, and Allen has faced allegations of sexual abuse of his adopted daughter?
In the case of Polanski, nothing has changed from three years ago when we put his previous film [An Officer And A Spy] in competition, after which he won the Grand Jury Prize and a Cesar in France. What has changed? Nothing, if not the perseverance of those who continue to attack him, even after he has admitted his faults, has apologised to the victim, who has accepted his apologies and asked for an end to be put to this controversy.
As I said three years ago, we must distinguish between the man and the artist. Polanski as a man admitted he behaved badly. As an artist, instead, he is one of the great masters of European cinema, and is still active at 89. I don't see why we shouldn't invite him to show a film in Venice, hoping it won't be the last one he shoots.
Woody Allen's case is even more simple. It's even more incomprehensible in light of the hostility towards him. He underwent two trials from which he was acquitted more than 20 years ago, at the end of the '90s. I don't see how we can continue to blame someone who has been found not guilty by the tribunal. [Allen has never been to trial but enquries by the Child Sexual Abuse Clinic of Yale–New Haven Hospital and the New York Department of Social Services found no conclusive evidence of sexual abuse in 1992; neither did a custody hearing in Manhattan the next year. Dylan Farrow continues to allege she was sexually assualted.]
You can have whatever opinion you want of the man, given that he married a girl much younger than him. However, these are personal matters and everyone has the right to live their life as they wish, and I do not see why a festival should ban a great director from their programming. Even Woody Allen, who has given so much to cinema and whose latest film (Coup De Chance) is one of the best works of his more recent productions. In this case too, I see no reason not to invite him.
There are just five female directors out of 23 in Competition, and you mentioned that "we are still far from the gender parity we all hope for". What are the major stumbling blocks to programming more films by female directors?
We received more than 4,000 films for selection in Venice. Of these, only 31-32% were directed by women. We currently have roughly the equivalent proportion in selection in Venice. So the problem is not that as a festival we invite few female directors to competition; the problem is that we are still a far cry from gender equality being achieved in productions. We need to ask producers why they don't produce more films by women, not why festivals invite few women, because the only criteria through which you can choose films are qualitative ones. Using other criteria than those tied to the quality of the film in terms of selection doesn't seem right to me.
People were perhaps expecting Ridley Scott's Napoleon and Emerald Fennell's Saltburn to be in the selection. Were they asked?
Napoleon isn't ready. You have to ask Amazon about Saltburn. It will have its world premiere in Toronto, and only Amazon can say why they chose to bring it there, privileging one festival instead of another.
Is the absence of Saltburn tied to Challengers being pulled out, as they are both Amazon films?
Challengers was invited many months ago. It was one of the first films we saw at the end of last year. Saltburn instead we saw very late. We saw it in June. Amazon decided to take it to Telluride instead of Venice. It was a promotional, strategic choice they made and that must be respected. In short, we can't intervene in this.
Can you give us an overview of this year's selection? What stands out to you?
In general terms there are fewer intimate films than in recent years, when many were focused on couples, relationships, families or things like that. There are many more social themes that deal with relevant contemporary issues, from illegal immigration to climate change to wars. The problem of transsexuality or sexual fluidity that is much at the centre of attention today is very present, but there are other themes as well.
A dominant theme – because it recurs in numerous films – is the discomfort of adolescents, of young people in general who have been those most affected evidently by the pandemic, and are – as defined by previous generations – a generation without a future. This problem of their discomfort and their lack of prospects, and of the absence of dreams or betrayed dreams, recurs in many films. I think it is understandable because they are the ones who have suffered more – perhaps more than elderly people – the isolation that Covid imposed on everyone.