Festival Scope founders Mathilde Henrot and Alessandro Raja tell Wendy Mitchell about the third edition of Venice VoD platform Sala Web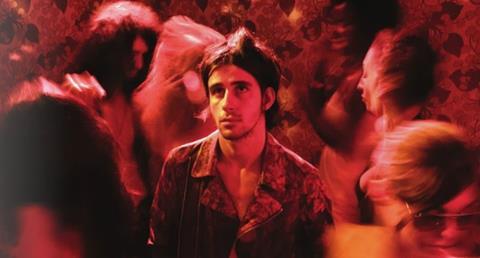 From the lido… to the living room. Venice Film Festival's Sala Web initiative returns this year for its third edition, again delivered by Festival Scope.
Sala Web (web theatre) offers selected films from the festival's Orizzonti and Biennale College sections in a 'virtual' online cinema.
Venice is not the only festival in this game of course, with among others Rotterdam offering its IFFR Live and Tribeca partnering on VoD launches for some of its selections. But what makes Venice's offering unique is that it is available globally, concurrent to festival premieres, and in limited numbers just like an actual screening room.
There are 800 tickets sold for each film - 400 in Italy (on MyMovies.it) and 400 internationally. Each 'ticket' costs $5.35 (€4).
The films can be streamed at the same time as they are presented on the Lido, but the viewing period has been extended this year to within five days.
Venice festival director Alberto Barbera says: "We are very pleased with the continuing success of our web theatre. The purpose of this important extension on the internet is to give increased impact to the festival's promotional activity around the world to support new films, and in particular young auteurs, taking full advantage of the opportunities offered by modern web technology."
Festival Scope co-founder and CEO Alessandro Raja notes that the idea started with Barbera. "It was Alberto's idea to create additional screenings. The main goal was to create more visibility for these films.
They can be in the shadow of the main competition, so it's important for these films to be watched and noticed not only by professionals but by the public as well."
Festival Scope's other co-founder Mathilde Henrot, like Raja a sales veteran, adds: "It's a limited number of seats, it starts at the same time as in Venice, it's more like a happening."
Many of the viewers tend to start the stream at 9pm Italian time, alongside the premiere. "They don't wait to do it in their own time. It's funny how people keep these same habits," she says.
But the five-day timeframe gives viewers more flexibility while still retaining the feel of an exclusive "event", Henrot says. Ticket sales figures for the scheme are not released but Henrot says ticket sales jumped from the first to second year.
"It's a matter of promotion - when we increase the promotion we increase the sales," Raja adds. "This year should be even better."
Because of the festival's profile in Italy, a lot of viewers are Italian, but otherwise "it really is spread all over the world", Henrot says. A film can see a spike in viewers from its country of origin.
Festival Scope is well known as an industry-facing platform (partnering with more than 100 film festivals, events and organisations each year) and that helps to reassure sales companies and producers when trying the public-facing Sala Web. Raja says: "The rights holders know and trust Festival Scope and they know it's very secure."
The goal is to raise the profile of the films and connect them with audiences worldwide. "The idea from the festival is not to sell more tickets to make more money, it's more about helping the films with visibility," Henrot says.
That visibility is mostly among the public but the system can also aid industry executives, festival programmers and critics who are not in Venice but want to stay on top of the films.
Promotion is done via Venice's official channels (tickets are sold at labiennale.org) and social-media promotion is conducted directly by Festival Scope.
Data point
As well as reaching 800 extra viewers, Sala Web can be a useful data tool.
"People who participate understand the value of organising these international 'desk' screenings. It's interesting to see where the tickets are sold, it's interesting to know if people pause the films… It offers unique information for the film-makers, they really understand the promotional value of the initiative, and as a test screening," Raja says.
Of last year's offerings, he notes that Biennale College project Memphis was later acquired by Kino Lorber for the US. Of course, he recognises that deal was not completed just because of Sala Web, but the online offering cannot hurt. "It's good to see that films playing on Sala Web have a good response from the market and a good distribution afterwards.
"Some festivals worry that people might watch online and not go to cinemas," Raja continues. "I don't think this is a good argument. Most festivals have screening rooms that are packed; you go to festivals to meet people and have a social experience rather than just watching the film.
"Festivals are exploring options for online screenings, and we're happy to discuss possible solutions."
VENICE SALA WEB 2014 SELECTIONS
Blood Cells Dirs Joseph Bull, Luke Seomore
Bypass Dir Duane Hopkins
Court Dir Chaitanya Tamhane
H. Dir Rania Attieh, Daniel Garcia
Io Sto Con La Sposa Dirs Antonio Augugliaro, Gabriele Del Grande, Khaled Soliman Al Nassiry
Line Of Credit Dir Salomé Alexi
Nabat Dir Elchin Musaoglu
The President Dir Mohsen Makhmalbaf
Short Skin Dir Duccio Chiarini
These Are The Rules Dir Ognjen Svilicic
La Vita Oscena Dir Renato De Maria