How did a hot indie director and a producer of broad Hollywood comedies come together to make the cerebral sci-fi hit Arrival? Director Villeneuve and the film's lead producers talk to Tom Grater.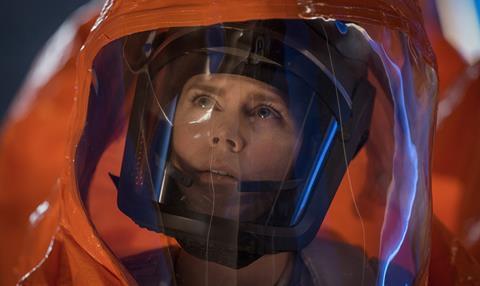 "I was born in science fiction," says director Denis Villeneuve of why he took on cerebral sci-fi Arrival, which stars Amy Adams and Jeremy Renner in a near-future story of humanity's first encounter with a mysterious alien life-form.
"I was raised in the Canadian snow where there's nothing to do but dream, read graphic novels and watch sci-fi movies. When I became a director, I loved the idea of creating worlds. My dream was to get into science fiction from the start."
Back in 2010, Villeneuve, a Montreal native, had just released his fourth feature as a director. The French-language drama Incendies had premiered at the Venice film festival and been picked up by Sony Pictures Classics for the US, eventually going on to receive an Oscar nomination in the foreign-language category. It drew the attention of the wider film industry to the emerging director, and he soon found doors opening to him in Hollywood.
"I was meeting people in LA that were interested in talking to me," he recalls. "I was thinking about what I could do in LA that I couldn't do in Montreal. The answer was science fiction."
One company interested in Villeneuve was 21 Laps Entertainment, the production outfit run by director/producer Shawn Levy - born in Montreal and director of the Night At The Museum series - with his partners Dan Levine and Dan Cohen.
"We saw Incendies and we recognised a real voice and a vision, so we brought Denis in to meet us. He told us right away it had been his dream to direct sci-fi," says Levy.
Until that point, 21 Laps was primarily focused on mainstream Hollywood comedies including the Museum franchise and Steve Martin-starrer Cheaper By The Dozen 2 (all made with 20th Century Fox).
But the producing partners had been keen to expand their remit beyond, Levy explains, "the family comedies I was known for". An opportunity to do just that had arisen only three weeks before the meeting with Villeneuve.
The company had talent-scouted an up-and-coming screenwriter named Eric Heisserer, who had been forging a path on horror titles such as the 2010 reboot of A Nightmare On Elm Street.
"He told us about a collection of short stories by Ted Chiang [in the Starlight sci-fi anthologies]. We instantly zeroed onto one of them, Story Of Your Life, and prayed nobody in Hollywood had secured the rights already," says Levy. "To our amazement, they were available."
Poetic material
21 Laps began developing the project right away, and brought it up in that first meeting with Villeneuve. His initial reaction was to be circumspect.
"I immediately fell in love with the material - it was very powerful, poetic and moving; it's a real gem," he says. "But it was the description of a process without any real dramatic structure that could apply to a movie. I told them I didn't know how to adapt it - I thought it would require a lot of work."
At this point, Villeneuve was gearing up to shoot his most ambitious project to date, the crime thriller Prisoners, produced by Alcon Entertainment.
With a budget of $46m, the film was a significant step up for the director, and the end result was a success, grossing $122m worldwide and garnering an Oscar nomination for cinematographer Roger Deakins (Villeneuve is reteaming with both Alcon and Deakins on Blade Runner 2049).
While Villeneuve was off making Prisoners, Heisserer worked on the adaptation of Story Of Your Life, presenting a first draft of the retitled Arrival to the prospective director several months later.
"I was impressed with how Eric found the angle to create the structure," says Villeneuve.
The director was on board and began working with Heisserer. By then, the 21 Laps team had already begun turning the production gears on what was set to be an ambitious project.
"It was a movie that was hard to get to the starting line," remembers Levy. "I knew it wasn't going to be an easy one to get made."
Levy's company has a first-look deal with 20th Century Fox, which passed on the film at an early stage. When 21 Laps pitched Arrival to other studios, it found them equally unreceptive.
"It was too complex," surmises Levy. "It had the husk of a conventional, commercial big, studio movie, but it has the content of an intellectually challenging indie."
Instead, the company found partners in David Linde, the then-CEO of finance and production outfit Lava Bear Films, and Aaron Ryder of international sales and finance outfit FilmNation Entertainment. Both Linde and Ryder boarded the project as producers and set about raising the finance needed to get the production off the ground.
When he received the script, Ryder felt positive about its potential.
"I immediately thought it was a film I could make right away. It's a gift to have something like that walk through your door," he says.
Linde also loved the script. Keen to be involved, he was aware FilmNation was circling.
"I had heard Glen [Basner, FilmNation CEO] liked it, so I called him and suggested that rather than competing we all get together on it," says Linde. "And that's what we did."
For Levy, the prospect of making the film independent of studio influence was a welcome one.
"The great aspect of packaging the movie outside of the studio system is that the script was never subject to the typical development hell of most projects," he says.
"Because it was never subject to a big committee, it remained true to the writer, producers and, most importantly, the director."
Enthused, the newly boarded producers flew to Montreal to meet Villeneuve, a director with whom both Linde and Ryder were keen to work.
"I've always been focused on signature filmmakers; everybody wanted Denis and Denis wanted to do it," says Linde.
Ryder was equally keen on Villeneuve: "At the time, I was making a movie with Alcon Entertainment, who had just finished Prisoners. I kept hearing, 'Denis, Denis, this guy's a genius!' and when I got to meet him, he was impressive. We loved the idea of working with him."
At the meeting, discussing a script that was "already in very good shape", according to Ryder, the conversation turned to casting.
The key character in the short story is the narrator Dr Louise Banks, an accomplished linguistics professor who, after an alien race appears on Earth, is enlisted by the US military to initiate first contact. The producers were keen to make her the focus of the story.
"We were sat in a café in Montreal and each of us wrote down a name on a piece of paper," recalls Ryder.
"We opened our papers simultaneously - we had all written the same name, Amy Adams. She was the only person we wanted. We immediately got on the phone with Amy's agent and within a week she was sat in my office with Denis. She was actually looking to take a break at the time but she read the script and wanted to do it. That's as easy as it gets when it comes to casting."
When it came to the male lead - a scientist counterpart to Adams' linguist - Jeremy Renner became a front-runner after Ryder worked with him on McDonald's origin story The Founder, on which they are both producers.
"We had to cast somebody you could believe as a theoretical physicist, who also has charisma," says Ryder.
It was Adams, however, who ultimately convinced Renner to take the part.
"They knew each other from American Hustle. He jumped at it and met Denis right away," adds Ryder.
Language hurdles
The next crucial component was creating the film's key visual elements, in particular the language used by the aliens, which Adams' character is tasked with deciphering.
Heisserer was the first to attempt to visualise the concept, illustrating the initial draft of his screenplay with some basic concept drawings. The production team then set about their work, with Villeneuve spearheading the creative effort.
"We spent a lot of time brainstorming and drawing," he recalls.
"We hired a concept artist from Montreal, Martine Bertrand. She came up with the idea of the coffee stain. My goal was to find something nightmarish that had a depth and complexity to it, far away from anything that looks close to a human language."
Settling on the circular, pattern-based language, which allows the aliens to communicate entire statements in a single picture, the creative team was then faced with the challenge of how to make it work on screen.
"I didn't want my heptapod [the name given to the alien in the short story] to draw on the screen for three minutes each time," says Villeneuve, "so I came up with the idea that they would spit the ink out of one of their limbs to create the patterns. I wanted it to be both poetic and efficient.
"I think it's a unique idea, a life form that primarily expresses itself through writing. The sounds are emotions, the drawings are intellectual expressions. I thought that was beautiful," he continues.
Levy is keen to emphasise the originality of the concept: "Denis's master objective was to put on screen something that audiences hadn't seen before - that's nearly impossible and he did it."
The design of the aliens was a further challenge.
The heptapods - seven-legged creatures - represented a logistical challenge, particularly because Villeneuve was committed to producing the film with as little computer-generated imagery as possible, a notion supported by his producers.
"CGI is a strong tool for backgrounds and extensions but what is around the actors needs to be as real as possible. When I watch a movie that's mostly CGI, I'm disengaged, the audience feels it," Villeneuve says.
Concept artist Peter Konig, whose credits include Jurassic Park and Starship Troopers, created initial concept designs that had a more spherical, almost brain-like look to them.
Carlos Huante, who worked on Prometheus and was a creature designer on Goosebumps, then took on the project, returning to the heptapod idea that was eventually used in the film.
"The goal was arrogant, to create a being that has never been seen before," says Villeneuve.
The director's initial ambition was to create animatronic aliens he could put in the room with his actors, although this turned out to be too expensive.
"It was a battle I lost," he notes. The film's producers emphasise that it was one of the few times Villeneuve's vision for the project was even slightly restrained.
At $47m, Arrival's final budget presented some limitations for a project of such ambition and scope.
"When I first read the script, I thought the budget would be much bigger," says Villeneuve, who notes he had a similar amount of money to make Prisoners, which has a less-grand concept.
"It's a lot of money, but it's not a blockbuster budget. Money can evaporate very quickly. We had to be clever and plan well to do it with the budget we had."
Armed with the complete package, the producers took the project out to auction at Cannes Film Festival in 2014. This time, they were overwhelmed with interest, with five studios reportedly battling for distribution rights.
Eventually, they agreed a $20m pre-sale deal for North American and China rights with Paramount Pictures, at the time a record for an acquisition signed at the festival.
Further deals were agreed with Sony Pictures Worldwide for the majority of international territories, as well as Entertainment One for the UK and Village Roadshow for Australia.
Canadian shoot
With the Cannes deals fleshing out the production budget, filming was scheduled to take place in Montreal, Canada for 55 days between June and August 2015. This allowed Villeneuve enough time to complete work on his drug cartel thriller Sicario, which shot in mid-2014.
Locations including London, Los Angeles and Vancouver were also considered for Arrival but were "really busy", recalls Linde.
Montreal offered the added bonus that Levy and Villeneuve were already based there, as were the majority of Villeneuve's preferred crew, simplifying the production.
The location was also favoured because of its breadth of easily accessible locations, adds Levy, which ranged from university buildings to the vast mountainous landscapes that would double for the movie's Montana setting.
The completed film premiered at Venice on September 1, 2016 and played at Telluride a day later.
Since its North American release on November 11, it has grossed more than $92m, and its worldwide total stands at more than $147m.
The awards season push is now in full flow, with Adams looking a strong bet for best actress recognition and further nominations likely in the craft categories.
As for Villeneuve, who is deep into the production of Blade Runner 2049, making Arrival has only served to further his love of the science-fiction genre.
The director reveals he is already in the early stages of planning two more sci-fi projects that he will try to make if Blade Runner 2049 is a success.
"I'm doomed to keep making sci-fi, I love it."
Profile: Johann Johannsson
Johann Johannsson's score may be ineligible for an Oscar, but it is one of Arrival's most memorable aspects. Tiffany Pritchard reports.
Arrival was a reunion for composer Johann Johannsson and director Denis Villeneuve, whose collaboration on Sicario earned Golden Globe, Bafta and Oscar nominations for best score.
The Icelandic musician's eerie, atmospheric work on Arrival has again landed him a Golden Globe nod, in part powered by one of the film's standout musical moments: the first reveal of the mysterious oblong spacecraft.
Johannsson created the signature track by adding piano melodies to a 16-track tape loop, and layering on a droning bass note along with vocals from Brooklyn-based artist Robert Aiki Aubrey Lowe, which had been filtered through a modular synthesiser.
"I recorded it on the first day of shooting," says Johannsson, who sent the session to Villeneuve on his iPhone. "I remember thinking, 'We have something special here, Denis must hear this.'"
Within a couple of hours, Villeneuve requested a five-minute version of the track.
"I wanted to use the human voice as one of the main instruments in the score because of the film's theme of language and the way language can affect the way we think and the way we perceive the world," says Johannsson.
The composer went to work with Copenhagen-based classical choir ensemble Theatre of Voices, before heading to his base in Berlin where he recorded and looped a multitude of instruments including cellos, trumpets and brass instruments using analogue equipment.
Additional recordings were made with Icelandic cellist-vocalist Hildur Guonadottir and the City of Prague Philharmonic Orchestra.
Samples from avant-garde vocalist Joan La Barbara's piece 'Erin' were also incorporated. Deliberately absent were synthesisers, which Johannsson left out to avoid creating a traditional sci-fi film sound.
Germany-born, UK-based composer Max Richter became part of Arrival's musical soundscape when Villeneuve opted for his piece 'On The Nature Of Daylight' to bookend the film.
Initially used as a temp track, the director became attached to the song, which was originally written for Richter's 2003 album 'The Blue Notebooks' and had featured in Martin Scorsese's Shutter Island and Henry Alex Rubin's Disconnect.
Richter was at first reluctant to license it, not least out of concern for overstepping the mark with his friend Johannsson. A phone call from Villeneuve, in which he explained "the track's start and end to the film reflects the palindromic nature of the narrative", convinced Richter to say yes to the track being used "one final time".
While a sound creative decision, it has likely cost Johannsson an Oscar nomination.
The Arrival score has been ruled ineligible for contention due to strict Academy rules regarding the use of pre-existing music "not composed specifically for the film by the submitting composer".
The score is eligible for Bafta contention.
Johannsson, meanwhile, is hard at work on Villeneuve's Blade Runner 2049, for which he has been recording "different sounds" between Italy, Berlin and Iceland.