The bumper crop of Nordic projects selected for Cannes 2022 show off an impressive range of filmmakers and stories — and an eagerness to collaborate across borders.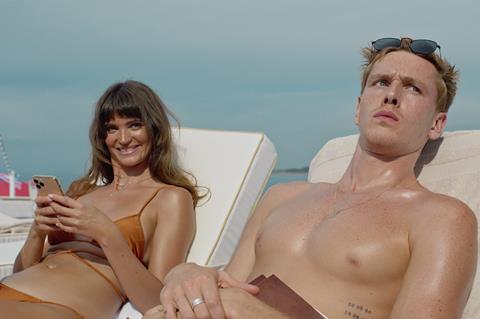 The Nordic countries are celebrating their busiest Cannes ever. The region sees three titles in Competition, two in Un Certain Regard, one in Cinéfondation, one in Critics' Week, a co-production in Acid and one XR project selected. Furthermore, three Scandinavian talents serve on the major juries.
The selected projects show off a wide diversity of Nordic talents, storytelling approaches and global interests. As voices telling global stories, Sweden's Tarik Saleh makes his Cannes debut with Cairo-set Boy From Heaven. Ruben Ostlund, also from Sweden, hopes to win his second Palme d'Or with Triangle Of Sadness, his first English-language film which was shot partially on a Greek island. Iranian-Danish director Ali Abbasi, meanwhile, returns to Cannes with Holy Spider, the story of an Iranian serial killer.
In Acid, How To Save A Dead Friend by Marusya Syroechkovskaya is a documentary memoir about her teenage years in Russia, that brings together producers from Sweden, Norway, France and Germany.
Hlynur Palmason's third feature Godland explores the historical tensions between Denmark and Iceland with the story of a 19th-century priest; Norway's Kristoffer Borgli delivers a provocative dark comedy in Sick Of Myself; David Adler's End Of Night competes in Cannes XR, putting viewers into the perspective of a Danish refugee who fled Nazi-occupied Copenhagen in 1943.
Another new talent is Finland's Mikko Myllylahti, whose debut feature The Woodcutter Story set in a small town in rural Finland premieres in Critics' Week, while That's Amore by Denmark's Malthe Saxer is a Cinéfondation-selected short described as "an anti-romantic absurd love story".
Minority co-productions from the Nordics include Cristian Mungiu's RMN, Maryam Touzani's The Blue Caftan, Emily Atef's More Than Ever and Ainara Vera's documentary Polaris.
The five Nordic film institutes have moved to a new Cannes hub at Scandinavian House (11 Square Mérimée), where daily meetings, networking events and social occasions have been taking place.
Fearless storytellers
Kristina Borjeson, head of production at Film i Vast, is proud the fund's six films show off such a diversity of voices. "You get a wide range of genres including political thriller, historical drama and comedy," she says. "Only one of the films is classical drama, which is a change looking back at Nordic films previously chosen for Cannes or other A-list festivals. All films have clear themes and the six directors with their different backgrounds and experiences each have unique ways of storytelling and using their own visual style. They are fearless in the way they take on complicated and sensitive subjects."
Mike Goodridge, the UK co-producer of Triangle Of Sadness, has a number of further Nordic co-productions on his slate at Good Chaos, including Icelandic director Hafsteinn Gunnar Sigurdsson's Northern Comfort. "I have always loved the culture of storytelling in the individual territories and I do feel very distinct cultures in each of the countries," Goodridge says. "There is a freshness of approach and very clear authorial voices."
He points out the ability to communicate in English is a huge boon. "The fact the English language comes second nature to all the Nordic nations of course helps the interaction with the Anglo industry," he says, adding that talents have been well-nurtured at home. "Each country has strong state-support systems for its filmmakers."
Steady government financial support comes from each of the five national film institutes that fund local productions and co-productions; there are also regional funders such as Swedish powerhouse Film i Vast and pan-regional funder Nordisk Film & TV Fond, which is backed by public bodies and private companies.
The Nordics often band together, which helps punch above each country's individual weight. Those cross-border collaborations started decades ago with TV drama and carry on now through many film collaborations. Liselott Forsman, CEO of the Nordisk Film & TV Fond, says the five separate countries can celebrate both their commonalities and their differences: "We share history, we share the same ethics and values. But also as nationalities we are super different, we can celebrate those differences but also share what unites us."
She adds that for the fund-backed projects, there are never attempts to make a generic project that loses its local identity. "We never ask for the production to be partly made in this country or that country — they can be uniquely national," she says.
Another principle Forsman follows is that "we should look at strong films that can engage audiences as well as being very good. We have to appeal to the audience, without making artistic compromise."
Those funding structures can work well outside of the Nordics region. "Co-productions are very natural for Scandinavian countries, among each other of course, but also with the rest of Europe," says Sol Bondy of Germany's One Two Films, one of the lead producers (alongside Denmark's Jacob Jarek) of Holy Spider. "Since the structure of funding films is rather similar [to Germany], the procedural and paperwork side comes naturally."
The Nordic industry also has a reputation for being highly skilled, straight-talking and with straightforward avenues of collaboration. Bondy, who has also worked on co-productions with Finland and Iceland, adds a can-do attitude is also very welcome. "There's a similar mentality when it comes to work ethics and keeping a production 'in order'… it's nice to work with partners who are well-structured and reliable." He is also drawn to the famous Nordic sense of humour.
Nurturing the next generation and welcoming more inclusive voices sit high on the agenda for public funders. Nordisk Film & TV Fond has named 2022 its '20-Something Year,' with activities including interviewing "20-something filmmakers in the Nordics to see what their vision is". Forsman adds: "All the time we have to come up with brilliant new ideas, and keep up that good work."
Coming soon: Nordic projects in the Marche
Birthday Girl
Michael Noer has finished the shoot for suspense drama Birthday Girl, about a mother (Trine Dyrholm), her teenage daughter and her daughter's friend on a cruise that turns into a nightmare.
Sales: TrustNordisk
Exodus
Swedish director Abbe Hassan is in post on this fast-paced drama about a professional people smuggler whose life is changed by a Syrian child.
Sales: LevelK
The Kingdom Exodus
Lars von Trier is in post on the final chapter in his cult TV series, The Kingdom Exodus, with a cast including Mikael Persbrandt, Lars Mikkelsen and Nikolaj Lie Kaas.
Sales: TrustNordisk
Northern Comfort
Iceland's Hafsteinn Gunnar Sigurdsson is now in post on this English-language dark comedy about a group of people with a fear of flying who take an unexpected journey together.
Sales: Charades
The Riot
Nils Gaup directs this Norwegian historical action drama about the origins of the labour movement and workers' rights in the mining city Sulis in the early 20th century.
Sales: REinvent
Titina
A Norway-Belgium co-production, this animated family feature directed by Kajsa Naess tells the true story of a dog that went on a North Pole expedition.
Sales: Les Films du Losange
UFO Sweden
The Swedish Crazy Pictures collective is in post on this sci-fi feature described as "the love child between The X-Files and Stranger Things, set in a small town in 1990s Sweden".
Sales: REinvent
Unruly
Malou Reymann's second feature is an ambitious prestige period drama inspired by true stories of young women whose lives were interrupted at a restrictive institution in the 1930s.
Sales: TrustNordisk
War Sailor
Norwegian director Gunnar Vikene's Second World War drama, in post, is about two sailors trying to survive after a submarine attack.
Sales: Beta