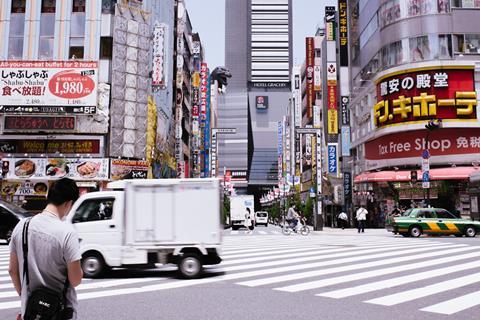 As cinemas gradually re-open around the world with unprecedented hygiene and physical distancing measures in place, all eyes on cinemagoers to see what they make of the new procedures. Will they deter potential audiences or reassure them their cinemas are safe?
Cinemagoers in seven key territories describe the experience of visiting a movie theatre in the corona era.
Tokyo, Japan
Writer Matt Schley went to the Toho Cinemas in Shinjuku, Tokyo —the one with Godzilla's head on top—on Friday, June 26 to catch a 12:40 screening of Princess Mononoke.
Copenhagen, Denmark
Jacob Neiiendam, incoming head of international at the Danish Film Institute, took his 13-year-old son to see a special Imax presentation of The Dark Knight and The Dark Knight Rises at the CinemaxX Copenhagen on Saturday June 27 at 16.30 and 20.30.
Rome, Italy
Gabriele Niola went on a Saturday evening to a UCI multiplex, located inside a big shopping mall on the outskirts of Rome. It is one of the biggest venues in the city and 18.00 would typically be its busiest time. He saw Bad Boys For Life, which was first released on January 23.
Hong Kong
Over the past few weeks Liz Shackleton has been to see Gus Van Sant's Don't Worry, He Won't Get Far On Foot, Sorry We Missed You and Anthony Chen's Wet Season at various multiplexes owned by Broadway Circuit, including the arthouse-focused Broadway Cinematheque.
Seoul, South Korea
Jean Noh went to see Baseball Girl, directed by Choi Yun-tae, which won an award at the Seoul Independent Film Festival and first screened at the 2019 Busan International Film Festival. The film was released in local theatres June 18. She attended the 17.50 screening on July 2 at Seoul's Artnine cinema.
Paris, France
Lisa Nesselson, Screen's critic based in France, went to see Judy at 17.00 with her husband the day after cinemas reopened on June 23 at the UGC Danton and Justin Pemberton's documentary Capitalism In The 21st Century at 22.00 on Saturday June 27 at the MK2 Odeon.
Barcelona region, Spain
Elisabet Cabeza visited the 10-screen Cines Imperial in her hometown of Sabadell, near Barcelona, which stands where one of the oldest cinemas in Spain used to be. She watched the re-release of Giuseppe Tornatore's Cinema Paradiso on Tuesday June 30 at 19.00.
How did you buy a ticket?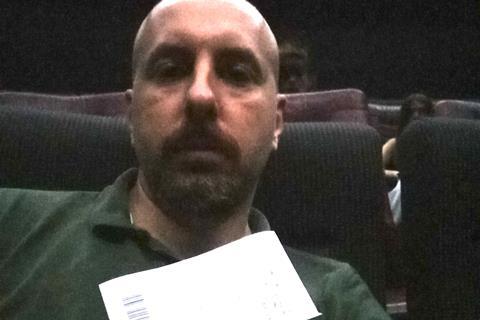 Tokyo: Online. It was pretty routine, aside from a couple of pop-ups advising me every other seat would be blocked off, and to wear a mask to the theatre. When I bought my ticket about an hour before the screening, the available seats were already about 80% sold out. Before the site allowed me to purchase the ticket, I had to agree to submit to a temperature check at the cinema, to refrain from going if I were feeling symptoms like fever or cough, or if I'd been to "a country or region experiencing infections in the last two weeks". Finally, it again asked me to wear a mask.
Denmark: Online and onsite ticket machines were already the norm in Copenhagen but we are now encouraged to use these before arriving at the cinema.
Rome: Tickets can be bought at the automatic cashier in the cinema or online in advance (then printed at home, or withdrawn at the theatre). I bought mine online in advance and chose to print it at the theatre. The technology is no novelty; UCI had it also before lockdown, but now to avoid contact cashiers are all closed, only automatic ones are available.
There were very few queues. The procedure was pretty straightforward to me but not for the couple before me, who needed the help of staff.
Hong Kong: I've been buying tickets online through the cinema chains' own websites, as I always have done, and the process has been as smooth as always.
Seoul: I booked through the Megabox.co.kr website which has a partnership with Artnine cinema. You can do so with or without getting membership. No fee required. I was disappointed to find the much-touted Korean Film Council (KOFIC) ticket discount coupons for KW6,000 ($4.98) were not available on the site. But when I got to the cinema, the ticket and temperature-checking staff asked me if I had gotten the discount and when I said no, they told me to come to them after the screening and very efficiently gave me a refund. (Apparently the coupons are available on the app but I used the website.)
Paris: I have an official film critic card that admits me to any theatre in France free of charge and was feeling pre-emptive guilt about possibly taking a seat from a paying customer. I needn't have worried: When my husband and I arrived 10 minutes before the 17.00 showing of Judy the day after cinemas re-opened [June 23] there were three other people in the theatre which held about 120 and so could have accommodated 60: A man in his 50s and two women in their 20s. A young man showed up just as the credits began and — to my great annoyance — with row after empty row to choose from, plopped down just one seat away from me. I had removed my mask but slipped it back on.
Customers are encouraged to pay with "no contact" credit cards but cash is accepted. Customers are also encouraged to reserve online and then retrieve their tickets from a self-service terminal. I was afraid pre-reserved seats would be a strict requirement — which takes the spontaneity out of "Hey, let's go to a movie!" and picking something on the spot — but that hasn't changed.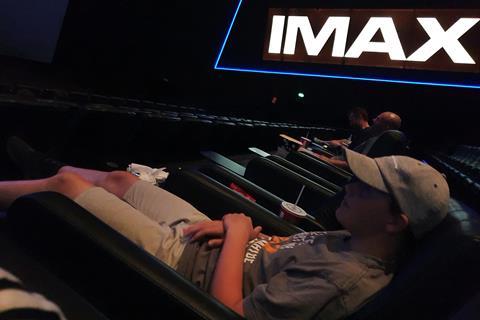 Barcelona region: I bought the ticket at the booth and paid with my credit card although cash is accepted too. I was not asked to leave my personal details. Also, the cinema was almost empty. I chose where I wanted to sit.
As I headed inside, the ticket collector explained I had to use the hand sanitiser and run the ticket by the digital reader myself. I asked how things had been since the reopening of the cinema on June 26: "Too quiet, not a lot of people at all, I hope things get back to normal soon," she replied
How did the cinema look and feel?
Tokyo: It was reasonably busy for a Friday afternoon. A lot of high school students and groups of women in their 20s. A few groups of men and women in "salaryman" uniform, perhaps off work early.
The notable differences from the pre-Covid era were taped lines on the ground in front of the ticket machines and concession stand for social distancing clear plastic sheets between concession workers and customers, and all staff wearing masks. Also, there was a repeated announcement over the loudspeaker about the new safety precautions and reminders to wear a mask. It advised those who might have trouble wearing a mask to speak to the staff.
Copenhagen: We went to the spacious CinemaxX multiplex, which has the only Imax screen in Copenhagen. It has a prime location on the harbour with a great view of water and all the people swimming and sailing there on this hot Saturday afternoon, the first day of the school holidays. The cinema was nice and cool, far from crowded, but I guess it wouldn't have been even without the corona guidelines due to the weather.
Signs, arrows on the floor and plenty of hand sanitiser dispensers made it very clear what was expected of us from the moment we walked in. With its many screens and mainstream profile there was a mixed demographic, from kids to middle- aged customers (like myself). But we saw no seniors.
Rome: The foyer was totally empty. No cashiers, no audience, just a man behind the desk of the bar. That felt different. All over the place were boards with instructions on how to correctly maintain social distancing.
In my screening there were approximately 10 audience members, all belonging to the demographic one would expect from a Bad Boys For Life screening at 18.00 on a Saturday: Mostly teenagers and twentysomething, a couple, a kid with his dad.
Hong Kong: Hong Kong cinema chains have deployed innovative social distancing seating plans (see picture below left), which made me feel completely safe.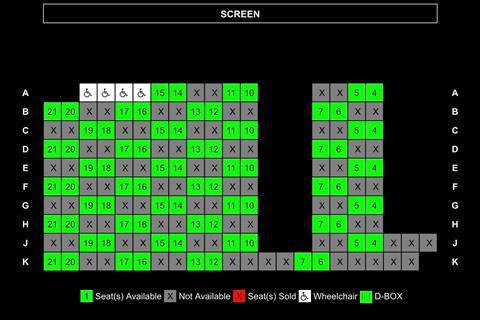 Don't Worry, He Won't Get Far On Foot and Sorry We Missed You, were both moderately busy, and Wet Season had about five people in the screening. That's actually not bad for a Singaporean arthouse film.
Seoul: The elevator had anti-bacterial film over the buttons (like everywhere else in Seoul I've been). There was laminated signage about coronavirus safety measures at the ticket check and also playing on the flatscreen TVs at the box office.

I rushed through the lobby and cafe/restaurant area on arrival, but there were amply-spaced tables and I spotted a few people there.

When you get your ticket and temperature checked on entrance, you are also asked to leave contact info in case it turns out an infected person has come through that cinema, but I had booked my ticket online and that leaves your info with them for a limited period. There were only three other people in the 58-seat screening room.
Paris: It was cold in the actual cinema and I'd guess that that wasn't just the air conditioning but also the high-powered fans (mercifully silent) that continually refresh the air.
'Wait here' distancing lines have been spray-painted directly on the sidewalks or — when there's room indoors — strips of tape or sturdy decals on the floor indicate where to stand. Hand gel-dispensing columns are standard in the entrance. The ticket counters have Plexiglass shields and the staff are wearing masks. Instead of tearing tickets, staffers just look at them. They also enforce a "traffic" rule where you enter one door and exit another.
Very few Paris cinemas have a true lobby or even much space on the sidewalk. I was concerned about the logistics of handling crowds but there don't seem to be crowds yet – at least where I live — so staff can get the hang of managing the flux gradually.
Barcelona region: There were signs on the doors reminding costumers, except children aged under six, to wear a mask inside. The lobby was almost empty with only four middle-aged people waiting to buy a ticket. One woman told the cinema staff she was delighted to be able to go and see a movie there at last.
Could you buy concessions and spend time in the foyer and bar area?
Tokyo: Yes, there didn't seem to be any restrictions on this.
Copenhagen: The concessions area was slightly rearranged with one-way paths, screens between staff and customers and no option to mix your own candy. However, there was still plenty on offer and the experience as smooth as always. We could have stayed in the foyer, as it is big, but chose to go straight into the screening room. 'The world has changed - so have we' - signs asked for distancing, contactless payment and patience, but these were easy to follow and there was a very relaxed atmosphere.
Rome: There were no restrictions on the time the audience can spend in the foyer or at the bar or on the concessions. The only rule was to keep the mask on and maintain the correct distance from the others.
Hong Kong: Food and beverage outlets are closed at all Hong Kong cinemas as part of anti-virus safety measures. That doesn't spoil the experience for me as I don't like popcorn and most Hong Kong cinemas are located in shopping malls with restaurants ranging from fast food to high-end. However, I have to admit I'm missing a glass of wine at the premium theatres.
Seoul: Yes. The restaurant/café, Eatnine, is known for a good menu, but I'm not prepared to eat outside the house yet. You're not allowed to take food into the cinema anyway – pandemic or no pandemic – but you can take in drinks, both alcoholic and non-alcoholic.
Paris: Moviegoing isn't really synonymous with loitering or snacking in France. You can buy high-end ice cream, popcorn, beverages and coffee in the big chain cinemas. A 22.00 show on Saturday would ordinarily be crowded but there were 15 of us for new release, Justin Pemberton's France-New Zealand documentary Capital In The 21st Century. Signs say to please toss your own garbage on the way out so staff don't have to touch empty packaging.
I got a kick out of the posters for the restored re-release of Elephant Man which said, in French, "He'll be back in theatres on June 22nd — and he's already wearing a mask!"
Barcelona region: The bar and shop for popcorn and sweets in sealed bags were both open but no one was in either. All the customers I saw going in were middle-aged and older. They all went straight to the cinema.
Was social distancing asked for and adhered to?
Tokyo: Yes, via the loudspeaker announcement and tape on the floor. There were also a few staff members monitoring the foyer. Groups there together were standing much closer than one to two metres, though, and there were a few pulled-down masks to be seen.
Copenhagen: Yes.
Rome: Yes. It wasn't asked for vocally but through ads and boards. It wasn't difficult to adhere to it since the foyer was empty.
Hong Kong: Yes it was mandatory, as was mask-wearing, which was complied with because Hong Kong people are responsible, mature citizens. Cinemas, restaurants and many other venues are also still asking for temperature checks, which makes total sense.
Seoul: It was spacious enough that no-one had to sit within two meters of anyone else.
Paris: Trying to keep one's distance is a new reflex but it doesn't come naturally to the French who tend to cluster rather than form a queue whether waiting for a bus or for popcorn. 'Please wear a mask' is the wording rather than 'Wear a mask – or else.' Masks are required on public transportation but not in the actual theatres. Almost everybody wears one in the common areas.
How was seating managed?
Tokyo: Every other seat was unavailable for purchase—available seats were arranged in a checkerboard pattern. I was surprised to find the seats weren't physically blocked off, so one could ostensibly move a seat over once the film started.
Copenhagen: The ticketing system automatically blocked the seats on both sides of us when we chose our seats. We were told not to switch seats once we sat down. All seats were disinfected between screenings.
Rome: For every seat you could buy, you couldn't buy the ones around it. At all times audience members must sit in the seat they've been assigned. Only relatives, couples or people living together can sit next to one another.
Hong Kong: Broadway Circuit has introduced the 'Diamond Seating Plan', which ensures you have nobody sitting immediately in front, behind or either side of you. A similar seating plan has been adopted by UA Cinemas and most other cinema chains. Seats to be left empty are marked off with masking tape or ropes.
Seoul: You designate your seat on a seating chart when you book your ticket – either online or offline. Available seats are staggered like on a checker board. I quite liked the seating arrangement – every other seat is left empty, nice to have a place to put your bag and not on the floor in the middle of a contagion.
Paris: Signs advise patrons to please leave at least one seat empty between individuals viewers, couples or groups who arrived together. I had been expecting a more stringent pattern for seating. They assume people are adults. Nobody came in to check.
Barcelona region: There was nobody at the door of the theatre itself. A bunch of younger people went in right before the session started. The audience was roughly 25 to 30 people. .
Did you have to wear a mask the whole time?
Tokyo: Announcements asked people to wear masks at all times other than when eating or drinking. The only actual check took place at the ticket stand, where a machine also checked your temperature. A pre-recorded video that ran before the film reminded patrons to keep their masks on. It also asked us to refrain from talking and highlighted the cinema's efforts to keep airflow fresh.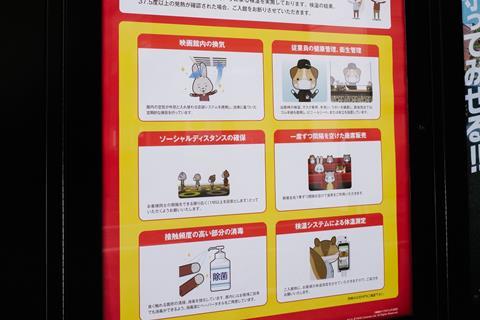 I did notice one or two folks flaunting the rule once they got past the ticket check. C'mon, people!
Copenhagen: In Denmark, no one wears a mask, so the only one was the attendant scanning the tickets and he wore a visor.
Rome: A mask must be worn at all times except when sitting in your reserved seat.
Hong Kong: Yes but it's really not a problem – you don't notice after the first few minutes. It has been quite perplexing for people living in Asia to observe how resistant some Western countries are to mask-wearing, when it's not a major inconvenience and helps save lives.
Seoul: Yes. No-one was monitoring but it's just common sense. I got thirsty at one point but decided I could live without taking my mask off and drinking my bottled water in the theatre.
Paris: I didn't "have" to but since I'm over 60 it seems prudent to do so. After my first cinema visit it occurred to me that one should probably treat it like an airplane and maybe carry a disinfectant spray for fabric before sitting down. There's an ad on the radio now with French celebs encouraging people to go back to cinemas. One says, "And for the first time in your life, you know you'll get to use both arm rests! Talk about luxury!" On Saturday night a woman about five feet from me across the aisle coughed and I decided to move to another row further back.
Barcelona region: I asked if I had to keep the mask on inside the theatre and was toId I didn't once I sat in my seat since there would be two empty seats at least between me and the next person.
Did the cinema communicate the new procedures clearly and ahead of time?
Tokyo: Yes, the website was clear, as were the multiple announcements via loudspeaker, poster, video, etc. One thing to note is all this was in Japanese, with no English or other languages.
Copenhagen: Yes, both online, in the foyer and before the main film.
Rome: No. Procedures were not communicated during the online purchase. Though they can be found on the UCI website, they were not pushed to my attention. The only unavoidable information regarding masks and social distancing was inside the foyer.
Hong Kong: Yes it's all very clear on the cinemas' websites and booking platforms.
Seoul: Once you've selected a screening on the website, a pop-up appears to tell you to wear a mask when using the cinema and asking you to cooperate with a temperature check before entering the screening room. It also explains the staggered seating campaign to put people's minds at ease. This new system for cinemagoing has been reported on extensively in local media so you probably wouldn't be surprised about anything if you decide to buy your ticket physically at the theatre's box office.
Paris: The French lockdown was so strict the assumption is now built-in for most people that it's wise to cover your nose and mouth with a mask when in public.
Barcelona region: Between the signs on the walls and the staff it was no problem. The measures are in synch with the safety measures when you go shopping or use public transport in Spain and I have got used to them. There was also a short public information film played before the film started that reminded people of the safety measures such as buying tickets online when possible, paying with a credit card, using the hand sanitiser before going in, keeping social distancing and how to leave the theatre after the film, starting with the people seated closest to the screen leaving first.
What did you make of the whole experience?
Tokyo: Tokyo has been out of its quasi-lockdown for almost a month now, and things are getting back to normal. But I was a bit surprised to see a nearly full (or half-full, as the case may be) theatre on a Friday afternoon—and for a film from 1997 that's widely available on video. This is completely anecdotal, but it did feel like people want to get back to the movies. I'll be interested to see how the four Studio Ghibli films that opened this weekend do at the box office.
Copenhagen: My son and I loved being back, even if it was for a rerun of films. Nothing beats the real cinema experience. And there's nothing about all the extra rules and guidelines which takes anything away from this, at least not when they are handled as well as they did at the CinemaxX. But it was odd to sit through all the trailers for the summer blockbusters which have all moved out of the summer.
Rome: Screenings are scheduled so they do not overlap. This, together with an undoubtedly poor showing of films, makes for a big empty multiplex. On one hand, it is rather sad. On the other, it is definitely more comfortable.
Hong Kong: I like it better than normal times – no annoying people near you munching popcorn and checking out their mobile phones and lots of empty seats to put your bags. Actually, this is a golden period for people who love cinema in Hong Kong, because we're being treated to classics, local productions and Asian films that would usually be struggling for screen space among the Marvel titles.
Seoul: I was initially a little anxious but after reporting on South Korean box office recently, I felt safer about cinemas here and especially this one. It was great to see a film on a big screen, "bigger than life" again, making the small-budget independent film even more engrossing. However, I wasn't prepared to cry at this film and belatedly found I hadn't brought any tissues. Medical experts have repeatedly told us not to touch our faces so I had to just sit there until finally I decided to dab with my scarf because that had to be better than sitting there with a wet face.
Paris: It was glorious. Even the coming attractions and commercials were fun in their exasperating way.
Barcelona region: I enjoyed going to the cinema again even if watching a dubbed film is not much fun for me. It was cool - air-conditioning is always an added perk in cinemas in the summer in Spain - and not stressful at all if I compare it with busy food-market shopping or the number of people sitting in bars that have tables and chairs in the street. A film that celebrates cinema -going also seemed fitting and it made me smile when the audience waited until the very end of the credits to leave the room, something rare, and clapped at the end as they often do with safe plane landings. I felt a rush of nostalgia.
Will you go back?
Tokyo: Princess Mononoke is one of my favorite films, and I was looking forward to seeing it on the big screen—but I had a hard time concentrating, thinking about just how good the airflow could possibly be in this dark, windowless room. It didn't help that Tokyo has seen an uptick of cases in the last few days—miniscule compared to other big cities, but an uptick nonetheless. I think I'll wait a while until my next visit.
Copenhagen: We can't wait!
Rome: Yes. It's easier, quicker and less crowded than before and you feel like you have the theatre to yourself!
Hong Kong: Next weekend it's Train To Busan but haven't decided the venue yet. I also have to squeeze in Japanese anime classic Akira at some point. Ironically, before the theatres closed in Hong Kong, I was spending far too much time watching Netflix and only went to the cinema about once a month. Absence definitely makes the heart grow fonder.
Seoul: Yes. I'm looking forward to it. Will take tissues next time.
Paris: So long as there isn't a "second wave," yes. Of course.
Nr Barcelona: As they say in Ratatouille: "I'll be returning soon, hungry for more."