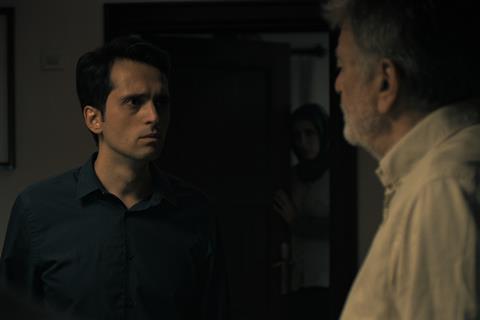 Championing new talent has long been a defining feature of the San Sebastian International Film Festival.
While first and second films are included in the official competition, which this year includes Blue Moon by Romania's Alina Grigore, As In Heaven by Danish filmmaker Tea Lindeburg and Fire On The Plain by China's Zhang Ji, the international industry will be keeping a close on the New Directors competition strand which is dedicated to upcoming talent.
Scroll down for the line-up
Of the 13 titles screening in New Directors this year, nine are debut features and four are directed by women, The winner of the Kutxabank-New Directors award will share a €50,000 prize with the film's Spanish distributor.
The jury is comprised of UK producer Mary Burke, Spanish actress Irene Escolar, most recently seen in Official Competition, and French director and actress Suzanne Lindon whose film Spring Blossom played in New Directors last year.
"San Sebastian is truly invested in spotlighting new talent," said Maialen Beloki, deputy director of the festival and member of the selection committee. "This applies to different sections of the festival, from the competition to New Directors, of course, but also in others like Horizontes Latinos and Zabaltegui-Tabakalera."
This year's selection includes filmmakers whose projects were first presented at previous editions. Selmar Nacar's Turkish social drama Between Two Dawns won the WIP Europe Industry award in San Sebastian last year while Inventory, the debut feature of Solovenia's Darko Sinko, also took part in WIP Europa and WIP Europa Industry in 2020.
Further New Directors titles includes Hilda's Short Summer, from Uruguay's Agustín Banchero, whose feature was previously highlighted in the work in progress section of the Spanish festival, now titled WIP Latam.
The festival's commitment to nurturing projects from early stages also extends to other sections. Nest is an initiative open to students from film schools throughout the world whose short films have been previously pre-selected. They get the chance to screen their work and attend discussions and master classes by industry professionals.
"Playground by Laura Wandel is a very special film for us because she first came to San Sebastián with Nest, the student's programme," says Beloki of the debut feature, which won the Fipresci prize in Un Certain Regard at Cannes and has been selected for Zabaltegi Tabakalera at this year's San Sebastian.
Belgian filmmaker Wandel will be back at the student's programme but this time giving a masterclass.
Looking across all the first and second-time filmmakers selected for this year's festival, Beloki highlights their diversity. "Perhaps themes like coming-of-age stories, naturally linked to first films, are not so frequent this year," she says. "I would describe the selection as varied in terms of format, themes and also production scale. An enriching promise for the future.
"It's also significant that debut feature director Dea Kulumbegashvili is presiding the official competition jury of the festival, after having won the Golden Shell last year for Beginning."
New Directors 2021
Carajita (Dom Rep-Arg)
Dirs. Silvina Schnicer, Ulises Porra
That Weekend (Arg-Bra)
Dir. Mara Pescio
Aloners (S Kor)
Dir. Hong Sung-Eun
Between Two Dawns (Turkey-Fra-Rom-Sp)
Dir. Selman Nacar
Inventory (Slovenia)
Dir. Darko Sinko
Josephine (Sp)
Dir. Javier Marco
The Rust (Col-Fr)
Dir. Juan Sebastián Mesa
Hilda's Short Summer (Uru-Bra)
Dir. Agustín Banchero
The Noise Of Engines (Can)
Dir. Philippe Grégoire
Mikado (Rom)
Dir. Emanuel Parvu
Mass (Us)
Dir. Fran Kranz
Unwanted (Rus)
Dir. Lena Lanskih
Lost In Summer (China)
Dir. Sun Liang