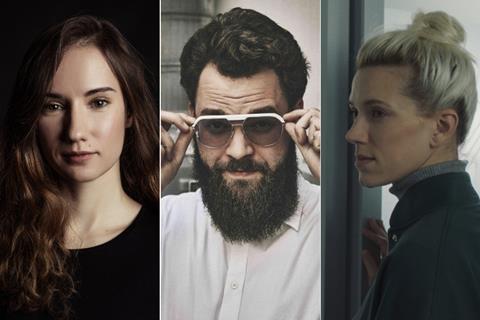 The Czech Republic is a popular location for international shoots but homegrown Czech titles have struggled to break out internationally in the past 10 years. A new wave of filmmakers is looking to change that.
This year's Karlovy Vary International Film Festival has screened 11 new Czech features, including world premieres of Matej Chlupacek's We Have Never Been Modern and Tomas Klein's A Sensitive Person in the Crystal Globe competition; and Robert Hloz's buzzy sci-fi Restore Point as a special screening.
Marketa Santrochova has been head of the Czech Film Center since 2013, and identifies "a more diverse generation of young filmmakers, producers and actors" emerging from the country united by three points – "internationality, awareness and support."
"They grew up in an environment already closely connected with the international film scene, where access to international content and knowledge was possible," says Santrochova, who is also president of the European Film Promotion network. "I don't want to say the generation before didn't have this passion, but the access was limited."
With the Czech Film Fund undergoing a significant expansion in 2013, it has taken time for that financial support to bear fruit, says Santrochova. "Only since then have there been solid, functional, permanent and well-structured support schemes," says the executive. "Let's allow ourselves to dream big."
Being modern
Ten years after his debut Touchless, Chlupacek has returned to feature filmmaking with We Have Never Been Modern, which debuted at Karlovy Vary. Set in the 1930s, the film depicts a heavily pregnant woman, her marriage to an ambitious factory manager, and her rising suspicions when a tragic discovery is made in the factory.
Chlupacek set up his own production company Barletta in 2013 to maintain control of his own output, which has consisted of shorts, music videos and series over the past decade. Like most Czech filmmakers, he does not have an agent and picks his projects by himself, but is hopeful that We Have Never Been Modern will put him on the radar of international representatives.
"After this film, we will start taking more meetings, because we needed something that can translate internationally," says the director. He is speaking to Screen on Zoom from Prague, having left Karlovy Vary midway through the festival to shoot the final two episodes of We Are On It, Comrades!, an eight-episode series that marks the first collaboration between Czech public broadcaster Ceske Televize and German powerhouse ZDF for several decades.
Leading lights
We Have Never Been Modern stars Eliska Krenkova in the lead role of Helena. The Czech actress is a major presence at Karlovy Vary, appearing in seven titles across six editions of the festival, as well as regularly on panels at the event.
She has Czech representation through Ladislav Krapek's Czech agency LaK Produkce, but is on the lookout for an international agent. "To film in other countries would be great," says Krenkova, who has also starred in Czech series Princess Cursed In Time and on stage in Amerikanka. Technical aspects are not an issue – Krenkova speaks good English, and holds a Czech passport, which is ranked sixth on the Henley & Partners global passport ranking, ahead of Anglophone nations Australia and the US.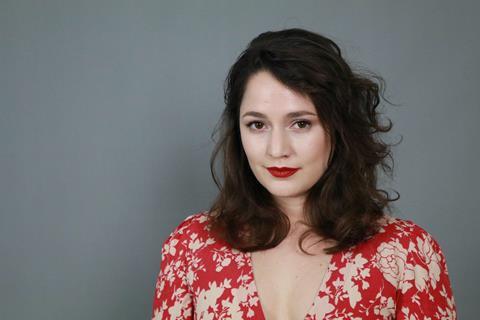 "For Eliska, We Have Never Been Modern was a great opportunity to show something different from what she has done before," said Maja Hamplova, a casting director who makes her feature producing debut with the film alongside Chlupacek for Barletta. It is one of three films Hamplova has at this year's festival, with Tomas Klein's competition entry A Sensitive Person and Robert Hloz's sci-fi Restore Point, both of which she cast. "It's being called 'Maja's Karlovy Vary'," joked Hamplova.
For Modern, she and Chlupacek secured accomplished international collaborators including Berlin-based UK composer Simon Goff (a score recordist on Joker and TV's Chernobyl) and top US colourist Natasha Leonnet, who worked on Spider-Man: Across The Spider-Verse – simply by pitching them the project. "I told Natasha we haven't got much money to work with; she read the script and told us she really wanted to do it. A lot of young filmmakers are really surprised that they can try this."
Authenticity
International success will come through Czech-made projects that make a mark worldwide on their own terms, rather than through conforming to an external model, according to Slovenian-born Czech director Olmo Omerzu. "We need to be local in a way that is interesting for the world," said Omerzu, who has directed four features, with the last two debuting in Competition at Karlovy Vary. "I don't want Czech films to be like American films, that people look like in American films. I would like to see the directors looking for their own authenticity, connected to the environment they are coming from."
Omerzu is preparing his next feature Ungrateful Beings, a European co-production aiming to shoot this year.
This winter, Chlupacek and Hamplova will shoot the six-part historical mini-series The Daughter Of The Nation for Canal+. Starring Antonie Formanova – granddaughter of legendary Czech director Milos Forman – the series will tell the true story of the 17-year-old daughter of a famous Czech writer, who politicians co-opt as a marketing tool to build the Czech nation. It is an example of Czech talents leveraging their own stories to create content for the world stage. "We were always replicating stuff," says Chlupacek. "You can make a good detective story, comedy, or sci-fi; but how is it new? It's about coming up with films, subjects and themes that are unique to our territory, that can sell who we really are."
Chlupacek would like to work abroad, with the UK as a target; his compatriots, however, caution against the well-trodden path to Hollywood. "I know a lot of Czech actresses who tried their luck in LA, and at best played some small Russian characters," said Hamplova. "I have to achieve international work through Czech film," adds Krenkova. "I don't want to stop working here."
Increased festival play is another route to international exposure. Robert Hloz never expected to make a sci-fi as his debut feature, until a session of "throwing ideas trying to beat each other" with writer Tomislav Cecka. The latter proposed a story set in a dangerous near future where people who die can reset back to life. It became Restore Point, winner of the Screen Best Pitch award at Tallinn Black Nights 2018 and made for a tight $1.8m. US sales firm XYZ Films has already securing deals for territories including France, Germany and Scandinavia, plus releasing in the US itself.
Restore Point had its world premiere at South Korea's Bucheon International Fantastic Film Festival last Friday (June 30), before playing to a loudly appreciative home audience in Karlovy Vary on Monday. Further festival bookings are in place for genre events in Neuchatel, Switzerland and at Canada's Fantasia.
Hloz is in discussions for a US agent; having put Restore Point together with Czech, Slovak and Polish money, he is now keen to work further from his homeland. "It's for when I'm on my deathbed and can think 'I did some movies internationally,'" says the director. So far, the problem has been finding scripts of sufficient quality. "Most scripts I'm reading are not up to the [required] level," says Hloz, identifying an over-reliance on pure genre, as opposed to the "elevated genre" he prefers. As such, he's creating his own work, in early stages of writing his next feature – "a different story to Restore Point in a similar world."
Better and more strident PR for the Czech industry would rise the tide for those in it, say the filmmakers. "Whether it could be done systematically, or by filmmakers trying to fight for their own project, we need to be more aggressive," says Omerzu, who says a strong generation will help each other succeed, as happened in Romania from the mid-aughts.
"All our lives, we think we are small and must be grateful for everything," says Hamplova. "It's a really important message that we can try – sometimes it will work."