'Causeway' actor Brian Tyree Henry discusses working with director Lila Neugebauer and co-star Jennifer Lawrence.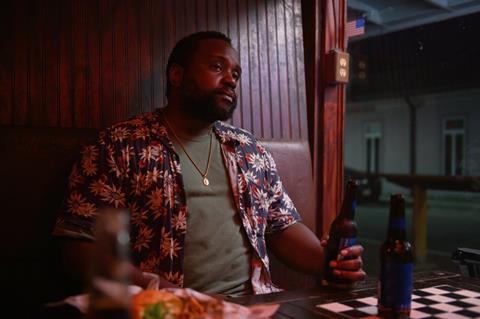 "I didn't really care what my part was. I didn't really care what the story was. I just wanted to be there for her."
Brian Tyree Henry is explaining why he signed on to Causeway before he'd even read the screenplay or knew that he would be acting opposite Jennifer Lawrence — the project is the feature debut of Lila Neugebauer, a director he'd been wanting to work with ever since they were students together at Yale.
North Carolina-born Henry was studying for his MFA at Yale's School Of Drama when Neugebauer was in the undergraduate programme and used to sneak into the MFA students' performances; the pair soon discovered that they were creative kindred spirits. "We used to walk around the campus in New Haven, drinking coffee, smoking cigarettes, talking shit about plays," he remembers. "I really found my creative friend and I always knew that she was going to do something great."
After enjoying Tony-nominated theatre success, Neugebauer was preparing to make Causeway and called Henry to offer him the chance to finally collaborate professionally. After he said yes, she revealed that he would be starring alongside Oscar-winner Jennifer Lawrence. "When she told me exactly who I would be acting with, I was through the roof," Henry recalls.
In the film, which is written by Elizabeth Sanders, Ottessa Moshfegh and Luke Goebel, Henry plays James, an auto mechanic dealing with the traumatic fallout from a car accident years earlier. He befriends Lynsey (Jennifer Lawrence), a veteran who returns home from Afghanistan to New Orleans while recovering from a brain trauma.
"The script in and of itself was quite simple and that was a huge attraction for me," Henry recalls. A lot of the actor's past projects – from TV's Atlanta, for which he received a Primetime Emmy nomination for his role as Alfred 'Paper Boi' Myles, to feature films such as Widows, Eternals and Bullet Train — "were all very active in their own different ways," he says. But with Causeway, Henry says he responded to the fact that "there wasn't this huge conflict or this huge climax and there wasn't this huge exposition of the characters. It was just people existing in space and time."
The project kicked into high gear when Jennifer Lawrence came on board not only to star, but also to produce alongside Justine Ciarrocchi for their new production company Excellent Cadaver (alongside other backers A24, IAC and IPR.VC); Apple acquired the film in summer 2022, and released it on the platform in November after its Toronto International Film Festival premiere. Shooting began in 2019 (mostly Afghanistan combat flashbacks that did not make the final film) ahead of a planned shoot in New Orleans in early 2020, but the pandemic meant a long pause until they could resume in late 2021.
Creative rethink
That pause actually helped Neugebauer, Lawrence and Henry realise that James needed to become a bigger part of the story – something that become clear when the two actors would meet up (socially distanced) in Lawrence's garden in LA to talk about the script. Henry recalls that, in the first draft, "it felt at times like James was just popping up in service to Lynsey. We wanted there to be a connect that went beyond that. And as we were thinking about this, we discovered that connection was naturally happening between Jennifer and I."
During those discussions, James became more central to the story and, when they resumed shooting, he had become Lynsey's key confidant. "Both of our characters have been labelled as disabled people [James has a below-the-knee amputation]," Henry explains. "James is doing his best to camouflage his scars and so is Lynsey. They have done everything they can to act as if though the scars don't exist, but what happens if they just revealed them? And the healing of that comes through their friendship."
In one concrete example, they realised that if the audience sees Lynsey's house, they should see James's too. "Your home is the reflection of who you are," says Henry. "It's also a manifestation of your mental state in a way. When we added this element of James's home, you got to see so many things without saying a word. Here's this man who lost his leg, yet his front steps are still broken and cracked."
Henry says he was able to draw on his own life experiences of grief to play James, and he also did research learning about amputees' lives. Rather than do a lot of interviews, however, he prefers to watch. "Once you interact, what you see can become performative," he notes. "So I did a lot about observing amputees rather than really interacting with them." He and Neugebauer visited a prosthetic doctor's office in New Orleans, where he learned about the specific prosthetics along with the maintenance and cleaning James would do every day. That became important to also get the character's physicality right, particularly in a pivotal swimming pool scene.
Working with Neugebauer was just as fruitful a collaboration as he had hoped for. "This was the most collaborative effort I'd ever had making a film," he says. "Lila will just come right next to you [between takes] and squat down to get right down on your level, to be right there with you to talk. She really wants to know what your thoughts are. She's not really concerned about time. She's not really concerned about shots. She's not really concerned about things being linear.
"Lila comes from such a human approach," he continues, "and I think that that's what also elevated our performances and elevated Causeway, because those moments of stillness, of silence, those moments where you see this glimmer between James and Lynsey."
Henry has had a busy period recently wrapping on boxing drama Flint Strong, animated feature The Magician's Elephant and limited series Class Of '09, and he's also lined up for Apple+ TV crime series Sinking Spring to be directed by Ridley Scott. But Causeway, which has earned the actor nominations at both the Gotham and Independent Spirit awards, is an experience that will stay with him, he says – particularly because of the purity of James and Lynsey's relationship.
"It's a rehabilitation and reset for them to go back to that element in that time where there was innocence, where their identity wasn't just being disabled people," he explains. "You see them grow together in the truest sense of how children become friends. In essence that's also what happened with me and Jennifer off screen. We realised that's exactly what James and Lynsey needed as well."