Lee Isaac Chung told himself he had one last chance to reignite his filmmaking career before a teaching post in South Korea would swallow up his dream.
It was February 2018 and Minari was yet to be conceived. The Colorado-born, Korean American filmmaker had little idea of what would transpire when he signed a contract to teach film studies in Incheon that autumn.
He told himself this was the sensible thing to do. Eleven years earlier, his Rwanda-set debut Munyurangabo had premiered to glowing reviews in Cannes' Un Certain Regard. However neither of his follow-ups — Lucky Life in 2010 and Abigail Harm in 2012 — had garnered as much acclaim.
Besides, he told himself, he wanted his young daughter to see more of South Korea. So when a mentor from his alma mater, the University of Utah where he had studied film, mentioned an opening at the university's Asia Campus in Incheon, he applied. "I was reaching 40 and just felt like I needed to live more responsibly and start taking care of the family, so it was a practical thing," says Chung.
But the pilot light of creativity had not quite been extinguished. "I figured I might have just one shot at making another film," he recalls. "I needed to make it very personal and throw in everything I was feeling.
"I was inspired by this quote by [Pulitzer Prize-winning US author] Willa Cather, who said that her life really began when she stopped admiring and started remembering. And I felt I had been doing more of the admiring [being influenced by the work of others] than the remembering when it came to my own work."
So that year, Chung dug deep within himself and found Minari. Drawing from his childhood on a farm in Arkansas, he wrote a drama about a Korean immigrant who moves his wife and two young children to the southern US state in the 1980s to start a farm.
As they struggle to harness their American Dream, a visit by the children's foul-mouthed, highly unorthodox maternal grandmother coincides with a shift in fortunes.
The story flowed out of him. At the time, Chung's daughter was about the same age he had been when he recalled farm life, and he found himself writing as if through her eyes. Chung finished the screenplay, gave it to his agent Christina Chou at CAA, and flew to Incheon.
Return on investment
While he taught documentary theory, film history and screenwriting in South Korea, things were starting to percolate back home. Chou had shown the script to Brad Pitt's Plan B, and the producers of Okja and 12 Years A Slave came on board in early 2019.
Around that time, Chung's friend Christina Oh signed on as producer; Steven Yeun, who plays family head Jacob, was another coup. The US-based actor from Burning, Okja and The Walking Dead is married to the filmmaker's cousin. The two men had got to know each other over the years at family gatherings, but never talked shop.
"I didn't think about asking him to do [Minari] because I felt it would be weird to ask a family member," recalls Chung. "And I was worried about asking him to speak in a Korean accent because that can be a very loaded thing for Asian Americans."
However, his agent Chou also represented Yeun, and she had no problem asking. When the actor read the script, he signed on to play the lead and also boarded as an executive producer.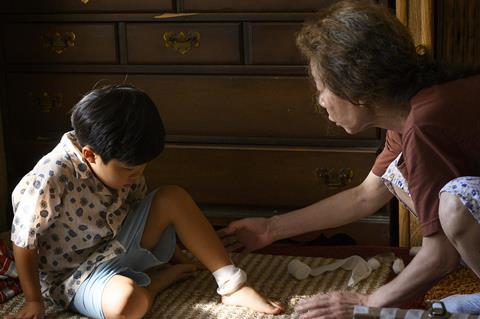 A mutual friend, the German Korean producer In-Ah Lee, arranged for Chung to meet the women who would become his female stars. In spring 2019, he travelled back and forth from Incheon to Seoul and eventually got Han Yeri to play Jacob's wife Monica, and Korean legend Yuh-Jung Youn (The Housemaid) to portray maternal grandmother Soonja.
"I'm so glad people are starting to see what an incredible actress she is," says Chung of Youn. "She's a legend in Korea and she's inside the homes of many Korean families because she's been on most of the important TV dramas and comedies, and so many movies. My mom was delighted."
The project was gathering steam and, in another key breakthrough, Oh brought on A24 Films, which agreed to finance on condition it shot during summer 2019.
Chung needed no further invitation. He cut short his teaching contract and flew home to the US. The 25-day shoot started in July in Tulsa, Oklahoma, not too far from where he grew up in Arkansas. It was important for Chung to present family life in all its glorious complexity, exploring individual arcs of characters within the dynamic of the larger unit. Jacob and Monica wobble, the children experience their ups and downs, and the grandmother disrupts and brings together. Farm life begins to take root through hard work and the help of an eccentric farmer, played by Will Patton.
Chung tried to see himself in the characters. "I was studying Dostoevsky at the time [of writing the script] and reading all these biographies and literary analyses of his books, and he had said he finds himself in every character he writes. He doesn't just see himself in one character and then make all these side characters, he really invests himself into every single person. So that was an exercise that I tried to do.
"I needed to focus on the relational arcs," he continues. "So you see a love story between man and wife. And then you also see a love story between grandchild and grand­parent. And then also, even Jacob and Paul [Patton's character] — there's a relationship that's blooming and going through ups and downs."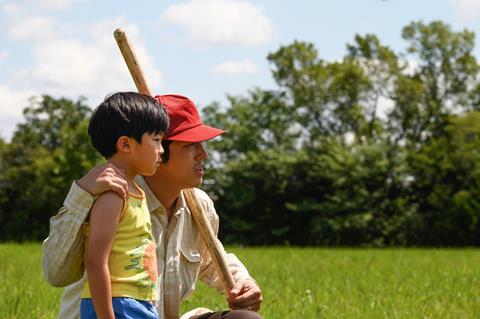 Minari premiered at Sundance 2020, where it won the dramatic grand jury and audience awards. Chung remembers being in Park City and thinking how surreal it all felt.
"A year earlier I had thought I was giving up filmmaking and was starting to talk with my boss in Korea about extending my teaching stay," he says. "So within one year to suddenly be at a festival, and to be received in that way, it was as though my whole world was changing." Minari has gone on to receive a Golden Globe nomination for best foreign-language picture and six nods at the Film Independent Spirit Awards, including Chung for best screenplay and best director.
The filmmaker spent last summer working on a romantic story for Plan B and MGM, and is also lining up a live‑action adaptation of Japanese animation smash Your Name, set up for Paramount Pictures, Bad Robot and Toho. Ongoing uncertainty amid the pandemic means he is not sure which will go first.
Meanwhile, since the lockdown, Chung has looked at Minari through fresh eyes. "As I was watching the film again recently for a check of the HD master, when I saw the shot of the family sleeping on the floor together, that resonated a whole lot more to me now as an image that I carry and hope for the world. You know, people who are still together after this mess and people who have survived and who are now clinging to each other.
"What's happening in the world is always going to be much bigger than any film or work of art of any sorts. I'm well aware of that. I know it's just a movie."

Jeremy Kay is Screen's US editor based in Los Angeles.