How are Ireland's producers, talent and filmmakers placed to take advantage of the insatiable global demand for content?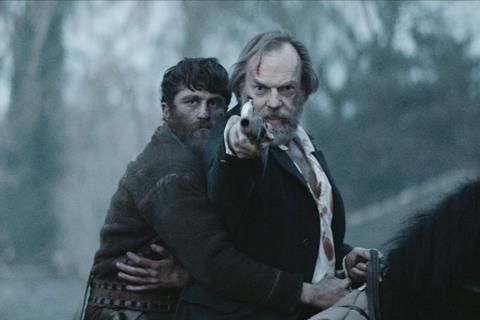 The Irish film industry is in buoyant mood thanks to the international success of a slew of locally produced titles and increased investment in the development of homegrown talent.
Yorgos Lanthimos's multiple award-winner The Favourite was co-produced by Anglo-Irish company Element Pictures, six Screen Ireland-funded titles made their world premieres at Sundance and Lance Daly's Irish Famine-set thriller Black '47 was a hit at the local box office with a gross of $2m ($1.8m).
Production activity has doubled in the last four years and there is a determination throughout the industry that practical and fiscal steps are put in place to ensure the industry's longevity and that Ireland and Irish talent is well placed to take advantage of the global increase in the demand for content.
Producer Ed Guiney of Element Pictures suggests the industry must establish a firm bedrock. "There's a real argument to look at how we develop film and whether we should be putting significantly more resources into development than we are at the moment as an industry," he says.
"In a world where there's so much demand for content, it then behoves you to get your development projects in as good a shape as possible. You're in a much stronger position going out into the world if you've got something that's really well developed and really compelling with great talent attached."
The Irish Film Board was relaunched last year as Screen Ireland to reflect its growing remit across film, animation and TV. "We're now working on the first round of applications for TV drama production funding and it's very exciting to see that development as part of what Screen Ireland is doing," says outgoing CEO James Hickey, who is stepping down from his post in August.
Désirée Finnegan, who is presently Warner Bros UK's senior vice president, theatrical marketing and publicity EMEA, based in London, is taking over. Irish-born Finnegan's appointment is a reflection of Screen Ireland's outward-looking ambitions. As the country's lead body for the screen sectors, one of the organisation's priorities is to support and enhance Ireland's position as a competitive international filming location.
"We do have the [Section 481] tax incentive, which is important to production, and we do have the studios," Hickey explains. "What we also have to look to is expanding and improving all those facilities and services."
The long game
Screen Ireland is working with national training and development resource Screen Skills Ireland and other bodies to sustain the best possible levels of skills progression and enhancement. Screen Ireland has introduced a development under Section 481, where projects with an eligible expenditure over $2.2m (¤2m) are required to produce a skills progress plan approved by Screen Ireland, to advance the skills of those working on the relevant production.
As well as its Section 481 32% tax credit, there is now a 5% regional uplift (subject to EU approval), which means the credit is worth 37% in regional areas of Ireland. The Irish government recently announced the extension of 481 to 2022.
Along with the establishment of the WRAP (Western Region Audiovisual Producers) Fund to support projects filming in the west of Ireland, these incentives aim to stimulate further growth in the sector. The establishment of Troy Studios in the mid-western city of Limerick has already attracted international production to the region in the form of Syfy series Nightflyers.
Following the prolific use of Kerry's Skellig Michael and other Irish locations in Lucasfilm and Disney's Star Wars: The Force Awakens and follow-up The Last Jedi, Ireland is attracting a wide variety of non-Irish originated projects. Recent international features to shoot in the territory include Eon Productions' The Rhythm Section, starring Blake Lively, and Malgorzata Szumowska's English-language thriller The Other Lamb, starring Raffey Cassidy, which shot in County Wicklow earlier this year and is set up as an Ireland-Belgium co-production.
Additionally, Epic Pictures and Fantastic Films' Sea Fever, directed by Neasa Hardiman, shot in 2018, while Bron Studios and A24's historical fantasy Green Knight, directed by David Lowery and starring Alicia Vikander, filmed in the mid-west Tipperary region, Dublin and Wicklow earlier this year.
On the local production front, Phil Sheerin's The Winter Lake is a gothic, coming-of-age story produced by Dublin-based Tailored Films that shot recently in Sligo, while Phyllida Lloyd's Herself is now shooting in Dublin. Co-written (with Malcolm Campbell) and starring Ireland's Clare Dunne, it is produced by Element and Sharon Horgan's Merman and co-financed by BBC Films. Element's TV adaptation of Sally Rooney's Normal People, directed by Lenny Abrahamson for BBC Three, is gearing up to shoot in Sligo and Dublin this summer.
Widening appeal
Buoyed by Element's international success, several other Irish production companies are building prolific production slates. Producer Macdara Kelleher of Fastnet Films, whose credits include Black '47, which used a revenge thriller narrative to tell the story of the Irish Famine, believes a new generation of filmmakers is now tapping into genre and telling Irish stories with international appeal.
"Irish filmmakers have always made genre films but I feel a shift in terms of bringing an Irish spin to it, finding your own unique space, your Irish voice, but also inhabiting genre and feeling that it could easily work at an international level," he says. "There's so much content out there at the moment that the more you can define something the easier it is to sell and maybe try and find some surprises within that genre."
Producer John Keville of Savage Productions, who has co-produced European projects including Rebecca Daly's Good Favour, Lee Cronin's The Hole In The Ground and Brendan Muldowney's Pilgrimage, suggests Ireland is perfectly placed to co-produce. "It comes down to the Irish crews, the locations, [the] English language and the tax credits," he says. "When you look at the representation of Irish talent in film at the international festivals like Sundance and Toronto every year, there is a genuine awareness of how many Irish films seem to have become very visible. And it comes from every part of the industry."
Katie Holly of Blinder Films agrees Ireland is thriving as an international co-production partner. "We've brought in directors to work on co-productions like Whit Stillman [Love & Friendship] and Sophie Fiennes [Grace Jones: Bloodlight & Bami]. They've just been so impressed with the level and quality of the crews here — not just in production but also in post-production. We've got amazing colourists. Visual effects, certainly in the last five years, has really developed. There are companies that are making great strides."
Rebecca O'Flanagan of Treasure Entertainment, who produced John Butler's US-set Papi Chulo, which premiered at Toronto in 2018, is enthused by the possibilities offered by the TV drama boom. "Production companies are looking toward both film and television, and becoming about content. There's a transferability of talent from one medium to another," she says. "There are a number of generations of well-trained, hungry, professional filmmakers out there who always have an extra kind of zeal and commitment to product that is Irish — and is ambitious."
Ireland Actors to watch
Hazel Doupe
Carmel Winters' feature film Float Like A Butterfly won the award for the Discovery programme at Toronto. Set in 1970s Ireland among members of the travelling community, it featured a breakthrough performance from Doupe, who excels in a demanding lead role. She plays a young woman who dreams of a boxing career like her idol, Muhammad Ali — and is willing to fight for it. Doupe, who also starred in Frank Berry's prison drama Michael Inside, will next feature in Nick Rowland's drama Calm With Horses, opposite Barry Keoghan.
Niamh Algar
A Screen international Star of Tomorrow in 2018, Algar first came to prominence in Lorcan Finnegan's drama Without Name in 2017 and has since starred in Channel 4's The Bisexual with Maxine Peake, and Pure with Joe Cole, as well as MotherFatherSon for the BBC. Most recently she snagged the lead in Shane Meadows' Channel 4 drama The Virtue. Upcoming projects include Ridley Scott's sci-fi drama series Raised By Wolves, and features The Last Right, directed by Aoife Crehan, and Rowland's Calm With Horses.
Alex Murphy and Chris Walley
Walley and Murphy showed a natural comic timing playing teenagers in Peter Foott's sparkling 2016 film The Young Offenders. A resulting TV series proved a ratings hit, with the second series filming on location in Cork this summer. As Murphy completes his studies at The Lir Academy (Ireland's National Academy of Dramatic Art), Walley has excelled on the London stage, winning an Olivier award for his role in last year's revival of Martin McDonagh's The Lieutenant Of Inishmore.
Ireland Hot projects
Extra Ordinary
Dirs. Mike Ahern, Enda Loughman
Ahern and Loughman, who have collaborated across design, commercials and music videos as D.A.D.D.Y, make their feature filmmaking debut with this offbeat comedy about a lonely small-town driving instructor who must use her supernatural gifts to save a young woman from a satanic, washed-up rock star. Irish comedian Maeve Higgins stars with the US actor Will Forte. The film is produced by Blinder Films and premiered at SXSW earlier this year. Contact: Epic Pictures
Normal People
Dir. Lenny Abrahamson
Abrahamson is directing the TV series adaptation of Sally Rooney's acclaimed novel for BBC Three, with Element Pictures producing. Shooting in Dublin and Sligo this summer, it tells of Marianne and Connell, both from the same small town but of very different backgrounds, as they embark on an on-off romance that begins at school and continues through college. Contact: Element Pictures
Sea Fever
Dir. Neasa Hardiman
Writer/director Hardiman, who won a Bafta for her work on TV series Happy Valley, directed this thriller about a crew marooned at sea on a trawler. When the trawler becomes infested with a strange and dangerous parasite, a marine biology student and the ship's crew must battle to survive. It stars Hermione Corfield, Dougray Scott and Connie Nielsen. Ireland's Fantastic Films, Sweden's Bright Pictures, Belgium's Frakas Productions and Scotland's Makar Productions are producing. Contact: Epic Pictures
Vivarium
Dir. Lorcan Finnegan
Finnegan's second feature, selected for Critics' Week at Cannes, stars Jesse Eisenberg and Imogen Poots as a young couple who become trapped in a vast housing development. Unable to leave, they attempt to set up home in the surreal environment. The sci-fi thriller is produced by Fantastic Films, with Frakas Productions and Denmark's PingPong Film. Contact: XYZ Films
Wolfwalkers
Dirs. Tomm Moore, Ross Stewart
Moore, of award-winning animation studio Cartoon Saloon, follows The Secret Of Kells and Song Of The Sea with this feature animation about a girl who comes to Ireland with her father to wipe out the country's last remaining wolfpack. Cartoon Saloon and Melusine Productions are producing from a screenplay by Will Collins. Contact: Melusine Productions
Ireland Directors on the scene
Cathy Brady
An award-winning short filmmaker, Brady's TV credits include Can't Cope, Won't Cope and Glue. Her debut feature Wildfire tells the story of two sisters reunited when one of them, who has been missing, returns home. Prior to shooting, Brady workshopped the story with her actors, including Nora-Jane Noone and Nika McGuigan, before writing the screenplay. Wildfire is a UK-Ireland co-production.
Lee Cronin
Cronin's debut feature The Hole In The Ground made its world premiere at Sundance Film Festival earlier this year. The psychological thriller is about a young mother, played by Seana Kerslake (A Date For Mad Mary), who fears mysterious changes in her little boy are connected to a huge sinkhole near their home. Bankside Films sold the film widely around the world including to the UK, US and Spain.
Ireland Producers to work with
Fantastic Films
The Dublin-based production outfit run by Brendan McCarthy and John McDonnell has established itself with genre films such as Nails and I Am Not A Serial Killer. Its forthcoming sci-fi thriller Vivarium, directed by Lorcan Finnegan, is screening in Critics' Week at Cannes. It has also produced Neasa Hardiman's sci-fi thriller Sea Fever, which it set up as an Ireland-US-UK-Sweden-Belgium co-production. Contact: info@fantasticfilms.ie
Tailored Films
Established by Julianne Forde and Ruth Treacy, Tailored Films' recent projects include gothic ghost story The Lodgers, which was released in 23 countries before securing a worldwide rights deal with Netflix. It recently completed production of Phil Sheerin's horror thriller The Winter Lake. Contact: info@tailoredfilms.ie