Flee director Jonas Poher Rasmussen tells Screen how animation helped his friend and subject Amin — an Afghan who found refuge in Denmark as a child — discuss his traumas.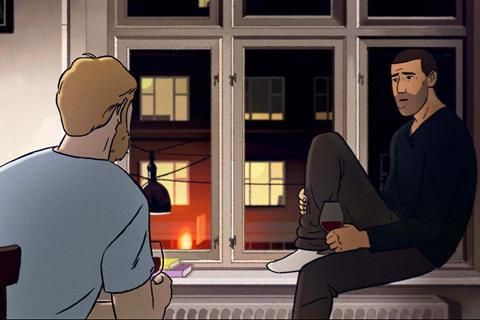 Danish filmmaker Jonas Poher Rasmussen has a confession to make: "I can't draw at all," he says with a big laugh.
That might come as a surprise to fans of his animated feature documentary Flee, winner of numerous awards starting with a grand jury prize at Sundance 2021 and most recently best documentary at the Gothams and best international independent film at the Bifas. It is also representing Denmark in the best international feature Oscar race.
Poher Rasmussen points to the only shot where his handi­work can be viewed — a scene late in the film as interview subject Amin and Poher Rasmussen are depicted in a New York hotel room. On the bed sits a scribble of a notebook in which the director's character is recording the conversation. Poher Rasmussen drew the notebook, and animation director Kenneth Ladekjaer wanted it in the shot. "It's at the bottom of the frame. You can barely see it, but that's a fun Easter egg," Poher Rasmussen says.
He may not be a great visual artist, but the director had been making radio, TV and theatrical documentaries for years when he took a short animation course at the Animation Workshop in Viborg, Denmark. He was then inspired to tell the story of his close friend Amin as an animated documentary.
Since meeting as 15-year-olds, Poher Rasmussen has been fascinated by the story of Amin (a pseudonym), now a successful academic, who grappled with his past as a child refugee fleeing Afghanistan to settle in Denmark. Flee not only recounts Amin's childhood but shows him as an adult confronting his identity while exploring the real meaning of home.
For decades, Poher Rasmussen tried to ask Amin more about his personal history and hoped to turn it into a radio documentary; Amin would tell his friend that he was not ready to talk about it. But as he grew older, Amin felt more comfortable sharing his story — they held the first interviews in 2014 and recorded up to 20 sessions over the next three to four years. "I didn't realise how much his past affected him in everything in everyday life," the director recalls.
The decision to use animation was key. "Having this way of telling the story was what made him feel safe enough to open up," explains Poher Rasmussen. Quite early in the process, the director knew he wanted to include Amin's present and not just his past. "It was one of the key stories of Amin and his boyfriend looking for a home," he says. "Everything then built around that, about finding a place where you can be who you are."
The costly and labour-intensive process of animation means that a story is edited before work on the visuals begins — so the structure and dialogue was edited for about seven months before moving on to being animated (which took around eight months for the 90-minute feature).
"It was a liberating process because, all of a sudden, when you're building a scene you can have the exact shot you want," says Poher Rasmussen. "You're not a slave to the material you've shot."
An editorial decision was made to keep the 2D animation style from becoming too fantastical or cartoonish. "This was about a real person, and we heard a real voice, so we wanted it to feel authentic — authenticity was a key word for everything we did," says the director. The film also cuts in archive footage from the time period.
Poher Rasmussen says working in animation for the first time taught him "something about patience [and] being precise in your storytelling, because you have to be so prepared in animation. You need to make a decision in advance about everything, so that's a key to telling the story right.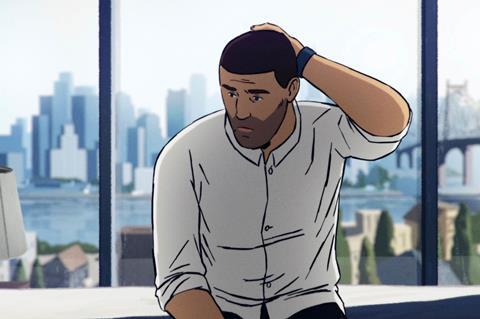 "This is the slowest production I've ever done by far," he continues. "But ultimately that time was good for the film. It also helped we had time for Amin to revisit old memories and traumas. We moved more slowly, and he could open up more and more."
It was also about Poher Rasmussen letting go and trusting his team — including key collaborators such as art director Jess Nicholls, animation producer Charlotte De La Gournerie at Denmark's Sun Creature Studio, animation director (and lead story­boardist and character designer) Ladekjaer and editor Janus Billeskov Jansen.
"It is about finding the right people around you, and then everyone brings their own creativity to the process. You want those people who want to join a conversation."
Funding jigsaw
There were many partners on board — indeed, an industry veteran approached Poher Rasmussen after the director's Annecy Goes to Cannes pitch to potential investors at the Marché du Film, saying their financing plan was "the most beautiful thing he had ever seen", he remembers with a laugh.
The numerous co-producers and partners include France's Vivement Lundi, Sweden's MostFilm, Norway's Mer Film, Vice Studios, the US's Ryot Films, Arte France, VPRO in the Netherlands, Copenhagen Film Fund and sales company Cinephil (which was one of the executive producers). Multiple backers also include the film institutes of various Scandinavian countries, Creative Europe Media, regional funds, broadcasters and assorted other bodies.
Riz Ahmed and Nikolaj Coster-Waldau boarded the project as executive producers and lent their voices to the movie's English-language dub (Neon released in the US on December 3).
That laundry list of collaborators was not a drawback for Poher Rasmussen. "My producers [Monica Hellstrom and Signe Byrge Sorensen at Final Cut For Real] protected me. Of course, we had to show the rough cuts to a lot of people who had comments, but they were trying to keep the conversation flowing in a helpful way."
The most important collaborator, Amin himself, is proud to have shared his story with the world — and Poher Rasmussen reports he is also happily settled into his new house with his husband. "We saw [the film] for the first time just the two of us and it was very emotional," says the director. Then Amin was able to visit a Danish cinema to watch it undetected among a public audience, and he loved "seeing how people relate to it".
"It's a story that resonates with people," says Poher Rasmussen on taking Flee around the world. Many people from refugee backgrounds "can take ownership of the film" and sadly the Afghan crisis of 2021 makes the film all the more relevant. The director is also happy that any audience member, no matter their background, can understand the theme of "trying to find a place in the world where you can be who you are and how crucial that is".
Poher Rasmussen has several ideas in the works for his next project. One already announced is Dane (working title) for Denmark's Ja Film, an animation feature project based on Halfdan Pisket's Dane trilogy of comic books, about a Turkish immigrant who becomes involved in Denmark's criminal underworld.
"I have different projects and I'm trying to figure out how to approach them," Poher Rasmussen says, adding that he is not willing to be pigeonholed into making only one kind of film. "I don't feel settled on moving in just one direction. I would love to do animation again, and I want to try fiction. It comes down to what's a good story."