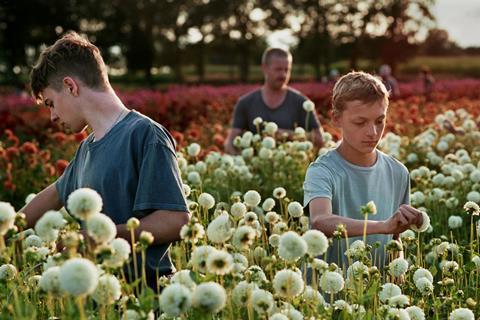 Three is the magic number for the Belgian film industry at Cannes this year. Filmmakers from the territory have directed a trio of films in Competition: Jean-Pierre and Luc Dardenne's Tori And Lokita, Felix Van Groeningen and Charlotte Vandermeersch's The Eight Mountains and Lukas Dhont's Close.
Bad Boys For Life directors Adil El Arbi and Bilall Fallah's family drama Rebel is receiving a Midnight Screening, and Belgian producer Bert Hamelinck's firm Caviar has produced Un Certain Regard title War Pony, directed by the US's Gina Gammell and Riley Keough. "It is because of the talent," says Christian De Schutter, manager at promotional agency Flanders Image.
It is also partly a happy accident of timing and the willingness of established Belgian producers to support young and untested directors — and to keep supporting them.
Producers such as the veteran Dirk Impens, along with Bart Van Langendonck at Savage Film, Eurydice Gysel at Czar Film and Hamelinck at Caviar are at the vanguard of the Belgian boom, even if Impens gives short shrift to any talk of a golden age.
"Over the many years that I've been involved in the business, it has always been, 'You know what, things are going very well.' And then, two years later [it's], 'Oh fuck, Belgian cinema sucks, and everything goes to hell,'" he says.
Impens' producer credits stretch from the Oscar-nominated Daens in 1992 to films with the Dardennes (I'm Thinking Of You), Van Groeningen (The Broken Circle Breakdown) and, now, Lukas Dhont. Impens has been at the heart of the Belgian industry for three decades and had been planning to retire back in 2017, but then came the Camera d'Or-­winning success of Dhont's Girl in 2018, and he decided to stay in the business a little longer to produce the director's second feature alongside Michiel Dhont, the director's brother.
"I was quite sure that Lukas had it in him to make an even stronger movie than the first movie," says Impens. "It seemed like a bit of responsibility for me to help Lukas prove to the world that his first film was not a coincidence." For Michiel Dhont, Close is his first feature credit and he is already in Cannes' Competition.
Sustained backing
There are sound practical reasons why Belgian filmmakers are flourishing and this boom might just be sustainable: the Belgian tax shelter system, the backing that local filmmakers receive through public funds including Flanders Audiovisual Fund [VAF], celebrating its 20th anniversary this year, and Wallimage, as well as regional funds such as Screen Flanders and Screen Brussels. It helps, too, that Belgian films are enthusiastically marketed by Flanders Image.
Another factor is the filmmakers' choice of material. After the success of Girl, Lukas Dhont was being courted by everybody from the big French producers to Hollywood studios and streamers. He decided instead to stay in Belgium and make another intimate local drama.
"He chose to make a small story with a big impact. I think this was a very brave choice," says Frans van Gestel, founding partner of Topkapi Films, the minority Dutch co-producer on both Girl and Close.
Peak practice
By complete contrast, Van Groeningen and Vandermeersch have ventured a long way from Flanders for their adaptation of Paolo Cognetti's novel The Eight Mountains. The film has been made in Italian, a language the two directors did not even speak when they began work on the project.
"We said we want to learn Italian to make this movie — and we did," Van Groeningen explains. "Charlotte speaks better than me. I speak very little but I understand enough to make the movie."
They started writing the screenplay in their native Dutch and then came up with an English version before finally putting it into Italian. "The film is about the big moments in life told in a very sensitive way, which is really what Felix's film­making is about," says Vandermeersch of The Eight Mountains, which explores the friendship between a boy from the city and the last child of a forgotten mountain village.
"I love that there is a clash between an old world and a newer world; the way of living in the mountains, the old way that has been going on for centuries, is all disappearing," she adds of the subject matter.
After they completed the first draft of the screenplay during the first lockdown, Van Groeningen asked Vandermeersch (who is an actress, a writer and a musician as well as a filmmaker) to co-direct.
Impens suggests filmmakers like Van Groeningen, Vandermeersch and Dhont are thriving as much for their work ethic as their talent. "They are always ready to go the extra mile, it's as simple as that. They never give up. As a producer, it sometimes drives you crazy," he says of the additional production days they demand or the time they might spend, say, grading a movie — or their willingness to learn a new language.
"I can relate to this. My brother always wants the best. Lukas wants to challenge himself, to drive himself to go a step higher than he did with Girl," suggests Michiel Dhont, who produced Close alongside Impens.
It helps, too, that the new generation of Belgian filmmakers are thick-skinned. In order to make their movies, they have to apply for funding to the VAF. This can be a brutal process. Last month, Impens was on a VAF jury, helping assess pitches from 23 filmmakers. "Out of 23 projects, only six made it," he reveals. "The selection, at a very early stage, is very severe, which means 17 filmmakers are very unhappy. They can't go on. They have to forget about their idea and find another project."
Impens believes this process of rejection "really helps". When the filmmakers are told by VAF juries their projects are not good enough, the best are encouraged to come back a few months later with another idea.
Plenty of other filmmakers have striking new projects too. Actress-turned-director Veerle Baetens (whose When It Melts will be released later this year), Fien Troch, Jessica Woodworth, Tim Mielants and others all have anti­cipated new projects in the pipeline.
Van Groeningen is optimistic for the future, believing success begets success. "When you see somebody having success, making it to the Oscars or to Cannes or having a film distributed internationally and finding an audience, it makes you think, 'Yes, it is possible.' People start to think bigger. You start to believe more and influence each other in daring to dream and going after those dreams."