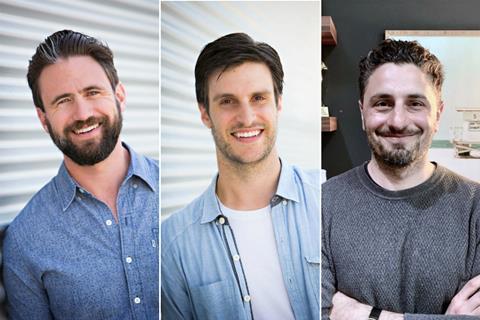 There are many milestones in the story of XYZ Films, and The Raid and Dual are unarguably two key staging posts in the development of the Los Angeles-based company co-founded by Nick Spicer, Nate Bolotin and Aram Tertzakian. Founded in 2008, the partners made a name for themselves when they produced and shepherded Welshman Gareth Evans' Indonesia-set martial-arts spectacle The Raid in 2011, which Sony Pictures Classics acquired after its Toronto premiere.
The co-founders remain firm champions of global storytellers and continue to produce avidly. They have also built out their global sales and distribution business, and in the last few years have moved into US distribution, talent management and, starting with Riley Stearns' Dual starring Karen Gillan and Aaron Paul, production finance.
"It's been an interesting few years for us because we've moved into different directions," says Spicer. "What was a paradigm shift for us was that at some point, probably about a year ago, we realised that we are operating now as an independent studio."
Key to realising this ambition was a finance partnership with Helsinki venture capitalists IPR.VC unveiled in 2019 and brokered by XYZ's EVP of production and finance Maxime Cottray. The game-changing pact has enabled the company to fund projects and take an ownership stake in content. It acquired Stearns' Dual screenplay, built a package around it, sold it, financed and produced, shooting in Finland in September 2020 after the pandemic had shut it down six months earlier. The feature, released earlier this year in the US through RLJE Films, was named best independent film at the genre-oriented Saturn Awards.
Since backing Dual, they have financed 12 more productions including two unannounced documentary series and a feature. Narrative titles include Daina Reid's horror thriller Run Rabbit Run; Nocebo, the thriller follow-up starring Eva Green and Mark Strong from Vivarium director Lorcan Finnegan; and psychological thriller Wasp with Naomie Harris and Natalie Dormer, which is preparing to shoot in the UK.
There are around 20 projects in active development including new titles from collaborators such as Arctic director Joe Penna, emphasising how the partners value deep ties with trusted collaborators.
Tertzakian notes a close and productive relationship with IPR.VC. "We're hoping to shoot [Nick Frost and Lena Headey comedy thriller] Svalta in spring and we're looking at Finland for [TIFF sci-fi sales title] Ursa Major with Mary Elizabeth Winstead. There's a lot of activity going on over there. We've been doing visual effects for our Tom Hardy film Havoc [from Evans] that we produced for Netflix with a company in Finland."
The independent studio capability allows XYZ to stay nimble and they do not aim to finance a set number of films each year. "We don't have to do everything on every movie that we do," says Spicer. "We still take on third-party content for sales, for distribution. We still finance content that we might sell to another distributor, and we finance projects that we might release ourselves."
James Shapiro heads up the domestic distribution arm and is preparing the US release on more than 100 screens of sci-fi Something In The Dirt, the Sundance premiere that XYZ Films acquired in post and is licensing around the world.
"We're still very much producers as we have been from the day we started the company," says Bolotin, noting XYZ is also producing Mandy director Panos Cosmatos's Nekrokosm for A24. "Part of our strategy from day one was to identify talent from around the world and grow with those filmmakers."
They also support a talent management division overseen by Peter Van Steemburg, which includes the likes of Carlota Pereda, the Spanish breakout filmmaker of Sundance premiere Piggy. And festivals continue to matter. "Some films benefit greatly from a critical eye," Bolotin continues. "Having journalists writing about it and discovering it is an undeniable benefit. We did that with Mandy and Babak Anvari's Under The Shadow."
Third-party sales continue to be a big part of the business. Head of sales Tatyana Joffe arrived for in-person AFM meetings having already done Zoom meetings last week with buyers who were not travelling to Santa Monica. Besides Ursa Major and another TIFF sales title, sci-fi Ash with Joseph Gordon-Levitt, XYZ announced Svalta a few weeks ago.
"The market is incredibly useful," notes Spicer. "This is the first AFM back after the first TIFF back… We'll see how the overall [AFM] attendance is. A lot of buyers are happy to be back."