In the wake of Korea's biggest box-office hit of 2016, zombie thriller Train To Busan, film-maker Yeon Sang-ho's career is picking up steam.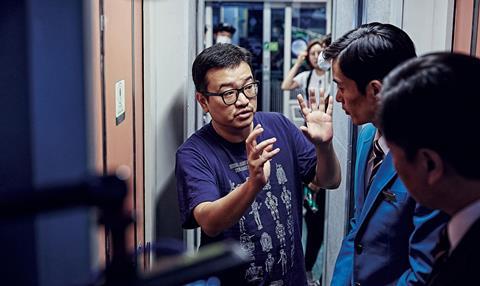 Yeon Sang-ho is conflicted. Following its world premiere at Cannes' Midnight Screenings in May, his first live-action feature Train To Busan was released in South Korea in July, to become the market's top hit of the year.
With more than 11.5 million admissions and $83m at the box office, according to the Korean Film Council (KOFIC), the zombie thriller is also the country's ninth biggest all-time hit. But the director is thinking about his indie animation roots and how to proceed from here. "For a long time, I only ever dreamed of being an animation director," he says. "My dilemma right now is that the animation industry worldwide is a minor one."
Yeon made his feature debut in 2011 with a gripping animation about school violence, The King Of Pigs, which had an award-winning world premiere at Busan and went on to play in Directors' Fortnight at Cannes. He followed it up with an even darker and more violent animation, The Fake, about an outcast who goes up against a fraudulent evangelical minister in a rural town. Both films travelled around the world with festivals and sales deals, but the sum total of their combined local box office was around $280,000.
Internationally, Train To Busan has clocked up a total of $45m at time of writing, according to Contents Panda, the sales outfit of investor/ distributor Next Entertainment World (NEW). It took $2m at the North America box office but, more impressively, $10m in Taiwan and $9m in Hong Kong. Contents Panda is in talks for a remake (or two), and fans are clamouring for a sequel.
Train To Busan stars Gong Yoo as a career-obsessed father who is taking his young daughter (Kim Su-an) to see his ex-wife, but the high-speed train on which they are travelling becomes infested with a zombie virus as the epidemic spreads outside. The idea occurred to Yeon as he was making what is now called the Train To Busan prequel, Seoul Station, an animation that focuses on homeless people mistaken for zombies because of social prejudice (released almost a month after Train To Busan, Seoul Station took $1m at the local box office according to KOFIC).
"With Train To Busan, I just came up with the idea of a psychological thriller about what happens the day after Seoul Station, and wasn't thinking of directing it myself," he says. "But NEW had kept suggesting live action to me, and they suggested expanding on the idea. It's a good thing they did."
Zombie life
Yeon says taking a primarily Western genre and creating something that mainstream Korean audiences wouldn't find off-putting or ridiculous was a key focus. "Putting a lot of zombie make-up on Koreans doesn't work so I focused on movement - using bone-breaking choreography and looking at how we could shoot hordes of zombies and even their shadows inside trains and train stations," he says. "Zombies can be stylish and horrifying with the right mise-en-scene."
He goes on to expound that Korean audiences expect local films to be based in realism, even if they are zombie films like Train To Busan or mutant films like Bong Joon Ho's The Host. "If an American actor [playing a superhero] appears in spandex, it's fine. But if a Korean actor does, it looks weird," he says. "So you have to come up with different ideas. The important thing is, how can we make it Korean? Not just with design, but with story. There are plenty of ways to take social circumstances and access them in a script."
Yeon credits Katsuhiro Otomo, creator of animations Akira and Roujin Z, as a big influence in terms of characters, lightness and social commentary. In that line, he is working on Superpower, a live-action black comedy. "It's about the fuss that happens when a middle-aged loser gets superpowers," he says, describing it as "a genre film with a bit of size". Aiming to start production in the first half of 2017, he has cast Ryu Seung-ryong (Roaring Currents) and Shim Eun-kyung (Miss Granny), who voiced the leads in Seoul Station.
Despite rumours, Yeon denies having any plans for a Train To Busan sequel. "I want to keep doing new things. NEW wants me to do a sequel, but I'm fine with another director doing it," he says. As a film-maker, he envies Hollywood its franchises, noting how Ridley Scott's Alien set off a series of sequels directed by others, after which Scott could come back decades later to direct Prometheus. Maybe after Kim Su-an grows up, he can make a sequel with her character? His face lights up at the suggestion.