Belgian drama The Broken Circle Breakdown was a major European breakout in 2013. Writer-director Felix Van Groeningen tells Wendy Mitchell about making the unusual love story.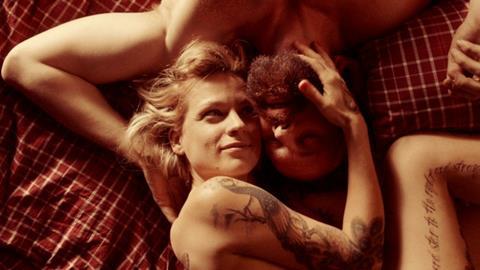 Bluegrass songs, tattoo parlours, a dying child. It doesn't necessarily sound like an easy recipe for success. But Felix Van Groeningen's The Broken Circle Breakdown has proved itself to be one of the best European films of the year.
It is nominated for five European Film Awards this weekend, and is Belgium's entry for the foreign-language Oscar (and thought to be a strong contender for the shortlist, if not a nomination). The film premiered to strong reviews and won the Panorama Audience Award in Berlin and went on to win best actress and best screenplay in Tribeca (it was released in the US by Tribeca Film on November 1, while StudioCanal released in the UK - the DVD is out now).
"There is something going on with this movie," Van Groeningen says of the film's effect on audiences. "On the one hand, it feels very real to people, inevitably [illness] is part of life. And on the other hand, the characters are exotic in a way — how they fully go for life, in combination with the music. Those things make the movie very special. The effect that it has on people is that it opens them up."
The film, sold by The Match Factory, marks Van Groeningen's fourth feature, after The Misfortunates (2009), which was selected for Directors' Fortnight at Cannes; With Friends Like These (2007); and Steve & Sky (2004). Like Broken Circle, they have all been produced by Dirk Impens of Menuet.
'I saw the play and was blown away, but it took a long time to decide to make a movie about it'

Felix Van Groeningen, film-maker
The project started its life as a play by Johan Heldenbergh and Mieke Dobbels, about Elise and Didier, two musicians who have a passionate life together until their daughter Maybelle is diagnosed with cancer.
"I saw the play and then I started talking to Johan about it," Van Groeningen remembers. "I was completely blown away, but it took a long time for me to decide to make a movie about it, it wasn't obvious. The material was interesting, but how was I going to do it?"
He adapted the play with Carl Joos, saying that actor-writer Heldenbergh knew he was "too close to it" to work on the script. The play's structure sees the characters telling the audience about what has happened in their lives, interwoven with music.
In the film, things are slightly more complex — with the structure shifting through time. "We started playing with structure in the script," Van Groeningen says. By the time they got to the seven-month-long edit, they pushed the time-shifting even further. "We showed it to an audience and they weren't confused at all, and that really excited us."
Creating chemistry
The electric performances and chemistry between lead actors Veerle Baetens and Heldenbergh are central to the film's power.
Heldenbergh had co-written and starred in the play and was eager to be in the film: "I didn't have to convince him, he was eager to do it," Van Groeningen says.
As for Baetens, the director feared she might be too well known in Belgium to take on the role, but her first audition convinced him to cast her. "It was incredible what she did. She added a really dark side and a strength to this character," he says. "She scared me a little bit and she scared Johan during the audition. She took it to a very dark place."
The actors hadn't worked together previously, but they got to know each other during six months of music rehearsals prior to the film being shot (they sang to pre-recorded tracks during the shoot). And they had another month before the shoot to rehearse and improvise with Van Groeningen.
'Veerle added a really dark side and a strength to this character. She scared me a little bit'

Felix Van Groeningen, film-maker
"The chemistry was there all the time when we were shooting," Van Groeningen says. "They were like a couple."
As Elise is a tattoo parlour owner, Baetens was subjected to spending four to five hours a day in a make-up chair to get her tattoos applied. "It must have been exhausting, but for an actress it's a great thing to be able to do," the director says. "Even when you are naked you have a costume."
The atmosphere on set was focused and "heavy" he says, because of the emotional scenes. But the cast and crew bonded like a family. "The farm where Elise and Didier live was a nice location. While we were shooting there, every night the producer would light a campfire and a lot of people would hang out and Johan would play music and talk. It was warm and cosy."
Van Groeningen has more music ahead: in late 2014 he plans to shoot his next script about two Belgian brothers who open a bar, which becomes the hippest spot in town, but they grow apart. "It will be with a lot of music, again. Everything but bluegrass music. I'm really looking forward to it — it's a lot of sex, drugs and rock 'n' roll."