Short film programmers from Berlin and Tribeca called for lighter fare at a masterclass in Abu Dhabi.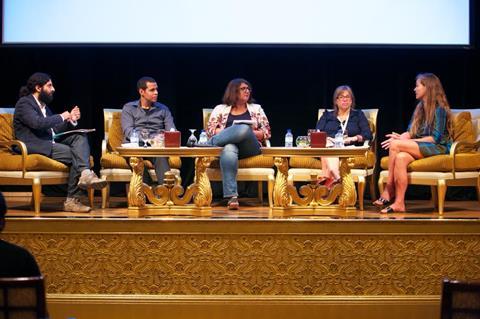 Filmmakers from the UAE put questions about shorts to festival programmers at the Abu Dhabi Film Festival this week and wanted to know if their submissions needed a strong "message".
"We don't want a message, we're over that," laughed Maike Hohne from the Berlinale. "Seriously though, you don't need to have a 'message' in your film."
Tribeca's Ben Thompson added: "There's a lot less comedy in submissions than drama and festival programmers love comedy. They don't tend to win a lot of awards but do get into a lot of festivals because the world is a serious place."
The panel, titled The Long and Short of It – I've Made a Short Film, Now What?, also included Alice Kharoubi from the Cannes Film Festival and Nina Rodriguez from Guanajuato International Film Festival.
Hohne added that the quality of submissions needed to be strong from a resolution standpoint. "It needs to be shown on a big screen so can't be shot on something like VHS," she added.
"It could look good online or even TV but it needs to fill the big screen. The film has to be shot on something that will stand up in a cinema."
ADFF's International Shorts Competition winners will be announced at a ceremony in Abu Dhabi's Emirates Palace tonight (Oct 30).