Director: Thomas Vinterberg (Denmark)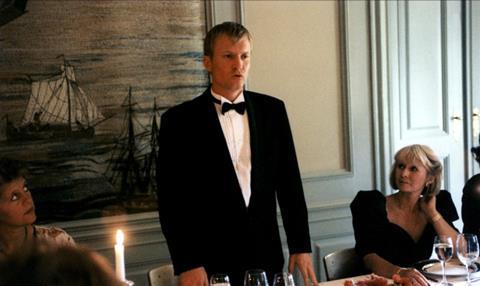 Thomas Vinterberg's Festen was the first film made under the rules of the Dogme 95 Manifesto, launched in 1995 by mavericks Vinterberg and Lars von Trier (they were later joined by fellow Danes Kristian Levring and Soren Kragh-Jacobsen).
Dogme enforced rules of film-making that would concentrate on story and acting and limit the use of special effects or new technology. The goal was to 'purify' film-making and rescue it from 'bourgeois romanticism' — the rules included shooting only on location, having only natural sound and using hand-held camera without filters.
Festen(known as The Celebration in the US and some other markets) told of a family gathering to celebrate its wealthy patriarch's 60th birthday at a posh manor house. His eldest son decides to use the occasion to announce to the shocked guests that his father had sexually abused him and his sister — who has recently committed suicide — as children. Following that revelation, other family secrets and illicit relationships are uncovered.
Of all the Dogme films, Festen holds up best today and even those who dismissed the movement as a gimmick are still drawn to this powerful story. The way in which Vinterberg and DoP Anthony Dod Mantle shot the film lends it a compelling intimacy. It is also a remarkable showcase for the acting talents of then-mostly unknown Danish actors Ulrich Thomsen, Thomas Bo Larsen, Paprika Steen and Trine Dyrholm.
Made on a reported budget of only $1.3m, Festen went on to gross a whopping $2.7m in Denmark plus a healthy $1.65m on North American release through October films.
The film won the Jury Prize at Cannes in 1998, as well as prizes at Denmark's Bodil Awards, Norway's Amanda Awards, the Independent Spirit Awards, the European Film Awards and from critics groups including Los Angeles and New York. It also garnered Golden Globe and Bafta nominations.
Festen has been adapted for the stage in more than 15 languages, and has had runs in London's West End and on Broadway. It also paved the way for the Dogme films that followed, including von Trier's The Idiots (1998), Harmony Korine's Julien Donkey-Boy (1999), Levring's The King Is Alive (2000) and Lone Scherfig's Italian For Beginners (2000).
The Dogme 95 movement put Danish directors firmly on the map. Denmark had, in earlier decades, already produced the likes of Carl Th Dreyer, Henning Carlsen and Bille August, but the early works of Vinterberg and von Trier not only exploded their own careers on the international circuit, but paved the way for the global embracing of new Danish talents such as Tobias Lindholm (A Hijacking, A War).
Paradoxically, the success of Festen came to be something of a cross to bear for Vinterberg. As he told Screen in April 2015, "I had to change direction completely [after Festen], in order not to repeat the work." Vinterberg's 2010 relationship drama Submarino was a return to form, as was his 2012 Cannes Competition title The Hunt. And The Commune reunites him with Festen actors Dyrholm and Thomsen.