Plus… Apocalypse Now cinematographer Vittorio Storaro and director Majid Majidi to receive special award for their work on Muhammad: The Messenger of God.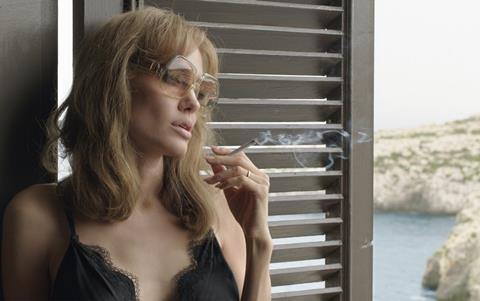 Scoll down for full list
Angelina Jolie's By the Sea and Thomas McCarthy's Spotlight are among the line-up of special screenings out-of-competition at the 23rd Camerimage (Nov 14-21), the International Film Festival of the Art of Cinematography held in the Polish city of Bydgoszcz.
The line-up will also include a look back at the 1999 Anthony Minghella film The Talented Mr. Ripley, featuring a Q&A with the film's editor, Walter Murch.
Camerimage has also announced a special award for this year, to be presented to cinematographer Vittorio Storaro and director Majid Majidi for their film Muhammad: The Messenger of God, which will have its European premiere at the festival.
The film is the first part of a planned trilogy that tells the story of the life of the Prophet Muhammad, presenting his childhood years and helps explain the roots of the Muslim religion and its message.
Storaro and Majidi will meet with the festival audience after the screening of their film on Nov 18, and the Outstanding Cinematic Duo Award will be presented to them at the Closing Gala on Nov 21.
Storaro is the award-winning Italian cinematographer who won Oscars for Apocalypse Now, Reds and The Last Emperor.
Majidi is one of Iran's most influential directors, whose credits as director and writer include Children of Heaven, The Colour of Paradise, Baran and The Song of Sparrows.
Special Screenings
Jerzy Skolimowski's 11 Minutes (11 minut); Poland, Ireland, 2015; Cinematographer: Mikołaj Łebkowski
Steven Spielberg's Bridge of Spies; USA, 2015; Cinematographer: Janusz Kamiński (Opening Gala Film)
Angelina Jolie's By the Sea; USA, 2015; Cinematographer: Christian Berger
Michael Franco's Chronic; France, Mexico, 2015; Cinematographer: Yves Cape
Pablo Larraín's The Club (El Club); Chile, 2015; Cinematographer: Sergio Armstrong
Andrzej Żuławski's Cosmos; Portugal, France, 2015; Cinematographer: André Szankowski
Daria Woszek's The Dogcatcher (Hycel); Poland, 2015 Cinematographer: Michał Sosna
Maxime Giroux's Felix And Meira (Felix Et Meira); Canada, 2014; Cinematographer: Sara Mishara
Peter Docter's Inside Out; USA, 2015; Cinematographer: Patrick Lin
Alfonso Gomez-Rejon's Me and Earl and the Dying Girl; USA, 2015; Cinematographer: Chung-hoon Chung
Majid Majidi's Muhammad: The Messenger of God (Muhammad); Iran, 2015; Cinematographer: Vittorio Storaro
Adrian Kilar's Once Again; Poland, 2014; Cinematographer: Adrian Kilar
Leena Yadav's Parched; India, UK, USA, 2015; Cinematographer: Russell Carpenter
David M. Rosenthal's The Perfect Guy; USA, 2015; Cinematographer: Peter Simonite
Stephen Frears' The Program; France, UK, 2015; Cinematographer: Danny Cohen
Michael Hoffman's Restoration; USA, UK, 1995; Cinematographer: Oliver Stapleton
Thomas McCarthy's Spotlight; USA, 2015; Cinematographer: Masanobu Takayanagi
Roland Emmerich's Stonewall; USA, 2015; Cinematographer: Markus Förderer
Anthony Minghella's The Talented Mr. Ripley; USA, 1999; Cinematographer: John Seale
Urszula Nawrot's Umbra; Poland, 2015; Cinematographers: Grzegorz Hartfiel, Oskar Kozłowski, Olaf Malinowski, Urszula Nawrot, Maciej Puczyński
Simon Curtis's Woman in Gold; UK, USA, 2015; Cinematographer: Ross Emery