London LGBT film festival records biggest box office to date.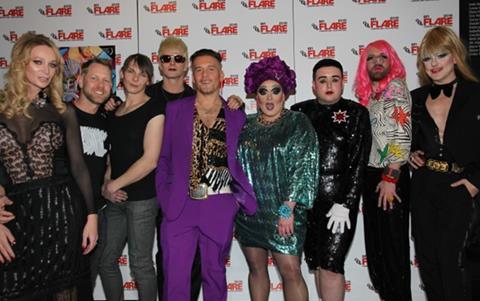 BFI Flare: London LGBT Film Festival concluded on Sunday (March 29) with the European premiere of Malcolm Ingram's new documentary, Out To Win, celebrating the battle for equality by LGBT sports people. Special guests included director Malcolm Ingram and basketball star John Amaechi.
The closing night screening broke all box office records in the festival's 29 years, with audiences of more than 23,500 recorded over the 11-day festival - up by 6.8% on the previous year.
This year's festival also saw a step-change in industry attendance with a substantial increase in delegate accreditation, including 120 film-makers and more than 200 other industry attendees.
An expanded industry offering included a series of daily workshops on all aspects of film-making, fund-raising, marketing and the creative process.
Mentorship
The inaugural BFI Flare Mentorship programme in association with Creative Skillset was launched with five film-makers.
A partnership between BFI Flare and the British Council made five short films available to audiences across the world on BFI Player as part of the #FiveFilms4Freedom LGBT human rights initiative.
The films were the most popular titles on BFI Player for the duration of the festival and were watched in 137 countries.
Fest highlights
Highlights of the festival included director Justin Kelly's arrival for the opening night film, I Am Michael; a standing ovation for the surprise appearance of 1950s Hollywood idol Tab Hunter for Jeffrey Schwarz's film Tab Hunter Confidential; and Flare programmer Emma Smart's 20th anniversary celebration We Love Xena Warrior Princess.
Other highlights saw seven drag performers on stage for the world premiere of Colin Rothbart's Dressed as a Girl; the 40th anniversary BFI Imax screening of The Rocky Horror Picture Show; a mini-roller derby in honour of In The Turn a documentary about an international queer collective of rolling skating activists, Vagine Regime; and an appearance by five members of the original activist group Lesbians and Gays Support the Miners whose stories form the basis of the film Pride.
Film-makers
Among the film-makers in attendance were Stephen Belber (Match), Desiree Akhavan (Appropriate Behaviour), Mark Christopher (54: The Director's Cut), Carol Morley (The Falling), Patrik-Ian Polk (Blackbird), Mikel Rueda (Hidden Away), Colette Bothof (Summer), Don Sickles (Mala Mala) and Ester Martin Bergsmark (Something Must Break).
Clare Stewart, BFI director of festivals and cinemas, said there were "big ambitions for next year's 30th anniversary edition of the festival".