The film starring Michael Keaton to receive a simultaneous UK premiere with the Brighton Film Festival.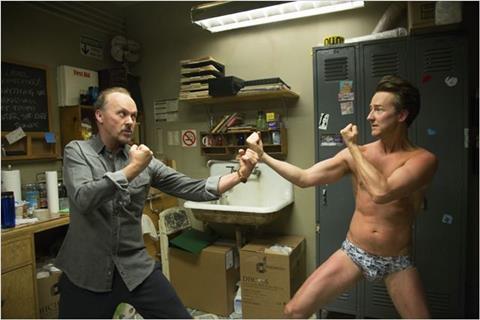 The 28th Leeds International Film Festival (Nov 5-20) is to close with Alejandro González Iñárritu's Birdman or (The Unexpected Virtue of Ignorance) as a unique joint UK premiere with Brighton's CineCity film festival, which will open with the film on the same date, Nov 20.
The black comedy, which debuted at Venice in August, stars Michael Keaton as a washed-up actor who once played an iconic superhero and must overcome his ego and family trouble as he mounts a Broadway play in a bid to reclaim his past glory. Co-stars include Edward Norton, Emma Stone, Naomi Watts, Zach Galifianakis and Andrea Riseborough
Speaking of the joint premiere, LIFF director Chris Fell said: "Regional film festivals like LIFF and Cinecity are working together increasingly to grow the UK audience for films, both with and without distribution, and the joint UK premiere of Birdman is a great boost for closer collaboration."
LIFF will open with First World War drama Testament of Youth on Nov 5 and will include more than 250 screenings during 16 days at venues across the city.
Special previews
Other special previews include Nuri Bilge Ceylan's Cannes Palme d'Or winner Winter Sleep and Jean Luc-Godard's Goodbye to Language 3D, which also played at Cannes.
Additional films will include the UK premieres of No One's Child, which won the main prize at Venice Critics' Week for its portrayal of a child raised by wolves in the Bosnian woods; Modris, a Latvian coming-of-age story about a young gambler's relationship with his parents, which played at Toronto and San Sebastian; and previews of The Drop starring Tom Hardy and the late James Gandolfini; Alan Turing biopic The Imitation Game starring Benedict Cumberbatch; and Wild, the new film starring Reece Witherspoon from Jean Marc-Vallee, director of Dallas Buyers Club.
Genre titles
Fanomenon, LIFF's strand dedicated to horror, sci-fi and cult screenings, includes a preview of Kevin Smith comedy-horror Tusk and anthology sequel The ABCs of Death 2.
Also included is Studio Ghibli documentary The Kingdom of Dreams and Madness, the UK premieres of Patch Town, A Masque of Madness and Asmodexia, and the English premiere of Witching and Bitching.
Music
Documentary and music film strand Cinema Versa will host musician Edwyn Collins, who will appear for a Q&A and musical performance to accompany a screening of the film The Possibilities are Endless, about his gradual recovery from a cerebral haemorrhage.
DJ Gilles Peterson will appear for a Q&A with his film Brasil Bam Bam Bam: The Story of Sonzeira, about his passionate project to create the Brazilian super-group Sonzeri.
The UK premiere of Heaven Adores You examines the life of the late US indie musician Elliott Smith.
LIFF will break new ground with Once in a Lifetime, a music film event that will give Leeds Town Hall's Victoria Hall a makeover, replacing its traditional seating with festival-style deck chairs in an attempt to create an atmosphere that celebrates concert films with the UK premiere of a brand new digital print of Talking Heads' Stop Making Sense, and The Who's The Kids Are Alright, 1991: The Year Punk Broke (starring Nirvana and Sonic Youth) and the Beastie Boys' Awesome; I __ Shot That!.
Yorkshire titles
As previously revealed, LIFF has its biggest ever line-up of features produced in Yorkshire.
Alongside opening film Testament of Youth will be Cannes selection Catch Me Daddy and Toronto hit X+Y, both backed by Screen Yorkshire's Yorkshire Content Fund.
There will also be the world premiere of thriller The Taking, directed by soap star Dominic Brunt (Emmerdale), who will attend with cast members.
Retrospectives
Documentary Trespassing Bergman, about the iconic Swedish director, will receive its UK premiere at the festival and leads a selection of Ingmar Bergman's films made on the Faroe Islands, including Persona and Through a Glass Darkly.
Spanish filmmakers Luis Garcia Berlanga and Juan Antonio Bardem have eight of their films featured, including Berlanga's black comedy The Executioner and Bardem's noirish melodrama Death of a Cyclist.
The centenary of the First World War is commemorated with War and Cinema, in which silent films and documentaries will aim to offer a unique perspective on its cinematic heritage, with screenings at the Royal Armouries and Jean Renoir's classic La Grand Illusion in Leeds Town Hall.
LIFF's Masters of Film Comedy selection will play out over one day, with Bill Murray's Groundhog Day and Buster Keaton masterpiece The General with live musical accompaniment at City Varieties.

2001: A Space Odyssey will screenl for the third consecutive year at LIFF due to popular demand, as part of the BFI's Sci-Fi: Days of Fear and Wonder season. The festival will also celebrate the season with Letters from a Dead Man and Visitor to a Museum, two rare post-apocalyptic films by Russian director Konstantin Lopushansky.
Leeds Free Cinema Week
The UK premiere of live event Vertical Cinema will launch the first Leeds Free Cinema Week (Nov 7-13), a new audience initiative from LIFF.
Opening Leeds Free Cinema Week at Left Bank on Cardigan Road, Vertical Cinema is a light and sound experience that features hypnotic images and an amplified static soundscape that reverberates throughout the site.
It will feature newly-commissioned work from ten renowned experimental filmmakers and audio-visual artists to be projected on a giant screen using a custom built 35mm projector.